Undeterred by four years of harsh border enforcement under the Trump administration, the cyclical northward movement of migrants and asylum-seekers to the US border has returned. As the crisis has grown, US Vice President Kamala Harris has been tasked with addressing it. In contrast to past periods of large-scale immigration to the United States, however, it is less the promise of opportunity that is pulling immigrants to America's southern border and more the certainty of hardship at home that is pushing them there.
On this episode of Fast Thinking, Atlantic Council experts Rebecca Scheurer and Jason Marczak dive into the root causes of mass emigration from Guatemala, Honduras, and El Salvador, and offer recommendations for long-term solutions to the underlying push factors that drive people from their homes—including crime, gang violence, corruption, and climate change.
Wed, Mar 31, 2021
Introduction As in every democratic country in the world, the private sector in Central America's Northern Triangle (Guatemala, Honduras, and El Salvador) has a central role in generating employment, driving economic growth, and spurring innovation. But in a region plagued by one of the highest levels of economic informality, weak government institutions, and pervasive corruption, […]
Issue Brief by María Fernanda Bozmoski and Domingo Sadurní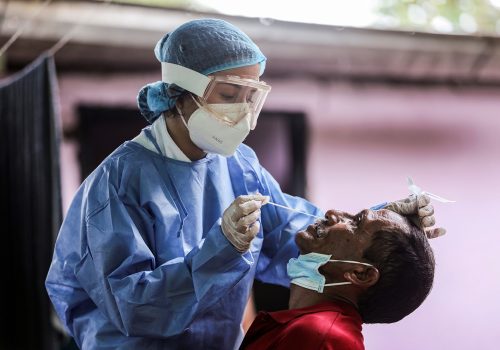 Tue, Mar 30, 2021
On the eve of the two-hundredth anniversary of diplomatic ties between the United States and Colombia, there is "good momentum to strengthen the bilateral relationship," says Colombian President Iván Duque.
New Atlanticist by Larry Luxner