Lula is back in Brazil. Here's what's coming.
It's back to the future. Left-wing former Brazilian president Luiz Inácio Lula da Silva defeated right-wing President Jair Bolsonaro on Sunday in a closely contested runoff election that portends a huge policy shift for Latin America's largest country on everything from protecting the Amazon rainforest to social justice. How will Brazil reposition itself on the world stage? Our experts peer into the future that awaits.
TODAY'S EXPERT REACTION COURTESY OF
Jason Marczak (@jmarczak): Senior director of the Adrienne Arsht Latin America Center
Tatiana Prazeres: Director of trade and international relations for the Federation of Industries of the State of São Paulo and columnist for the Folha de São Paulo newspaper
Valentina Sader (@valentinasader): Associate director and Brazil lead at the Adrienne Arsht Latin America Center
Left turn?
Lula joins a growing set of left-leaning leaders across the continent, including Andrés Manuel López Obrador in Mexico, Gabriel Boric in Chile, Gustavo Petro in Colombia, and Alberto Fernández in Argentina. But Jason says that "characterizing Lula's election as part of a shift to the left in the region oversimplifies the state of regional politics."
Instead, the voters' verdict is about the need for leaders who can deliver. "People want leaders who they think will govern with a deeper interest in making the average person's life better, especially as inflation and high food and energy prices take hold," Jason adds. The "clear frustration in Brazilian society with the status quo"—reflected in the fact that Bolsonaro has now become the first president since Brazil transitioned to democracy to not win re-election— mirrors results "in democracies around the world."
Subscribe to Fast Thinking email alerts
Sign up to receive rapid insight in your inbox from Atlantic Council experts on global events as they unfold.


Southern hospitality
When he was in office the first time, from 2003 to 2010, "Lula cast himself as the leader of the Global South," Jason tells us, and we can expect a return of that brand of "South-South diplomacy." But at the same time, look out for a Lula-led Brazil to deepen its partnerships with the United States and Europe "in the areas of trade and environmental cooperation," he adds.
Tatiana predicts that Lula will see the BRICS grouping of emerging economies—Brazil, Russia, India, China, South Africa—as "an important platform not only to improve dialogue among its participants but also to influence global discussions," though she notes that "it is unclear how the new administration will see China's push to expand BRICS and shape it as a counterweight to the West."
While Tatiana expects more cooperation between Brasília and Beijing relative to the Bolsonaro years, she said the jury is out on whether Brazil will join China's Belt and Road Initiative (BRI): "Brazil could consider collaborating with or supporting BRI projects, including in other countries, without formally joining the initiative, in a [show of] somewhat hedged support."
More broadly, "a key challenge for Lula is to leverage Chinese investments and technologies to help reinvigorate Brazilian industry," Tatiana adds.
Sigh of relief—for now
While there were outbreaks of violence late in the campaign that had the world "on edge," Jason notes that election day "passed without major incidents."
And Valentina said the biggest winner may have been Brazil's electronic voting system. "It allowed for confidence in the results being released within hours of voting sites closing, effectively constraining any credible questioning of the result," she says.
The results showed that Lula won with about 51 percent of the vote, a margin of some two million votes, but as of this writing Bolsonaro had yet to concede—after intimating for months that he planned to challenge any loss at the ballot box.
US President Joe Biden issued a congratulatory statement within minutes of the election being called in Lula's favor by the Superior Electoral Court, helping legitimize the result. It was, Jason tells us, "an important step" to "shore up the importance of US-Brazil ties."
To seal the deal, Jason hopes that the Biden administration will "send a steady stream of high-level representatives" to meet with the incoming administration, just as it has done in Colombia.
Further reading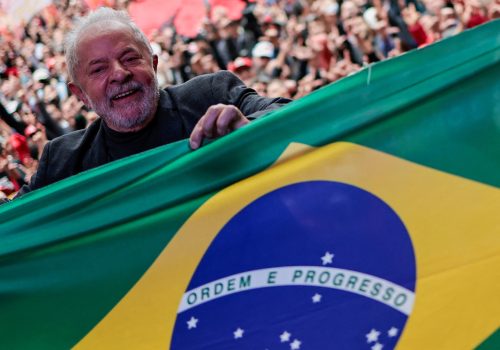 Sun, Oct 30, 2022
New Atlanticist By Atlantic Council experts
We turned to our Latin America experts to get a sense of the coming policy shift for Brazil both at home and abroad.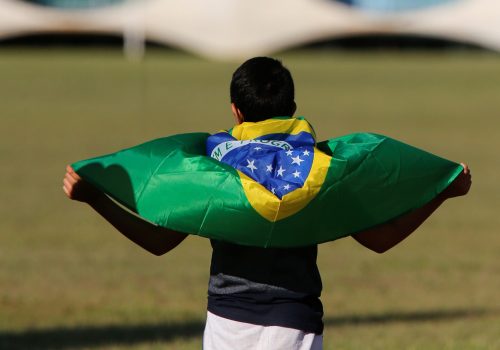 Thu, Sep 15, 2022
Issue Brief By Valentina Sader
Brazil—Latin America's largest economy and the fourth-largest democracy in the world—will elect its next president, governors, congress, and state-level assemblies in October 2022. This is one of the most momentous elections in recent years, a result of the inflection point that Brazil faces.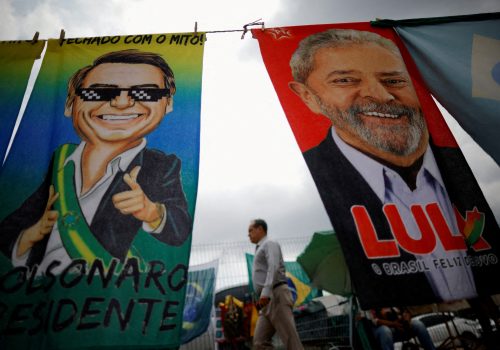 Sun, Oct 2, 2022
New Atlanticist By Atlantic Council experts
To make sense of the first-round results and fill us in on what's next, we turned to our top Brazil and Latin America minds.