Six months into Russia's full-scale invasion of Ukraine, the war seems to have hit a stalemate. After a successful defense against Russia's blitzkrieg and some losses to Russian artillery in the east, Ukraine is putting its new Western weapons to use against key Russian targets beyond the frontlines and says it is preparing for a major counteroffensive in southern Ukraine. Meanwhile, the standoff at the Zaporizhzhia nuclear power plant could result in a major nuclear catastrophe in Europe.
Despite some high-profile successes, including recent hits in Crimea, does Ukraine have a clear path to liberating occupied territories? If Russia follows through on its threats to stage faux referenda and illegally annex Ukrainian territories, what impact will that have on the war? Is Russia holding the Zaporizhzhia nuclear power plant hostage to force the West to concede on supplying arms to Ukraine? More broadly, is the conflict heading towards a stalemate, or is there a breakthrough on the horizon for Ukraine?
Melinda Haring, deputy director of the Atlantic Council's Eurasia Center, moderates a conversation with Max Boot, Jeane J. Kirkpatrick Senior Fellow in National Security Studies at the Council on Foreign Relations, Gen. (Ret.) Philip Breedlove, former Supreme Allied Commander Europe, Dara Massicot, senior policy researcher at the RAND Corporation, Vivian Salama, national security correspondent at the Wall Street Journal, and Andriy Zagorodnyuk, former minister of defense of Ukraine, distinguished fellow at the Atlantic Council's Eurasia Center, and chairman of the Centre for Defense Strategies.
---
This event will not feature an in-person audience. You will be able to join via desktop or mobile app, through your web browser, or by phone. To join the question and answer period, you must join by app or web.

Register below for details on joining the virtual audience.
---
Follow us on social media
and support our work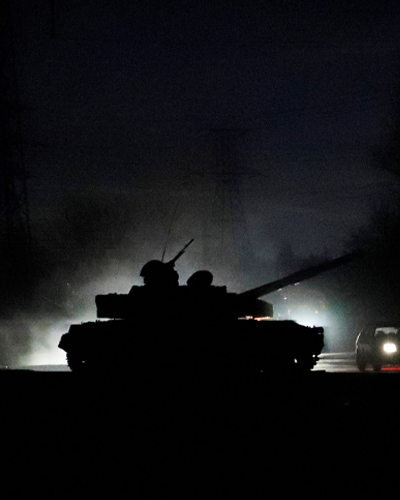 Europe in crisis
War in Ukraine
In February 2022, Moscow launched an all-out invasion of Ukraine after a months-long military build-up, threatening the country's sovereignty and its future. This existential moment for the country follows the 2014 Maidan revolution, a nexus for Ukraine's Europe-focused foreign policy and reform efforts. The ensuing Russian invasion and occupation of Crimea, aggression in Ukraine's east, and Kremlin disinformation efforts, cast a shadow over Ukraine's independence.