As the global community continues to grapple with the coronavirus (COVID-19), the Atlantic Council is open for business. Our business, meetings, and events, however, are occurring virtually. For more information, please read an update from our President and CEO.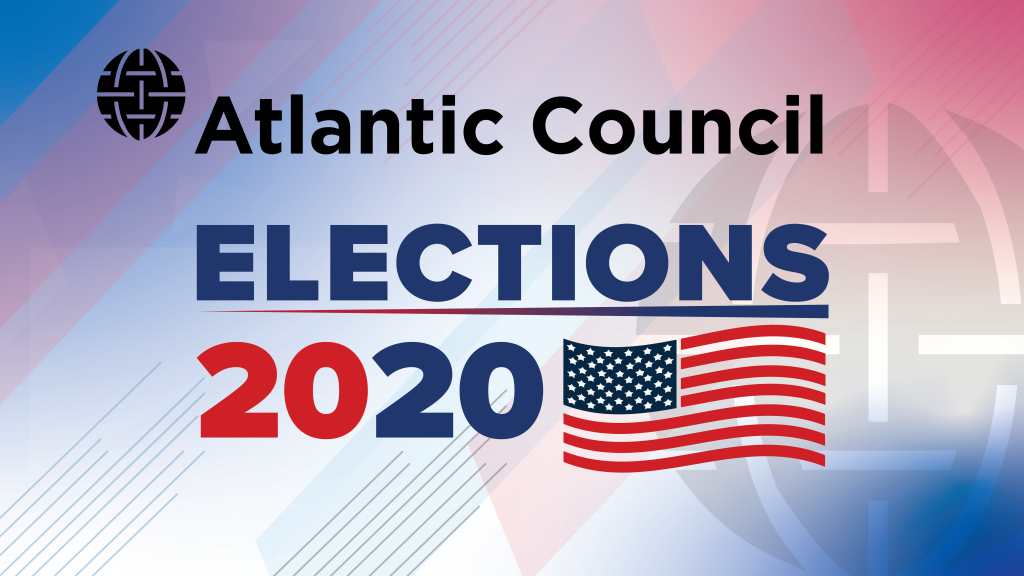 America's role in the world
Join the Atlantic Council for conversations on the most critical issues at the intersection of domestic and international affairs that will influence this year's US elections.
Event Recap
On August 19, the Atlantic Council Global Energy Center hosted The Honorable Carlos Curbelo, former US representative for Florida's 26th district and political contributor to NBC News; Dr. Jonathan Pershing, former special envoy for climate change at the US Department of State and program director for environment at the William and Flora Hewlett Foundation; The Honorable Elizabeth Sherwood-Randall, former deputy secretary of energy and distinguished professor of the practice at Georgia Institute of Technology's Sam Nunn School of International Affairs; and The Honorable Christine Todd Whitman, former administrator of the Environmental Protection Agency and former governor of New Jersey. Randolph Bell, director of the Global Energy Center and Morningstar chair for global energy security, offered opening remarks and David Goldwyn, former special envoy and coordinator for international energy affairs at the US Department of State and chairman of the Atlantic Council Energy Advisory Group, moderated the discussion.
This panel was part of Atlantic Council Elections 2020: America's Role in the World, a series of conversations on the top foreign policy priorities for the next four years, featuring the most prominent voices shaping the national dialogue. From the conventions to the elections, this series explores key questions concerning America's role and interests in the world, bringing a foreign policy perspective to the conversation and addressing the most critical issues at the intersection of the domestic and international spheres.
After brief opening remarks, Goldwyn provided an overview of the recently released Global Energy center issue brief, "What's at stake for energy in the 2020 election: An update," and laid out prospects for energy and environmental policy in both a second Trump administration and a Biden administration. While Trump would likely continue current trends toward deregulation, exploration and drilling on federal lands, and the loosening of environmental protections, Biden, rather, would likely drive investment in clean energy infrastructure, US job growth in the green economy, auto manufacturing, and action on trade policy conducive to reducing carbon emissions (such as a border carbon adjustment). Regardless of the results, both candidates face challenges ranging from a divided legislature to the continuation of the pandemic.
Launching into the moderated discussion, Todd Whitman echoed Goldwyn's assessment that in the event of a second Trump administration, trends toward deregulation would continue, albeit at the price of the health and safety of water, lands, and the US public. Despite this trend, she noted that corporate pressure to implement a carbon tax from companies in the Climate Leadership Council, such as ExxonMobil, BP, and Royal Dutch Shell, would advance progress on clean energy despite federal policy reversals by the Trump administration. Curbelo added that no matter the outcome in November, bipartisan efforts to address climate change in Congress—notably through the creation of a Senate counterpart to the House Climate Solutions Caucus—would continue to support the push towards a clean energy economy. Although Curbelo did not state whether he predicted there would be consensus on a carbon tax, he noted that increased investment in clean and advanced energy technology would create demand for revenue, which could be satisfied in the form of a carbon tax.
Addressing Biden's ability to pursue his policy agenda in the event of a divided government, Sherwood-Randall referenced Biden's "Build Back Better" plan for climate and energy, which suggests economic recovery does not need to be sacrificed for climate action or environmental justice. Pershing expanded on Biden's climate plan to address the critical question of the future of natural gas and hydraulic fracturing. He reminded the audience of the need to achieve net-zero emissions by 2050. While this does not mean a total removal of gas from the energy mix, it does necessitate additional technology or processes such as carbon capture and storage (CCS), as well as future planning to transition jobs and communities dependent on natural gas revenues to new livelihoods.
Turning to climate, Goldwyn posed the question of whether the United States has lost credibility in the global community on climate action. Pershing and Todd Whitman both acknowledged that US decisions to walk back commitments under three multilateral agreements—the Climate Convention of 1992, the Kyoto Protocol, and, most recently, the Paris Agreement—has raised skepticism among members of the international community on US willingness to follow through on climate commitments. Pershing and Todd Whitman agreed that, moving forward, significant efforts to drive down carbon emissions need to start at the domestic level. Curbelo added that existing Republican support for 45Q (a tax credit for carbon capture and storage), reforestation, public investment in research and development, and direct air capture indicates that Republicans could warm up to the idea of more significant policy proposals such as a carbon tax, especially if paired with a carbon border adjustment mechanism.
The question and answer portion of the discussion focused on key issues around competition with China, prospects for a border carbon adjustment, and environmental justice. Pershing asserted that the United States does not have the luxury of treating China as an enemy. Despite clear competing interests on advanced energy technology, the United States still needs to cooperate to advance the global climate agenda, particularly in developing countries in South Asia and Africa, whose leadership has seen growing Chinese activity at home in the form of infrastructure and battery supply chain development. Turning toward the security aspect of Chinese competition, Sherwood-Randall added that the United States needs to remain competitive in the export of advanced nuclear technology or risk ceding leadership on nonproliferation standards. She also addressed the issues of decarbonization and international trade, noting that a mechanism such as a border carbon adjustment could help ensure that high emitters would not undercut US industries. And addressing the critical issue of environmental justice, Pershing relayed an anecdote about how constituents around the Port of Los Angeles—which receives about 50percent of freight coming from Asia to the United States—supported a state bill aimed at limiting truck emissions, proving that communities dependent on high polluting industries could still advance action on air pollution and climate mitigation. Moving forward, policies aimed at siting and building energy infrastructure, and other projects with high environmental footprints, need to incorporate input from the communities affected by development.
Featured panelists
The Honorable Carlos Curbelo
Political Contributor
NBC News;
Former US Representative (R-FL26)
Jonathan Pershing
Program Director, Environment
William and Flora Hewlett Foundation;
Former Special Envoy for Climate Change
US Department of State
The Honorable Elizabeth Sherwood-Randall
Distinguished Professor of the Practice, Sam Nunn School of International Affairs; Senior Fellow, Strategic Energy Institute
Georgia Institute of Technology;
Former Deputy Secretary of Energy
US Department of Energy
The Honorable Christine Todd Whitman
Former Administrator
Environmental Protection Agency;
Former Governor
New Jersey
Moderator
David Goldwyn
President
Goldwyn Global Strategies;
Chairman
Atlantic Council Energy Advisory Group;
Former Special Envoy and Coordinator for International Energy Affairs
US Department of State
Powered by