Moscow is poised for another land grab in Ukraine eight years after the Kremlin started a war in Donbas and illegally annexed Crimea. Kremlin aggression since 2014 has produced a dire humanitarian crisis: More than 1.3 million Ukrainians have been displaced, war has destroyed tens of thousands of homes, and the Russian-backed forces in occupied Donbas continue to detain hundreds of political prisoners. The region straddling the line of contact in eastern Ukraine is one of the most mined areas in the world.
A broader Russian invasion in 2022 would exacerbate the dire humanitarian situation in eastern Ukraine and could prompt a migration crisis in Europe. What is the current humanitarian situation in Russian-occupied Donbas, on the Ukrainian side of the line of contact, and in Crimea? How should Ukraine, the European Union, and the United States prepare, should the Kremlin spark another humanitarian catastrophe on Ukrainian soil?
Melinda Haring, deputy director of the Atlantic Council's Eurasia Center, moderates a panel discussion on the humanitarian situation in Ukraine with Michael Bociurkiw, nonresident senior fellow at the Eurasia Center, Aleksandr Galkin, director of Ukrainian human rights organization Right to Protection, Dr. Hryhoriy Nemyria, deputy head of Ukraine's delegation to the Organization for Security and Cooperation in Europe (OSCE) and a member of parliament in the Verkhovna Rada of Ukraine, and Maria Tomak, head of the National Office of the Crimea Platform.
---
This event will not feature an in-person audience. You will be able to join via desktop or mobile app, through your web browser, or by phone. To join the question and answer period, you must join by app or web.

Register below for details on joining the virtual audience.
---
Follow us on social media
and support our work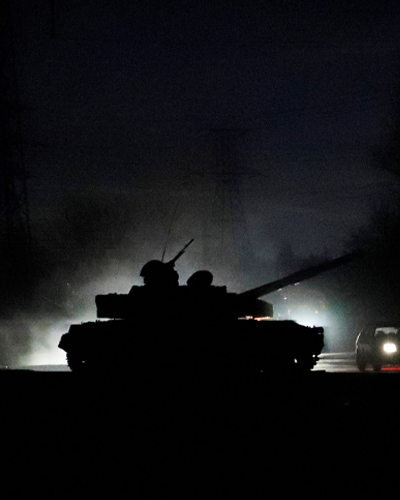 Europe in crisis
War in Ukraine
In February 2022, Moscow launched an all-out invasion of Ukraine after a months-long military build-up, threatening the country's sovereignty and its future. This existential moment for the country follows the 2014 Maidan revolution, a nexus for Ukraine's Europe-focused foreign policy and reform efforts. The ensuing Russian invasion and occupation of Crimea, aggression in Ukraine's east, and Kremlin disinformation efforts, cast a shadow over Ukraine's independence.