For six months, the world has watched Belarusians fight for democracy. The independent press has been essential in highlighting this ongoing struggle. Journalists have faced increasing attacks from Alyaksandr Lukashenka government's crackdown. They have been subjected to assault, detentions, and fines.
After the fraudulent August election, Belarusian authorities quickly canceled the accreditation of journalists, and international reporters were deported by the dozen. The few remaining journalists covering the situation are local journalists. In 2020, more than 470 journalists were arrested, over sixty of them were assaulted, and nine are still in jail. The journalists at Radio Free Europe/Radio Liberty's (RFE/RL) Belarus service, one of the giants covering the situation on the ground, have collectively spent 250 days in jail because of their unbiased coverage. Management at the US Agency for Global Media, which oversees RFE/RL, has been accused of failing to provide funding to surge content during the crisis. There have been raids on other independent media offices and increased pressure on local journalists. What is the state of play for journalists in Minsk? What can the Biden administration do to position US international broadcasting best in this crisis? Finally, what can the West do to end harassment of the press in Belarus?
Christian Caryl, an editor with the Washington Post's Opinions section, moderates a discussion featuring Maryna Zolatava, editor-in-chief at TUT.BY, Hanna Liubakova, journalist and Atlantic Council Eurasia Center nonresident fellow, Alexander Lukashuk, director of RFE/RL's Belarus Service, and Andrei Yeliseyeu, expert at the The International Strategic Action Network for Security and a research director at the Eurasian States in Transition Research Center. Ambassador John Herbst, director of the Atlantic Council's Eurasia Center, welcomes.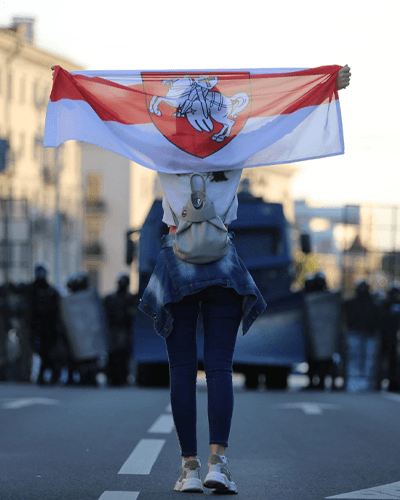 Belarus
Belarus' August 2020 presidential election saw widespread protests and serious fraud allegations as President Lukashenka claimed victory against popular opposition candidate Sviatlana Tsikhanouskaya. Following a brutal crackdown against protestors by security forces, will Belarus begin its transition to democracy, or will Belarusians face further repression as Lukashenka's rule falters?