As war broke out in eastern Ukraine in 2014, internally displaced persons (IDPs) fled to towns and cities across Ukraine. By 2019, this number had risen to 1.5 million displaced Ukrainians, with those remaining facing continued human rights abuses in areas under the control of Russian-led forces. In addition to serious damage to homes and infrastructure, the Kremlin's occupation has created lasting mental and physical trauma in the Donbas, preventing any significant progress toward reintegration. A stalled peace process and continued incidents along the contact line complicate efforts to rebuild the Donbas and plan for its economic, political, and social reintegration into Ukraine.
As the ceasefire continues to be violated and the conflict simmers on, what steps can be made by the Ukrainian government and international partners to improve the humanitarian and security situation? What support is most urgently needed for IDPs, and how can efforts for reintegration and reconciliation make progress with or without a ceasefire? How can Ukraine encourage the renewal of trade and investment ties to the occupied territories that could benefit the local population and facilitate the return of IDPs?
Oleksii Reznikov, deputy prime minister and minister for reintegration of the temporarily occupied territories of Ukraine, Hryhoriy Nemyria, member of the Verkhovna Rada and first deputy chairman of the Committee on Foreign Policy and Inter-Parliamentary Cooperation, Kateryna Moroz, senior adviser at Right to Protection, and Šimon Pánek, chief executive officer of People in Need, discuss these important issues. Melinda Haring, deputy director of the Atlantic Council's Eurasia Center, moderates.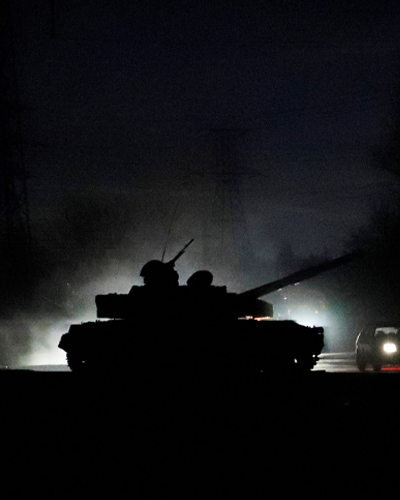 Europe in crisis
War in Ukraine
In February 2022, Moscow launched an all-out invasion of Ukraine after a months-long military build-up, threatening the country's sovereignty and its future. This existential moment for the country follows the 2014 Maidan revolution, a nexus for Ukraine's Europe-focused foreign policy and reform efforts. The ensuing Russian invasion and occupation of Crimea, aggression in Ukraine's east, and Kremlin disinformation efforts, cast a shadow over Ukraine's independence.
ORGANIZED BY




The Eurasia Center's mission is to enhance transatlantic cooperation in promoting stability, democratic values and prosperity in Eurasia, from Eastern Europe and Turkey in the West to the Caucasus, Russia and Central Asia in the East.