The current drama in Belarus is, above all, a popular political uprising—but it also has a significant economic cause. The Belarusian economy has not grown for the past decade, and the country is desperately low on currency reserves, which has led to a sharp depreciation of the Belarusian ruble. At present, the only available source of financing is Russia, whose economy has also weakened this year due to falling energy prices and the coronavirus pandemic. To maintain influence over Belarus, Russian President Vladimir Putin has tasked his cronies in the Russian private sector with investing in state-owned Belarusian companies.
The pro-democracy movement in Belarus now faces the difficult prospect of dislodging Alyaksandr Lukashenka, the illegitimate president who refuses to leave office, backed by billions of dollars from Russian firms. How will Russian private investment affect Belarus's economic outlook in the short and long term? What political effects does Russian financial patronage have on its client countries? How useful would US and EU sanctions be in deterring Russian private sector support for Lukashenka?
His Excellency Dirk Schuebel, the ambassador of the European Union to Belarus; Dr. Anders Åslund, senior fellow at the Eurasia Center; Dr. Katerina Bornukova, academic director of the BEROC Economic Research Center; Dr. Aleksandr Chubrik, director of the IPM Institute; and Dr. Vladislav Inozemtsev, senior associate at the Center for Strategic and International Studies, discuss how Russian investment flows threaten efforts for democracy in Belarus. Ambassador John Herbst, director of the Eurasia Center, moderates.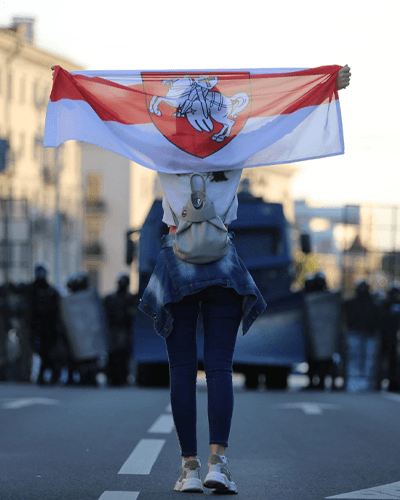 Belarus
Belarus' August 2020 presidential election saw widespread protests and serious fraud allegations as President Lukashenka claimed victory against popular opposition candidate Sviatlana Tsikhanouskaya. Following a brutal crackdown against protestors by security forces, will Belarus begin its transition to democracy, or will Belarusians face further repression as Lukashenka's rule falters?


The Eurasia Center's mission is to enhance transatlantic cooperation in promoting policies that strengthen stability, democratic values, and prosperity in Eurasia, from Eastern Europe in the West to the Caucasus, Russia, and Central Asia in the East.