Ukrainian media shows the world the true scope of Russia's brutal invasion and occupation of their country. As Russia moves to wipe Ukraine from the map, survival of the free press is at stake. With Kremlin forces moving into Ukraine's cities early in 2022, and bombing infrastructure including the electrical grid, broadcast media including international news organizations like Voice of America (VOA) faced substantial challenges staying on the air and reaching their audiences with news and information.
Exposed directly to the dangers of war, Ukrainian media is bravely and effectively covering all aspects of Russian aggression and communicating the stakes of the conflict to Ukrainians and international audiences. Clear, credible reporting from the Ukrainian media and international journalists is helping to combat Russian disinformation, moving to disarm one element of Moscow's hybrid war machine, its propaganda aimed at Ukrainians and the West. These efforts began more than eight years ago when Russia launched its aggression against Ukraine in 2014 in Crimea and the Donbas.
As we approach the one year mark of Russia's February 24, 2022 full-scale invasion, the Atlantic Council and VOA gather a panel to reflect on the essential role of Ukrainian media during the war. How have Ukrainian journalists and international reporters based in Ukraine helped shape the media coverage of Russia's war? What support do they need to continue their important work?
Speakers
Michael Bociurkiw
Nonresident Senior Fellow, Eurasia Center
Atlantic Council
Sevgil Musaieva
Chief Editor
Ukrainska Pravda
Ruslan Petrychka
Chief of the Ukrainian Service
Voice of America
Olga Rudenko
Editor-in-Chief
The Kyiv Independent
Moderator
---
This event will not feature an in-person audience. You will be able to join via desktop or mobile app, through your web browser, or by phone. To join the question and answer period, you must join by app or web.

Register below for details on joining the virtual audience.
---
Follow us on social media
and support our work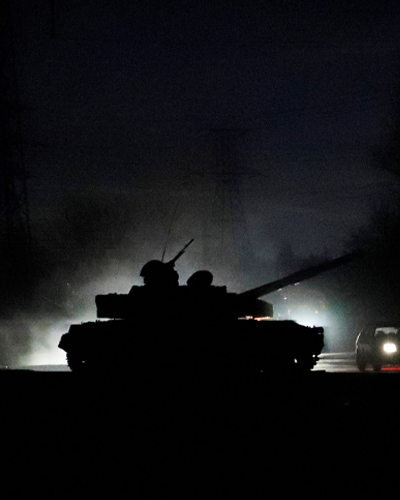 Europe in crisis
War in Ukraine
In February 2022, Moscow launched an all-out invasion of Ukraine after a months-long military build-up, threatening the country's sovereignty and its future. This existential moment for the country follows the 2014 Maidan revolution, a nexus for Ukraine's Europe-focused foreign policy and reform efforts. The ensuing Russian invasion and occupation of Crimea, aggression in Ukraine's east, and Kremlin disinformation efforts, cast a shadow over Ukraine's independence.


The Eurasia Center's mission is to enhance transatlantic cooperation in promoting policies that strengthen stability, democratic values, and prosperity in Eurasia, from Eastern Europe in the West to the Caucasus, Russia, and Central Asia in the East.