Russia's full-scale war on Ukraine is in its second year, but with Bakhmut still partially under Ukraine's control, Moscow has made little progress in 2023. Instead, a number of key events are shaping the conversation in Washington and other NATO capitals on where things stand on the battlefield.
There is continuing disarray in the Russian camp; after complaining long and loud about the failure of the Russian Ministry of Defense to supply enough artillery, Wagner Group warlord Yevgeny Prigozhin threatened to remove his forces from Bakhmut, only to change his mind after extracting new promises from the Ministry.
The supply of weapons is also an issue for the Ukrainians. On a positive note, Washington has moved up the provision of Abrams battle tanks with some arriving in Germany for training now and others to Ukraine by the fall. On the other hand, undue caution in Washington means long-range ATACMS rockets and F-16 fighter jets remain off the table. Without these systems, it will be harder for Ukraine's counteroffensive to make decisive gains.
On the political side, it has been a bad several weeks for Russian President Vladimir Putin. In March, he became the first leader of a nuclear power to have been issued an International Criminal Court (ICC) arrest warrant for ordering the unlawful transfer of children from occupied areas of Ukraine. The warrant had an immediate impact, setting off a firestorm of controversy in South Africa ahead of its upcoming BRICS summit, which Putin had been expected to attend. At the United Nations, China, India, Brazil, and erstwhile Russian allies Kazakhstan and Armenia voted in favor of a resolution calling Russia an "aggressor."
What should the world expect from Ukraine's spring counteroffensive? How significant are global condemnations of Russian aggression? Ahead of NATO's Summit in Vilnius, how can the US rally its partners to further support Ukraine and isolate Russia in 2023?
Join us for a conversation on where things stand on the battlefield ahead of Ukraine's counteroffensive, and in Russia's political standing across the globe.
Speakers
General (ret.) Wesley Clark
Former Supreme Allied Commander Europe
Andrea Kendall-Taylor
Senior Fellow and Director, Transatlantic Security Program
Center for a New American Security
David Kramer
Executive Director
George W. Bush Institute
Vladimir Milov
Vice President, International Advocacy
Free Russia Foundation
Minister Andriy Zagorodnyuk
Former Minister of Defense of Ukraine;
Distinguished Fellow, Eurasia Center
Atlantic Council;
Chairman
Center for Defense Strategies
Moderated by
---
This event will not feature an in-person audience. You will be able to join via desktop or mobile app, through your web browser, or by phone. To join the question and answer period, you must join by app or web.

Register above for details on joining the virtual audience.
---
Follow us on social media
and support our work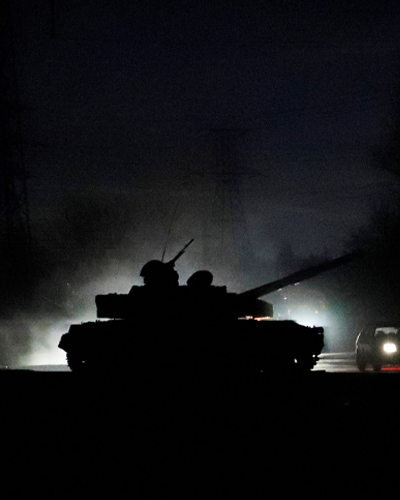 Europe in crisis
War in Ukraine
In February 2022, Moscow launched an all-out invasion of Ukraine after a months-long military build-up, threatening the country's sovereignty and its future. This existential moment for the country follows the 2014 Maidan revolution, a nexus for Ukraine's Europe-focused foreign policy and reform efforts. The ensuing Russian invasion and occupation of Crimea, aggression in Ukraine's east, and Kremlin disinformation efforts, cast a shadow over Ukraine's independence.


The Eurasia Center's mission is to enhance transatlantic cooperation in promoting policies that strengthen stability, democratic values, and prosperity in Eurasia, from Eastern Europe in the West to the Caucasus, Russia, and Central Asia in the East.