Russia's full-scale invasion of Ukraine has significantly disrupted the Ukrainian agriculture sector and threatened global food security. Russian forces have stolen grain from Ukrainian silos, laid mines in agricultural areas, and cut power to farms and businesses. While parallel agreements with the United Nations and Turkey helped reopen Ukraine's Black Sea ports, Russia's harassment of Ukrainian ships has slowed grain exports to the developing world, causing global food prices to rise and hampering one of Ukraine's key economic engines. At the same time, Ukrainian companies have responded by opening new shipping routes on the Danube River to evade Russian ships and reach global grain markets.
How can the Ukrainian agriculture sector overcome the challenges posed by Russia's war? How does continued uncertainty impact Black Sea exports of Ukrainian grain? What can the West do to better support Ukraine's agriculture and shipping sectors under threat from Russia?
Peter Dickinson, editor of the Atlantic Council's UkraineAlert blog, moderates a conversation with Aivaras Abromavičius, former minister of economy and trade of Ukraine, Admiral (Ret.) James Foggo, dean of the Center for Maritime Strategy, Dr. Hanna Shelest, director of security programs at Foreign Policy Council "Ukrainian Prism" and editor-in-chief at UA: Ukraine Analytica, and Andriy Vadatursky, chief executive officer of Ukrainian agriculture company Nibulon, on how the West can support Ukraine's agriculture and shipping sectors.
---
This event will not feature an in-person audience. You will be able to join via desktop or mobile app, through your web browser, or by phone. To join the question and answer period, you must join by app or web.

Register below for details on joining the virtual audience.
---
Follow us on social media
and support our work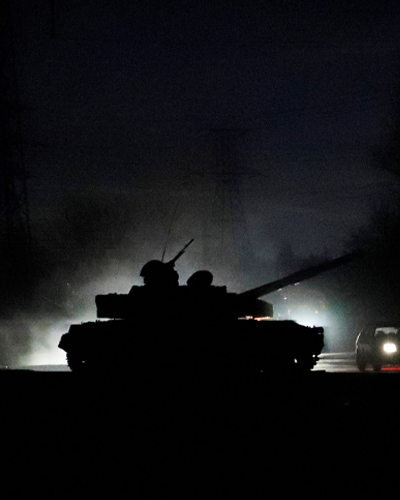 Europe in crisis
War in Ukraine
In February 2022, Moscow launched an all-out invasion of Ukraine after a months-long military build-up, threatening the country's sovereignty and its future. This existential moment for the country follows the 2014 Maidan revolution, a nexus for Ukraine's Europe-focused foreign policy and reform efforts. The ensuing Russian invasion and occupation of Crimea, aggression in Ukraine's east, and Kremlin disinformation efforts, cast a shadow over Ukraine's independence.


The Eurasia Center's mission is to enhance transatlantic cooperation in promoting policies that strengthen stability, democratic values, and prosperity in Eurasia, from Eastern Europe in the West to the Caucasus, Russia, and Central Asia in the East.