Despite a dubious commitment to uphold Afghan women's rights, the Taliban are making a slow-motion return to their 1996 restrictions. Women cannot travel beyond 75 kilometers without a male relative; women are banned from appearing on TV shows and in movies; women cannot receive education higher than primary school; and many more revocations of hard-won rights. In response, women are flooding Afghanistan's streets in periodic demonstrations to express their frustrations, though reforms have yet to materialize. Furthermore, many international delegations have met with the Taliban without any women among them. It is hard to imagine how women's rights can be discussed in any meaningful way in meetings where no women are present.
That said, women in Afghanistan are central to the country's growth and development on all dimensions–economic, political, social, and others. Can we reconcile the Taliban's ultra-conservative approach with the critical expertise, skills, and leadership of Afghan women, increasingly marginalized by the new regime? What does this mean for future generations?
Please join the Atlantic Council's South Asia Center and the US-Afghan Women's Council on Wednesday, January 19 at 1 PM EST for a conversation on women's critical role in the future of Afghanistan.
Opening remarks by
Rina Amiri
Recently appointed US Special Envoy for Afghan Women, Girls, and Human Rights
Featuring
Belquis Ahmadi
Senior Program Officer
US Institute of Peace
Amb. Shukria Barakzai
Former Ambassador of Afghanistan to Norway
Hosna Jalil
Former Afghan Deputy Minister of Interior Affairs for Policy and Strategy
Muqaddesa Yourish
Former Afghan Deputy Minister for Commerce and Industry
Moderated by
Anita McBride
Executive in Residence, Center for Congressional and Presidential Studies
American University


The South Asia Center serves as the Atlantic Council's focal point for work on the region as well as relations between these countries, neighboring regions, Europe, and the United States.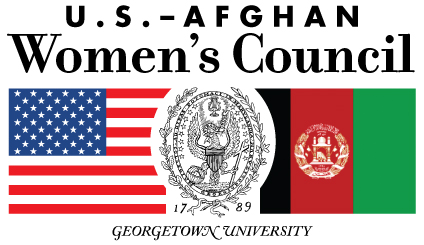 The U.S.-Afghan Women's Council (USAWC) is a non-partisan public-private partnership that convenes governments, civil society and the private sector around the goal of supporting Afghan women and girl's education, healthcare, economic empowerment and leadership.