Flagship reports and issue briefs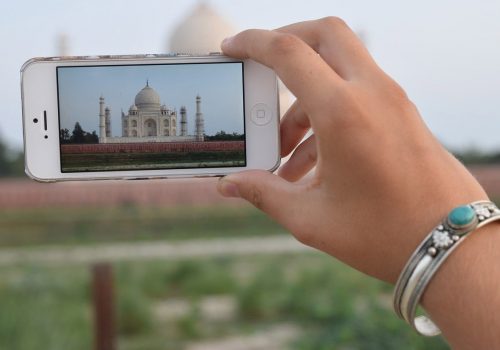 Wed, Sep 16, 2020
Prime Minister Narendra Modi's vision to usher in another half a billion Indians online is a fitting goal for an ambitious, young digital nation. Yet closing India's digital divides and developing a robust digital economy will require a moonshot effort that leaves little room for error.
Issue Brief by Mark Linscott and Anand Raghuraman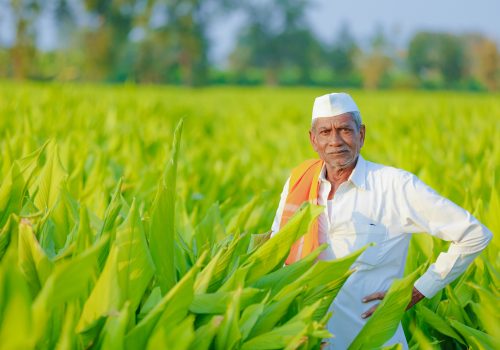 Wed, Sep 9, 2020
Agriculture has formed the backbone of India's economy for many decades and remains crucial to providing food security for the country's growing population. It constitutes a major pillar of India's economic growth and a significant contributor to its growing exports sector.
Issue Brief by D. Narain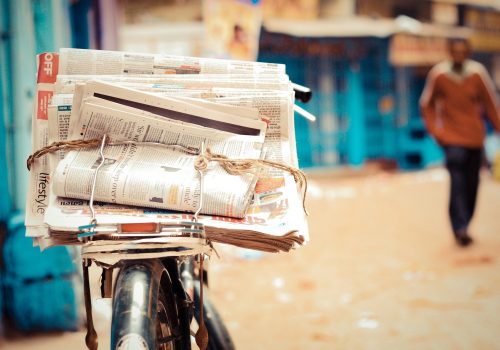 Thu, Aug 13, 2020
India and Pakistan recognize the utility of the press in contemporary conflicts, and seek to deploy it as an offensive weapon in a larger information war. Both countries have utilized digital, print, and broadcast media to shape international perceptions and public opinion domestically.
Report by Fatima Salman
Trade and commerce in South Asia

People gather at a street shoe market in Dhaka, Bangladesh, May 19, 2019. REUTERS/Mohammad Ponir Hossain
As the countries of South Asia continue to cope with the COVID-19 outbreak, many eyes remain on the region's role as a major emerging market. Drawing strong interest from the United States and China – as well as their respective allies – the combined economic potential of South Asia is huge, and represents a deep opportunity for the post-COVID global economy.

Thu, Sep 10, 2020
The current approach by the Trump administration risks weaponizing international trade and ignoring valuable opportunities to both strengthen US commercial interests and further strategic objectives.
Read More

Tue, Sep 8, 2020
The United States needs a reset on its trade policy in South Asia that focuses on the twin goals of supporting its potential partners in the region and providing tangible economic benefits back home.
New Atlanticist by Amber Jamil

Fri, Aug 21, 2020
On Thursday, August 20, 2020, the South Asia Center and the Federation of Indian Chambers of Commerce and Industry (FICCI) were joined by Indian Ambassador to the United States Taranjit Singh Sandhu for a timely conversation on India-US partnerships in global value chains. FICCI President Dr. Sangita Reddy and Ambassador Sandhu provided opening remarks; FICCI Deputy Secretary General Manish Singhal and FICCI Senior Vice President Uday Shankar moderated the conversation; and FICCI […]
Event Recap by Atlantic Council
Countries in focus
Featured commentary and analysis
In-depth analysis of topics including trade, economic development, democratic institutions, media diplomacy, and regional security.

Fri, Sep 18, 2020
On Thursday, September 17, the Atlantic Council's South Asia Center partnered with Chatham House to host a panel discussion on the Rohingya refugee crisis to discuss the evolution of the crisis as well as potential international solutions. The webinar was moderated by Dr. Gareth Price, Senior Research Fellow of Chatham House's Asia-Pacific Programme, and included: Dr. Rudabeh Shahid, nonresident senior fellow of the South Asia Center; Dr. Claire Smith and Ms. Susannah Williams of the Department of Politics at the University of York; and Dr. Ellen Stensrud, a researcher at the Norwegian Center for Holocaust and Minority Studies.
Event Recap by Atlantic Council

Wed, Sep 16, 2020
While the international community remains hyper-focused on addressing the virus and its associated economic slowdown, Afghan and Rohingya refugees continue to be forced into a life of complete uncertainty as they escape violence in their home countries. Concerted action by the international community and host countries towards mitigating the virus' disproportionate effects on asylum seekers would immensely improve refugee welfare.
New Atlanticist by Rudabeh Shahid and Harris Samad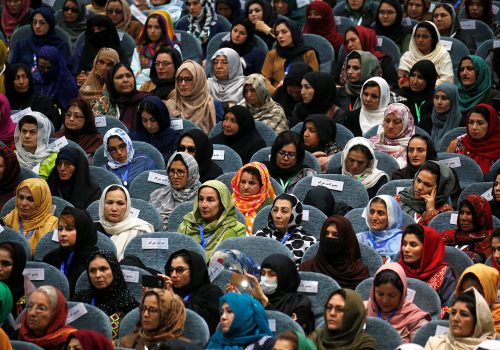 Tue, Sep 15, 2020
The long-awaited Afghan peace process finally began on September 12, and Afghanistan's women must have a seat at the table. While crucial issues such as disarmament, power-sharing, the presence of foreign troops, human rights abuses, and territorial disputes will likely take center stage, leaders from around the world have issued a call to uphold the right of Afghan women to be included in the talks.
New Atlanticist by Atlantic Council
Follow us on Twitter at @ACSouthAsia
Leadership
Staff:
Harris A. Samad (Project Assistant)
Opportunities:
The South Asia Center has no openings at this time.
Join the South Asia Center mailing list
The South Asia Center serves as the Atlantic Council's focal point for work on greater South Asia as well as its relations between these countries, the neighboring regions, Europe, and the United States.