Genealogy—the study of families, their lineages, and histories—has been around for centuries. As technology has advanced, it has become more accessible and easier to do. In the United States, which hosts an African diaspora that is eager to know more about its origins, prominent African American figures—such as US Congressman Gregory Meeks and US Ambassador to the United Nations Linda Thomas-Greenfield—have recently shared their ancestry through DNA testing, highlighting the importance of genealogy and DNA testing to understand one's identity and culture.
World Genealogy Day is on March 11 this year, and it serves as a reminder that genealogy is important for any individual or family. Yet, it is perhaps even more important for societies and communities that have been shaped by forces that have taken them far from their roots. For global Africans, like me, genealogy is a valuable resource that can promote greater insight, connectedness, and cultural preservation.
'Global Africa'—as defined by various academics and scholars like W.E.B. Du Bois, Henry Louis Gates Jr., Robin D.G. Kelly, and Kwame Anthony Appiah—refers to the concept of a transnational and interconnected African diaspora that exists beyond the continent of Africa. It acknowledges the cultural, economic, and social ties that connect people of African descent around the world, including those in the Americas, Europe, Asia, Latin America, and the Caribbean. The term Global Africa recognizes that the history, culture, and experiences of African people have been heavily impacted by colonialism, slavery, and immigration. It also highlights the diverse contributions that people of African descent have made to various fields, such as literature, music, art, and politics, and underscores the importance of building solidarity among different communities of African descent to address shared challenges and promote mutual understanding.
If the United States truly wants to embrace the African diaspora that resides there, as stated at the US-Africa Leaders' Summit, it must reduce the prices to access genealogy records, increase public awareness campaigns to help young people everywhere to learn about their ancestors, and foster economic ties that can grant the diaspora freedom to travel and explore their genealogy first-hand.
Journey through time
I used DNA services and genealogy platforms to trace my family lineage. Through years of research and accessing free records on websites like Slave Voyages and the Freedmen's Bureau of the National Archives, I was able to piece together my family's story going back six generations: from the 1700s to the present day. From my research, I discovered that my African roots go back to the Mali Empire where my distant cousins were once kings.
While the desire to know one's family lineage is universal, each culture faces a unique set of challenges. For instance, while some Africans don't feel as directly impacted by slavery as many African Americans, colonization left stains that persist in young African minds after many European powers had captured people, artifacts, and resources from Africa during the sixteenth to twentieth centuries. Initiatives like African Ancestry help in rediscovering roots, while others like H3 Africa—a consortium of research projects led by African scientists—are playing a significant role in researching African genetics to help people better understand whether they are at risk, through genetics or their environment, for developing specific diseases.
Countries around the world have different laws and regulations regarding access to genealogy records. While the United States is fortunate to have access to millions of historical records, the US Citizenship and Immigration Services charge high fees for access to genealogy records, creating a barrier for many everyday Americans. Gatekeepers must strike a balance between protecting privacy and making genealogy accessible to those who seek it.
And with the United States becoming the site of fierce discussion over migration and mobility, improving access to genealogy is one important way it can communicate a more welcoming message to the African continent—and a more supportive one to the African diaspora community at home.
Control of the narrative
Today in the United States, school systems are facing complex questions about what should be taught regarding African American history, how lessons should be delivered, whether interpretations of historical moments are accurate, and which students should be receiving these lessons.
For example, in my home state of Virginia, new proposed history and social-science Standards of Learning are facing criticism for avoiding and downplaying Black contributions to society. In Florida, state officials blocked a proposed advanced placement African American history course, saying it "significantly lacked educational value." The Texas House of Representatives is considering a bill that would remove all diversity, equity, and inclusion programs in state universities. The largest proportion of Black immigrants lives in Southern states where these debates about Black history and inclusion are unfolding.
What signal is the United States sending to African students who want to study in the country? This is a question that's particularly relevant at a time when the global competition to attract African students is sharpening. Europe hosts the biggest group of Sub-Saharan African students outside the continent. But while France, which has 92,000 students enrolled according to the latest data, has long dominated in attracting African students, the United States (41,700), South Africa (30,300), and the United Kingdom (27,800) have also grown as major players in recent years.
If young people, such as students, can meaningfully engage with genealogy, they can strengthen diaspora communities by connecting together via their cultural and familial ties, which then boosts religious, social, and political connections across communities. Ultimately, this can create a heightened sense of identity and belonging across borders. Jeanine Stewart, a psychologist with expertise in inclusion and belonging, shared in a Forbes interview that, "being surrounded by other human beings doesn't guarantee a sense of belonging." Instead, she said, "belonging actually has to do with identification as a member of a group and the higher quality interactions which come from that. It's the interactions over time which are supportive of us as full, authentic human beings."
The United States' message in attracting African students to study in the country extends beyond the education sector. Having a positive message would signify a broader commitment to diversity, globalization, and engagement with the African continent. The United States sees Africa as a vital partner in shaping the world's future, and welcoming African students is a way to build lasting relationships and promote economic growth. Additionally, by attracting more young, talented individuals from Africa, the United States could bolster its own population growth by attracting a diverse range of perspectives and skills; it could also help make genealogical information more available, as young people from various family trees may carry their genealogical stories with them to the United States.
Genealogy awareness and access: What's needed next
Many African societies have traditionally used oral history to pass down stories and genealogical information from generation to generation. This connective experience between the young and old is important.
At the same time, there is a need for genealogy thought leaders to collaborate with the public sector and other organizations to generate public awareness campaigns about the advances in the field. These campaigns can highlight the value of understanding one's identity, connecting with distant relatives, and providing insights into past societies. Public awareness campaigns can also help dispel myths about genealogy and DNA to promote its legitimacy as a valuable field of study.
Institutions such as the Robert F. Smith Explore Your Family History Center—which is part of the Smithsonian Institution's National Museum of African American History and Culture—is facilitating free genealogy expert consultations for those interested in tracking down their ancestry.
That said, there is still much work to be done to make genealogy and DNA records more accessible worldwide. Governments, including the United States, should create policies that promote the digitization of records and the creation of databases that are affordable and accessible to the public, especially given the fact that the genetic testing market size is anticipated to grow, reaching almost $18 billion by 2030.
Private companies currently access genealogy and DNA records to monetize direct-to-consumer DNA testing, medical research, DNA research services, data sharing and collaborations, and affiliate marketing.
Access to genealogy records can provide individuals with a sense of identity and belonging, connect them with distant relatives, and help them understand their place in the world. It can also inform understanding of past societies and help the world build more sustainable and prosperous communities.
Therefore, organizations around the world must work together to create policies that promote free access to genealogy records. Governments and institutions must work to strike a balance between protecting the privacy and providing access to history that is at the core of how families and communities have evolved over centuries.
Together, citizens of the world can ensure that genealogy remains a valuable resource for individuals and societies worldwide. By understanding the past, people can build a more prosperous and connected future.
---
Tyrell Junius is the associate director of the Atlantic Council's Africa Center and a US returned Peace Corps volunteer of Zambia.
Further reading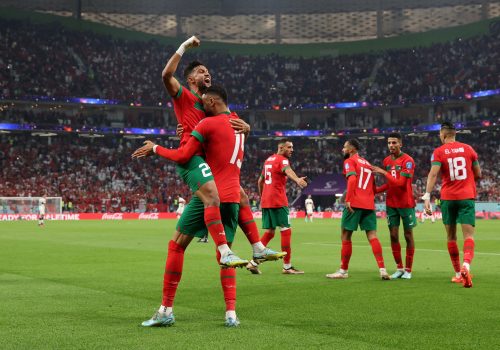 Wed, Feb 8, 2023
AfricaSource By Deneyse A. Kirkpatrick
Morocco's magical run at the 2022 World Cup, where it became the first African nation to reach the semifinal, was celebrated across the continent. What brought Morocco to that moment was not just talent, but also the Pan-African movement that opened doors for African nations' inclusion in global institutions like the Fédération Internationale De Football […]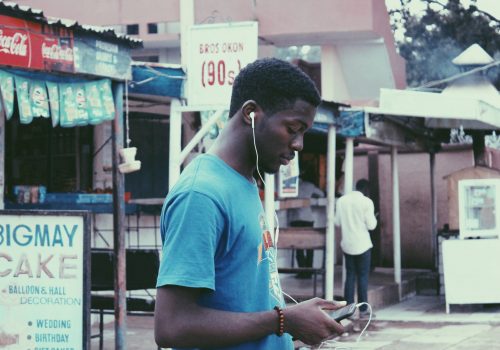 Mon, Nov 29, 2021
AfricaSource By Aubrey Hruby
US-China competition will be shaped by efforts to support Africa's digital infrastructure.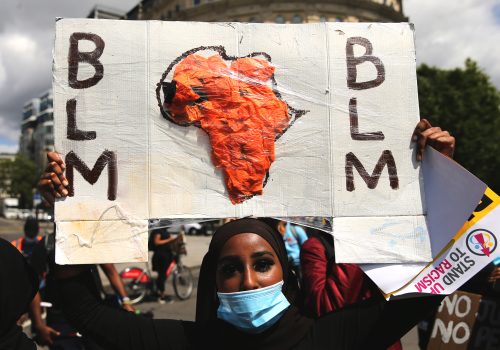 Mon, Jun 20, 2022
AfricaSource By Tyrell Junius
In this new vision, the United States should implement policies at the local level that fold into an international agenda.