CORONAVIRUS ALERT 3/13/2020
The Atlantic Council's Coronavirus Alert is a regular summary of policy, economic, and business events around the emergency. To stay updated, sign up to the Coronavirus Alert here.
Summary: 
Authorities from the United States to France and Portugal closed schools in efforts to contain the spread of coronavirus, while sports games from hockey to soccer were canceled in the United States and Europe. Politicians or their spouses tested positive for the virus in Canada and Australia, even as new cases slowed in China and South Korea.
Statistics:
 There are more than 125,000 cases worldwide in almost 120 countries and territories; more than 4,600 people have died.  
QUOTE: "It's going to spread further," UK Prime Boris Johnson told a news conference, Reuters reported. "I must level with you, level with the British public—more families, many more families, are going to lose loved ones before their time."
HEALTH AND SCIENCE:
QUOTE: "While scientists are trying to share facts about the epidemic, the administration either blocks those facts or restates them with contradictions," H. Holden Thorp writes in Science Magazine. "[D]o us a favor, Mr. President. If you want something, start treating science and its principles with respect."
FINANCE AND ECONOMICS:
QUOTE: "The system is not really geared to what we need right now, what you are asking for. That is a failing," Dr. Anthony S. Fauci, who leads the National Institute of Allergy and Infectious Diseases, said in testimony before the House Committee on Oversight and Reform, The New York Times reported. ""It is a failing. I mean, let's admit it."
BUSINESS AND TRAVEL:
QUOTE: "We will definitely see an effect on jobs from the coronavirus, and it could be pretty large in leisure and hospitality," said Julia Pollak, labor economist at ZipRecruiter, The Washington Post reported. "The first thing we'll see is a reduction in hours. We hear many reports of employers canceling staff everywhere except in health care."
RESOURCES
From the Atlantic Council:

Thu, Mar 12, 2020
US President Donald J. Trump's surprise March 11 announcement barring most travel from Europe to the United States for thirty days starting March 13 rattled stock markets and sent travelers scrambling to make new arrangements. We look in more detail at the implications of the US president's announcement.
New Atlanticist by Atlantic Council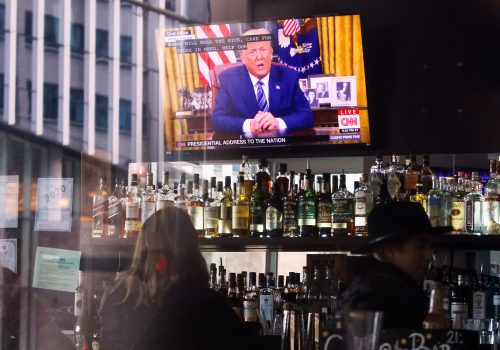 Thu, Mar 12, 2020
"The golden rule of leading an alliance is consultation—don't take your friends by surprise, especially when your actions target them," Damon Wilson says. "This isn't about being nice. This is about being smart advancing US interests. What happens the next time we need our allies?"
New Atlanticist by Atlantic Council

Thu, Mar 12, 2020
Israel's stringent policies may help enlighten other nations in search of answers.
MENASource by Daniel J. Samet