The world in debt
EconoGraphics by Stefan de Villiers
On Tuesday, the IMF released a new World Economic Outlook report for October 2020. In the report, alongside adjusted growth expectations, were updated measures of government debt. From that data, the GeoEconomics Center has created a visualization to track the debt burden felt across the globe.
Our new tracker focuses on general government gross debt levels (as a percentage of GDP) in 2020 and compares them to 2009 during the Global Financial Crisis. It includes a heat map that shows the percentage change in debt levels over that period.
The 2020 data shows 30 countries with gross debt levels greater than 100% of their GDP, more than double the number in 2009. The IMF expects cumulative public debt to stabilize around 100% in 2021. On average, budget deficits were driven up by 9% of GDP during the pandemic recession.
Japan carries the most debt, at 266% its GDP, an increase of 25% from 2009. US debt rose by 34% over that same period to 131.2% of GDP in 2020. Overall, 84% of the countries shown saw their debt rise in the period measured and only 29 saw it fall.
See the interactive map on government debt below. Click on the dropdown menu in the top left to toggle between years.
In June of this year, the GeoEconomics Center published a similar visualization tracking the difference in G20 fiscal responses to COVID-19 and the Global Financial Crisis.
There, Japan's drastic stimulus stands out, accounting for a portion of its massive debt incurrence.
To learn more about the state of stimulus spending, explore that interactive map and its accompanying fiscal response charts below.
To learn explore more similar work and learn more about the fiscal and economic impact of COVID-19, check out our COVID-19 economy and fiscal expenditure trackers: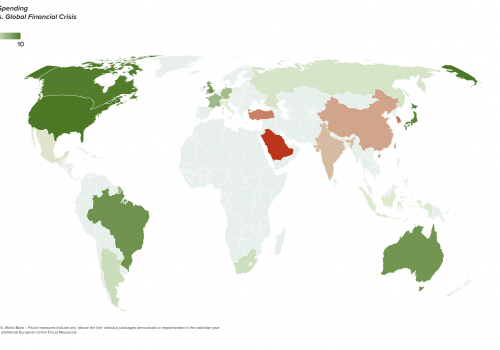 Wed, Mar 10, 2021
Our new fiscal firepower heat map, updated through March 2021, shows how G20 COVID-19 crisis spending now compares to the Global Financial Crisis. While nearly every country is deploying its fiscal firepower significantly more than a decade ago, China is still spending less.
EconoGraphics by GeoEconomics Center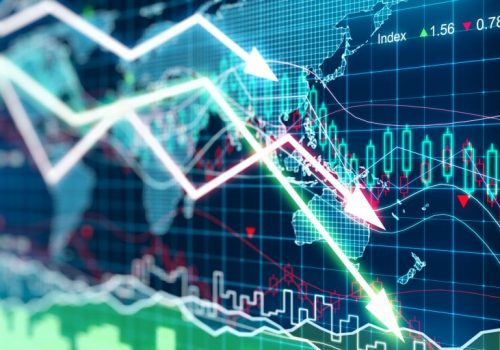 Tue, Jan 5, 2021
Key economic indicators for Japan, UK, European Union, and the United States.
EconoGraphics by Nitya Biyani