Why US technology multinationals are looking to Africa for AI and other emerging technologies: Scaling tropical-tolerant R&D innovations
The African continent is emerging as a crucial player in the drive for innovation as technology continues to transform every industry. Due to its potential as a center for ground-breaking research and development (R&D) in artificial intelligence (AI) and other emerging technologies, US technology corporations are increasingly focusing on Africa. But beyond its tech talent, what draws these tech juggernauts to Africa? Is it the 2.5 billion consumers who will exist by 2050 or is it because by 2050, Africa will have the youngest population? The following will examine and describe the opportunities and challenges in AI and emerging technology, with a focus on how Africa's distinctively diversified and tropical ecosystems offer an unrivaled potential for scaling up R&D breakthroughs that can resist extreme weather conditions.
The intersection of tropical-tolerant research and demographic growth
US technology multinationals are increasingly looking to Africa for AI and other emerging technologies for a number of reasons. First, technology corporations such as IBM, Google, and others have created R&D labs in Africa (often run by African diaspora professionals). Second, building a base in Africa gives technology corporations access to innovative ideas, cutting edge startups, AI researchers and more. Additionally, the opportunity to scale R&D innovations attuned to the needs of the region is particularly important since it has a fast-growing youth population. One in five people on the planet will be African in thirty years, so if a business wants to be first to market, a local African presence is imperative.
One key reason is the opportunity to scale R&D innovations attuned to the needs of the region. Google opened its first African AI lab in Ghana. Why did Google do this? A few technology corporations, like IBM, Google, and others, have created R&D labs in Africa as they begin to understand the landscape of African research and innovation. Due to their knowledge and experience on both the local and global scales, some have hired African diaspora professionals to run these labs. IBM maintains research facilities in Kenya and South Africa, while Google operates an AI facility in Ghana. Why did they decide to reside there? They undoubtedly want to find out what fresh ideas startups, AI researchers, and other organizations are working on, as well as new trends that can be made into products. This kind of foresight is wise for business, but it will be necessary moving forward. One in five people on the planet will be African in thirty years, so if a business wants to be first to market, a local Africa presence will be essential to cater to this growing demographic market.
Utilizing AI and emerging technologies in healthcare and medicine
The tropical regions of Africa are a hotbed for many emerging diseases that pose a threat to global health. These regions also have a high incidence of poverty, which limits access to quality healthcare. As a result, there is a great need for new medical technologies that can be used to prevent, diagnose, and treat existing and upcoming diseases. AI and other emerging technologies have the potential to transform healthcare in Africa by providing early detection of disease outbreaks, developing more effective treatments, and improving access to quality care. Additionally, these technologies can help reduce the cost of healthcare delivery by automating tasks and improving efficiency.
US technology multinationals are investing in AI and other emerging technologies because they recognize the potential impact these technologies can have on global health. By commercializing and scaling R&D innovations from Africa, the private sector, technology multinationals, and academic institutions are partnering to improve the lives of millions of people across the continent and other frontier markets. Zindi, a start-up based in Cape Town, South Africa, called upon African data scientists to develop solutions to address the COVID-19 crisis when it was at its peak. Similarly, Christian Happi—a Professor of Molecular Biology and Genomics, as well as director of the ACEGID at Redeemer's University in Nigeria—has assembled a team of data scientists who are utilizing AI and other advanced technologies to sequence the SARS-CoV-2 virus.
The opportunity for US technology multinationals in Africa
Due to the continent's variety of entrepreneurial ecosystems, particularly tech incubators, accelerators, and co-working spaces, US technology multinationals are turning to Africa and other frontier markets as a proving ground to test AI and other emerging technologies solutions. These entrepreneurial ecosystems are starting to serve as a testing ground for new ideas that, for a variety of reasons, such as a lack of base-load power or the high cost of Internet data, would not take off in a developed market. The continent also has a growing population of young people who are embracing digital technologies, which presents a significant opportunity for companies that are looking to expand their customer base and broaden their workforce.
African critical minerals used in emerging technologies
Several critical minerals, such as cobalt, lithium, graphite, platinum metals, etc., serve as essential materials for everyday tech such as consumer electronic products—thus far an untapped market for powering the global emerging technology ecosystem. Additionally, Africa's natural resources also offer the opportunity to make the African continent a leading player in the global green transition to electric vehicles that run on batteries. This is a market that China has largely cornered, however, due to African governments realizing the potential to generate more revenue from these critical minerals, African countries have recently started to ban unprocessed raw commodities being used in emerging technologies. For instance, Zimbabwe recently instituted a raw lithium ban and other African countries are starting to realize the opportunity to navigate geopolitical competition between the world's industrial powers to capitalize on their critical minerals for their own development–foreign direct investment, value-addition, and increased job creation.
The challenge of scaling R&D innovations in Africa
The challenge of scaling R&D innovations is that they require significant investments of time and money to bring to market, and these investments are often riskier than traditional businesses. For US technology multinationals, the opportunity to scale their R&D investments in Africa is an attractive proposition. The continent has a vast population with a growing middle class, and its resources are largely untapped. However, doing business in Africa comes with its own set of challenges, including infrastructure constraints and political instability. Nevertheless, for companies willing to invest in the continent, the rewards could be significant.
There are significant challenges associated with scaling R&D innovations in Africa, including:
• Infrastructure: Many African countries do not have the basic infrastructure required to support large-scale R&D operations. Challenges include unreliable base-load power, telecommunications, and transportation.
• Skilled labor: In many African countries, education levels are low and there is a lack of trained personnel who can work in R&D facilities.
• Political instability: There are political risks associated with doing business in Africa. These risks include instability, corruption, and government interference.
The benefits of an Afro-centric R&D innovation strategy
There are many benefits to pursuing an Afro-centric R&D innovation strategy, including the ability to scale innovations more effectively across frontier and emerging markets. By focusing on developing technologies that can be adapted to work in tropical climates, US technology multinationals can gain a first mover advantage in the African market and tap into a vast untapped customer base. Additionally, this strategy can help build long-term relationships with local partners and suppliers, which is essential for successful business operations in Africa. The natural environment in Africa, which includes semi-arid temperatures, deserts, and tropical climates, can also be a suitable testing ground for innovations that could thrive in developed markets. Moreover, US companies can position themselves as global leaders in the race to develop impactful innovations for Africa by investing in R&D of technologies relevant to the continent's needs. Finally, by 2030 African youth are expected to constitute forty two percent of the global youth population. This is an enormous demographic who will be tech savvy, ambitious, and hungry for economic opportunity.
Conclusion
US technology multinationals have recognized the potential for scaling up Afro-centric R&D innovations in Africa. With access to a large and growing digitized population, as well as an abundance of data resources untapped for AI, this continent offers enormous opportunities for responsibly advancing AI and other emerging technologies. By leveraging local knowledge and expertise, US technology companies can develop new products and services designed specifically for African markets while also contributing to the development of innovative solutions applicable globally in emerging and developed markets.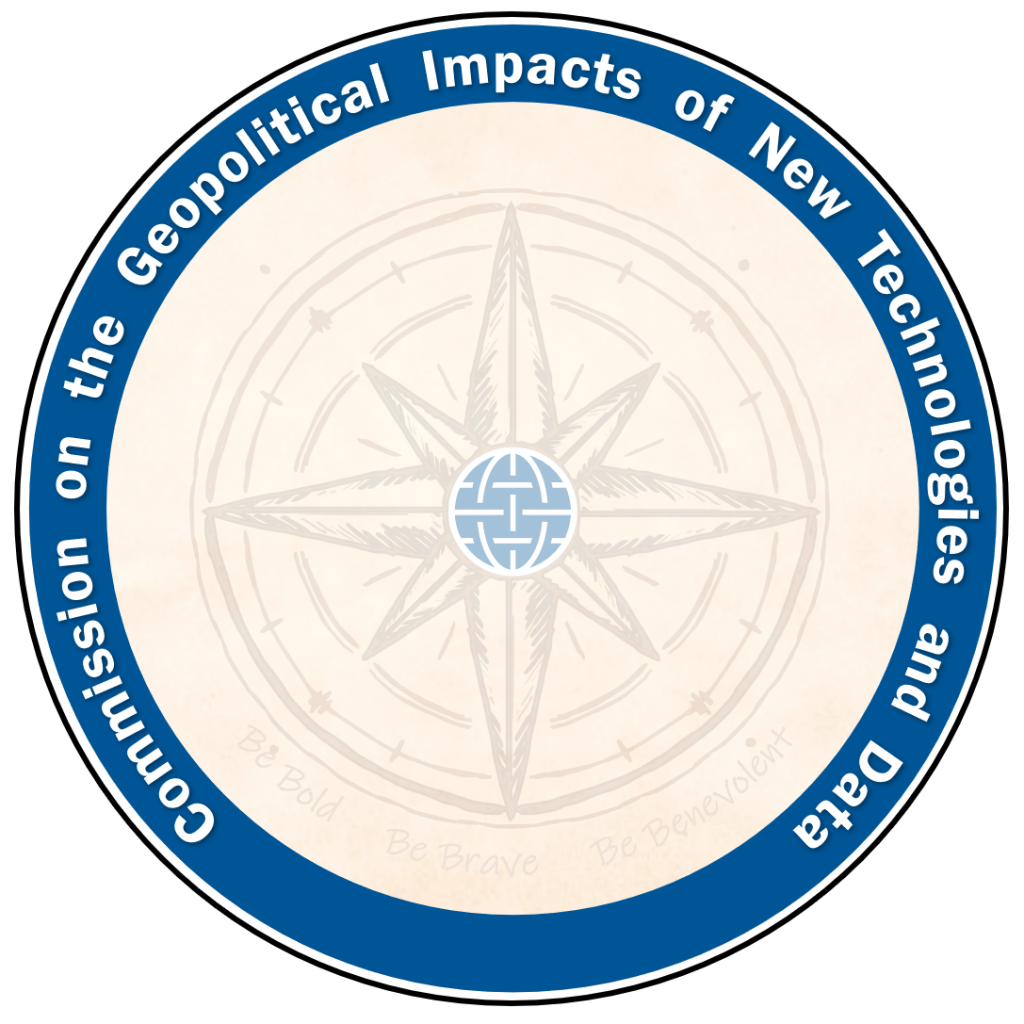 Championing positive paths forward that societies can pursue to ensure new technologies and data empower people, prosperity, and peace.