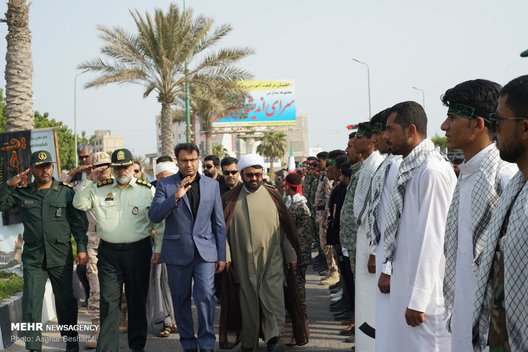 A tale from more than a decade ago serves as a warning for both the US and Iran in the wake of the devastating September 22 terror attack on a military parade that killed at least twenty-five people in the provincial capital of Ahvaz.
It was around 2006 when reports started emerging of a man in his mid-fifties began making the rounds at embassies in Kuwait. He had quite a story. He was going around telling diplomats that he was a descendant of Sheikh Khazal Khan, who had led a failed 1922 Arab uprising against the rule of Iran over Khuzestan, a province in the country's neglected but oil-rich southwest. He sought to enlist support for his own separatist group, which he promised would help fight the clerical regime in Iran at a time when the administration of George W. Bush was ramping up pressure on Tehran.

He also claimed close ties to the US and to have received unspecified support from Washington. He even went around showing documents he claimed were signed by then Secretary of State Condoleezza Rice, according to a 2006 State Department cable published by Wikileaks.
But other Iranian Ahvaz activists in Kuwait insisted the man was "crazy," and a fraud, had no support from Iranian Arabs, and wasn't even a descendant of Sheikh Khazal Khan. US officials, according to the diplomatic cable, had no ties whatsoever to the man, and his letter from Rice was likely forged.
For the US, the story of the supposed descendant of the Khuzestani warlord is a reminder of the hall of mirrors within exile politics of hostile states. It also demonstrates how tough it is to discern the legitimacy of those claiming to have followers on the ground from shills like the late Iraqi exile Ahmed Chalabi, who attempted to build influence by peddling regime change fantasies in international circles.
As the Trump administration ups pressure on Iran over its Shia militias, missiles, and mostly dormant nuclear program, it could use a gut check about the sources of its information about what's happening in Iran—whether it's relying on imposters who are telling it what it wants to hear.
When it comes to discerning dynamics and trajectories of social and political movements, there is no substitute for sources and voices on the ground. For example, mid-summer, when renewed protests over economic troubles were shaking Iran, a conservative scholar in Iran told me that he couldn't wait for autumn to start. He predicted that once school started, both parents and children would redirect their attention to classes.
He turned out to be correct. The protests sputtered out in September, and without the use of excessive force by the security forces.
The terror attack on Saturday was followed by a claim of responsibility issued by the main Iranian Arab activist group based out of Denmark, the Arab Struggle Movement for the Liberation of Ahvaz, which thereafter rejected it as an unauthorized operation. Most scholars and officials dismissed an Islamic State of Iraq and al-Sham (ISIS) claim of responsibility but backtracked after the group issued a strange video of some of the fighters before the attack.
Iran blamed and threatened retaliation against the US, the United Arab Emirates, and Saudi Arabia (as well as Israel) for the attack. After all, both the US and its Gulf allies have at times had contacts with the Khuzestan exile groups, and Tehran regime supporters remain wedded to the deeply flawed narrative that Washington and Riyadh are behind ISIS. It also doesn't help that in May 2017, Saudi Crown Prince Mohammed bin Salman threatened, "We won't wait for the battle to be in Saudi Arabia. Instead, we will work so that the battle is for them in Iran."
But for Iranians, too, the tale of the supposed Kuwaiti sheikh offers a lesson. In the Middle East, it's never clearcut who backs whom. Just because someone goes around acting as if they have US or Saudi support, doesn't mean that they do.
Acts of terrorism such as the attack on the military parade are meant to get Tehran to overreact, up the repression, and spur a rebellion. To combat the exploitation of its ethnic fissures—by either exile opposition groups, guerrilla organizations, and ISIS—Iran would do better to address some of those cracks, and listen to the concerns of its own Arab citizens instead of blaming outsiders. Natives of Khuzestan province have long complained that their region contains much of Iran's oil reserves, yet the southwest is undeveloped.
"They say we sit on the oil and we don't benefit," said James Dorsey, a senior fellow at the S. Rajaratnam School of International Studies at Singapore's Nanyang Technological University.
Iranian officials acknowledge the problems in the southwest, blaming it on the eight-year Iran-Iraq War that was largely fought in the province. But that doesn't cut it with young Iranians who don't remember the bloody conflict. Dorsey has for years tracked protests in Iran as they spread from chants in sports stadiums to the streets, and noticed the rise of discontent in Khuzestan.
"The war ended thirty years ago," he said. "That argument doesn't wash, and it doesn't wash with Iranian Arabs."
Iranian Arabs have complained for years of being treated like second-class citizens, discriminated when applying for jobs in the civil service, university placements, or just in everyday interactions with majority Persians who look down on them. Still, they joined in defending the Iran with the rest of Iranians during the war against Arab Iraq. None sided with Saddam Hussein.
There are some Iranian Arabs who reach top positions, including Ali Shamkhani, a former minister of defense under the presidency of the reformist Mohammad Khatami and who now serves as a member of the Supreme National Security Council. But they are rare.
"While the Iranian government claims to 'rescue' Arab populations in Iraq and Syria, they persecute and discriminate their own Sunni Arab population at home," said Genieve Abdo, a specialist at the Arabia Foundation. "The repression and discriminatory practices Iran exerts on all minorities—religious and ethnic—is a dangerous game and there will be consequences. It is just a matter of time."
After Saturday's attack, Mohsen Rezaee, secretary of Iran's Expediency Council, insisted the "dream of separating Khuzestan from Iran" will never come true. To make sure of that—and to blunt the potential impact of terrorists, separatists, saboteurs, and the plethora of Ahmed Chalabis abroad—Iran needs to improve the lives of its own Arabs.
Borzou Daragahi is an International correspondent for The Independent. He has covered the Middle East and North Africa since 2002. He is also a nonresident fellow with the Atlantic Council's Middle East Security Initiative. Follow him on Twitter: @borzou.