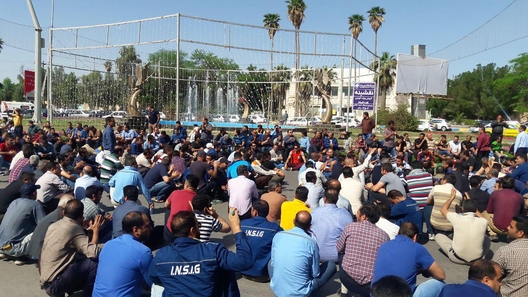 What do farmers in Esfahan, unemployed youth in Rafsanjan, teachers and students in Hamadan, and fraud victims in Kerman all have in common? On the face of it, not much other than being Iranian. But there is another commonality: They all staged protests on the same day, December 12.
Reporting on Iran tends to focus on the country's nuclear program or squabbling of its leaders, while the diverse array of protests that regularly erupt across the country go underreported.
In the last twelve months, hardly a single day has passed without protests about the government, corruption, and the dwindling state of the economy. US-reimposed sanctions have hit the Iranian economy hard and the economic policies of President Hassan Rouhani have done little to take care of the poor— though this is no surprise since his government is dominated by ministers who support policies favoring the private sector.

Just in the last week alone, hundreds of protesters have emerged including those led by the housing co-op members in Tehran, landowners in Yazd, fraud victims in Tehran, and especially protests in Khuzestan province led by boat-operators, dock workers at Imam Khomeini port (Iran's second largest commercial port), and steelworkers in the provincial capital, Ahvaz.
The steelworker protests are a major cause of worry for authorities. Labor actions have the potential to be highly disruptive and can quickly become political since many labor leaders have broader agendas including demanding freedom of association and better standards of living. Just like Poland of the 1980s and China of today, labor protests are also an ideological challenge to Tehran's rulers who claim to represent a "revolution of the oppressed"—though in reality, they preside over an oligarchic capitalist system.
Various factions of the Islamic Republic shared many disagreements in the last few decades but there has long been something of an economic consensus. Supreme Leader Ayatollah Ali Khamenei, President Rouhani and ex-President Mohammad Khatami—as well as much of the anti-regime opposition abroad—all decry the state ownership of the economy and have supported various privatization schemes in the last three decades. It does not help that privatization is not done through open tender and often results in companies going to insiders with the right connections or quasi-governmental bodies. As a result, a new Persian term, Khosoolati or "public-private" was coined to describe this phenomenon.
During the last few months, two rounds of labor strikes have hit Khuzestan province. The politically-sensitive province sits on the border with Iraq and saw most of the suffering during the ruinous eight-year Iran-Iraq War. It is also home to the country's Arab minority. Though Khuzestan province contains almost all of Iran's oil and gas reserves, it has been a bastion of poverty, poor services, and hazardous air pollution caused by dust and haze.
For months now, steelworkers and sugarcane workers at the Haft Tapeh refinery, about 100 kilometers north, have galvanized the country's labor movement by leading sporadic strikes and protests. Their common demands are re-nationalization of their respective companies and the paying of delayed wages.
The strikes have gained some international attention. The UK Trade Union Congress tweeted on December 13 in support of their "brother Esmail Bakhshi," the leader of the Haft Tapeh protest who was recently released on a massive bail. The Trade Union Congress also called on the Iranian authorities to "immediately release and drop charges" against Ali Najati, a fellow leader of the strike, Sepideh Gholian, a civil activist from Ahvaz arrested for her solidarity actions, and "all imprisoned workers in Iran."
The situation is so dire that a Haft Tapeh worker committed suicide earlier this year after his repeated attempts to collect his wages failed, according to a comprehensive report recently published by the US-based Iran Human Rights Documentation Center. Human Rights Watch issued a statement on November 22, decrying the "mounting crackdown on labor activists" in the country.
International pressure worries the leaders of the Islamic Republic, but much more worrisome are the effects of strikers inside the country. Labor leaders like Bakhshi and Najati, who were both tortured in prison, have the potential to become national figures. Already the protests have caught the attention of other parts of society to join in support. Authorities arrested Asal Mohammadi, a pharmaceutical student at Tehran's Azad University, for her show of solidarity. Mohammadi had written articles about the sugarcane workers and steelworkers. Similarly, Tehran's major universities—Amirkabir University of Technology and K. N. Toosi University of Technology—have been the scene of clashes between conservative students and leftist ones supporting the workers, who have also been showing solidarity through campus protests.
On December 12, the protest by the steelworkers was joined by Jafar Panahi, a world-renowned film director who escaped the official ban on his filmmaking by producing award-winning bootleg productions. His latest, Three Faces, won the best screenplay award at the 2018 Cannes Film Festival. Panahi is known to actively support the protests in Iran and is said to be making a documentary about the steelworkers.
The steelworkers had quite a theatrical day, too.
Borrowing from a famous tradition of symbolic protests, they donned burial shrouds, denoting their readiness to die for the cause. The workers marched and passed by the city's famous Naderi bazaar as well as the offices of the provincial governor, county governor, and provincial representative of the Supreme Leader. Their chants showed mounting anger and targeted the country's top establishment: "Our country is a house of thieves; it is unique in the world," "Death to mafia," "Honorable citizens, support us," "No to threats, no to prisons," "Workers will die but not accept humiliation," "We will stand, we will die, we won't accept humiliation," "Iranian workers, unite," and "God is great"—a chant from the 1979 revolution and 2009 post-election protests known as the Green Movement, which is now seen as a cry for justice.
Meanwhile, the Tehran-based Defenders of Human Rights Center (DHRC), founded by Nobel Laureate Shirin Ebadi, recently gave its annual award to the Iranian teachers for their "peaceful protests which can be a model for others." The Iranian teachers union has organized regular strike action in the last three years. The latest round, which commenced in May, was met with a harsh crackdown with at least fourteen teachers imprisoned across the country. Since the Teacher Union's spokesperson Mahmood Beheshti Langeroodi remains in prison, the award was given to his wife.
In supporting the award, Ebadi—who now lives abroad—said all Iranians should be grateful "to teachers who speak up about our country's problems." She also praised the teachers strike and their "insistence on their reasonable demands." As the economic conditions worsen in Iran, more strikes are to be expected.
Iranian authorities sometimes meet the demands but this can encourage greater protests over other issues. Some officials take brutally hardline positions such as the chief of Judiciary, Sadeq Larijani, who has threatened workers with capital punishment.
December 28 marks the first anniversary of the largest protests—in terms of geography—since the 1979 revolution. The question remains: Can various working-class actions around the country team up and present a political challenge to Tehran?
Though there is a history of protests and strikes over the past four decades, serious working-class action has been absent from all mass movements of Iran. Its eruption could be a game-changer.
Arash Azizi is a New York-based writer and academic. He previously co-hosted a program on London-based Manoto TV, which was one of the most watched news shows in Iran, and was a former international editor of Kargozaran, an Iranian daily. He is currently a doctoral student at New York University, where he researches the history of the Middle East during the Cold War. Follow him on Twitter: @arash_tehran.