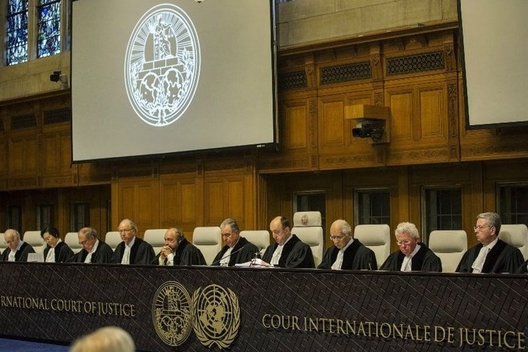 A recent decision by the International Court of Justice (ICJ) regarding US sanctions against Iran is an important success story for the Islamic Republic.
The ICJ decreed on October 3 that Washington must insure that its sanctions don't adversely impact humanitarian goods or civil aviation safety in Iran. Even though the Trump administration rejected the ruling—and the ICJ lacks the means to enforce its decision—it still carries a great deal of soft power in the court of international public opinion.
Facing a US administration that rejects international agreements and attempts to get its way through unilateral pressure, Iran has increasingly been turning to international fora and to public diplomacy. Victories in this arena come at a time when public awareness is at its peak and media of all sorts is increasingly user-friendly and accessible.

The ICJ ruling mandated that US sanctions exempt exports of humanitarian and civil aviation supplies to Iran. In rejecting the ruling, the Trump administration asserted that, "those protections are already in place."
However, US sanctions coming back into force on November 5 target many Iranian financial institutions that conduct humanitarian trade. Recently, the US added to the list of such institutions by designating Parsian Bank, a private sector bank that has facilitated much of Iran's humanitarian trade even during prior sanctions periods.
Iran pursued its case at the ICJ by referring to a treaty between Iran and the United States that was signed in 1955. Known as the Treaty of Amity with Iran, it was negotiated between Washington and the US-backed Shah. It established friendly relations between the two countries and the right to ICJ arbitration in the event of disputes. After Iran won its case, the Trump administration announced that it was leaving the treaty and accused Iran of "abusing" the agreement.
White House national security advisor John Bolton also announced that the US would abandon an optional protocol under the Vienna Convention on Diplomatic Relations, a 1961 treaty governing diplomatic ties between states. Bolton claimed that the ICJ is being "politicized and ineffective." Secretary of State Mike Pompeo also complained about Iran's use of these agreements. Pompeo said, "I am disappointed the court failed to recognize its lack of jurisdiction." He also tweeted: "I'm announcing that the United States is terminating the 1955 Treaty of Amity with Iran, this is a decision that is 39 years overdue."
A commentary by CNBC News noted, "Washington has long sought to decrease its exposure to ICJ rulings, having already done so in the 1980s. This latest move highlights the administration's focus on sovereignty and its 'America First' agenda."
While the US is withdrawing from international commitments, Iran is doubling down on them as a way to try to isolate the United States. Iranian Foreign Minister Mohammad Javad Zarif criticized the US decision to withdraw from the Treaty of Amity. He tweeted: "US abrogated JCPOA—a multilateral accord enshrined in UNSC Resolution 2231—arguing that it seeks a bilateral treaty with #Iran. Today US withdrew from an actual US-Iran treaty after the ICJ ordered it to stop violating that treaty in sanctioning Iranian people. unlawful re-imposition of unilateral sanctions."
Zarif also tweeted on the ICJ ruling: "UN top court rules that US must comply with obligations violated by re-imposing sanctions on Iranian people when exiting #JCPOA. Another failure for sanctions-addicted USG and victory for rule of law. Imperative for int'l community to collectively counter malign US unilateralism."
In bringing the case to the ICJ, Iran argued that the US had violated the terms of the Joint Comprehensive Plan of Action (JCPOA), which was endorsed by a UN Security Council resolution. The Trump administration withdrew unilaterally from the JCPOA in May.
The Iranian government has not only turned to the court in The Hague as an international organization with superior credibility to pursue its case against US sanctions, and gain the upper hand in public diplomacy. The government has also reinforced its actions through social media.
While Iran sought a ruling that all US sanctions being re-imposed are illegal given Iran's continued compliance with the JCPOA, it has still benefited from the limited decision because of the focus on humanitarian goods. Food and medicine affect ordinary people, not the Iranian government per se, and thus is a potent argument for international public opinion. The ICJ ruling enhances Iran's campaign to convince other countries not to enforce US sanctions. The foreign policy team under President Hassan Rouhani has won a moral battle to enhance its position and leverage on the international stage.
Tahereh Hadian-Jazy writes on women's rights in Iran and the Middle East. She holds a Masters degree in modern Middle Eastern studies from Oxford University and has been accepted for a PhD at the University of St. Andrews.