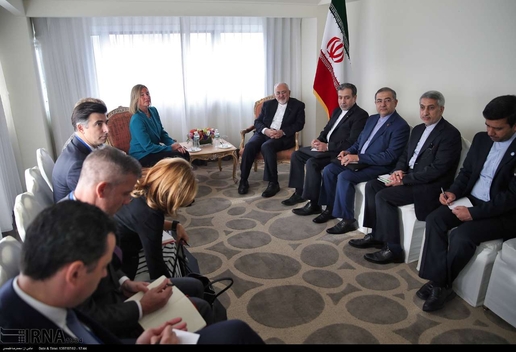 NEW YORK — Iran's mellifluous foreign minister, Mohammad Javad Zarif, was in characteristic form Saturday afternoon as he sparred with a small group of journalists and US-Iran hands and fulminated against the policies of the Trump administration.
Iran would survive the latest barrage of US sanctions, Zarif insisted, noting President Donald Trump's relative isolation at last week's UN General Assembly and efforts by the Europeans and others to devise ways for Iran to continue to sell oil and be paid for it despite US pressure.

US policies toward Iran are based on "illusions," Zarif said. "The illusion of 'regime change,' the illusion of being able to exclude Iran from the region, and the illusion of being able to bring Iran to the negotiating table through threats and pressure."
But the US is not the only party to this conflict to avoid facing facts.
Asked by this analyst whether Iran's animus for Israel—and vice-versa—was not at the root of much of Iran's difficulty with the US, Zarif put the blame on Israel for its poor treatment of Palestinians and accused the Jewish state of using Iran as a "smokescreen" for "its inability to accept Palestine as a reality."
It is true, as Zarif also said, that Israeli Prime Minister Benjamin Netanyahu has been falsely accusing Iran of being on the verge of developing nuclear weapons since Netanyahu entered politics nearly 30 years ago—even as Israel has secretly amassed scores of such weapons. Israel has also pressured successive US governments to sanction Iran and even—in the case of Netanyahu in 2012—to bomb it. But Iran has backed Palestinian and Lebanese militant groups that advocate Israel's destruction, some of its leaders have questioned the Holocaust and chants of "Death to Israel" still punctuate government-organized rallies in Iran. Indeed, one of the missiles sent on Sunday to attack jihadists in Syria ostensibly behind a recent terrorist attack in Iran, had "Death to Israel" among the slogans inscribed on it.
The animus between Israel and Iran dates to the 1979 revolution that overturned the Shah, although Israel did not begin to describe Iran as a major security threat until the defeat of Saddam Hussein's Iraq—seen by Israel as a greater threat—by a US-led coalition in the 1991 Gulf War.
Before the revolution, Iran and Israel had close economic and security ties. Iran sold Israel oil and Israel provided Iran with intelligence and expertise in dealing with security threats including support for creation of the dreaded SAVAK secret police. At the same time, Iranian revolutionaries were building connections with the Palestine Liberation Organization (PLO) and Shia proto-militias in Lebanon. After the revolution, Iran had a falling out with the PLO—which backed Iraq after it invaded Iran in 1980. Iran helped create Hezbollah in Lebanon after Israel invaded that country in 1982 and Iran found new Palestinian groups to support in the 1990s in an effort to sabotage Israeli-Palestinian peace negotiations.
Support for the Palestinian cause is part of Iran's self-image as a defender of oppressed peoples and a pan-Islamic, rather than purely Shia, state. However, Iran ignores the plight of some oppressed Muslims—Burma's Rohingya and China's Uighurs, for example—when other political considerations take precedence. At a time when many Arab governments are showing scant concern for the Palestinian cause, most Iranians resent their government's use of precious funds to back Palestinians—just as they do not support Iran's long alliance with the brutal Assad regime in Syria.
Zarif, in the Saturday conversation, maintained that Iran would accept any settlement the Palestinians agree to with Israel, knowing full well that the chances for such a peace are slimmer now than they have been in decades as the Trump administration gives up all pretense of even-handedness between the two sides. More hardline figures in Iran, including Supreme Leader Ayatollah Ali Khamenei, have generally called for a referendum on Palestine that would include millions of Palestinian refugees—an obvious non-starter for any Israeli government.
The thorny question of Israel and Palestine did not figure in the negotiations that led to the 2015 nuclear deal. Indeed, the Obama administration and its partners did not include any regional issues; it was hard enough to reach agreement on the nuclear question and inclusion of other matters would likely have doomed the whole process.
Zarif said if regional conflicts had been included, Iran's demands would have exceeded those of the US and other parties because the US has been much more interventionist than Iran. While Netanyahu points at a map and sees Iran "encircling" Israel, Iran sees a different reality.
"Have you seen that map with all the US bases around us and said, 'Why are these Iranians putting their country in the middle of all these bases?'" he asked with sarcasm. "We are in our region. We have not invaded any country. We have not sent troops anywhere we were not asked. We have not bombed any country. We have not taken territory from any country. We are content with our size, with our geography, with our resources. We have no eye on anybody else's territory, resources or people."
While some in the US criticize Iran for intervening in Yemen, Iraq, Lebanon and Syria, it is the Israel-Iran divide that has most prevented the Iran nuclear deal from gaining a constituency in the Trump administration and the Republican-dominated Congress and causes concern among Democrats as well. Even though many in Israel's security establishment believe that the curbs on Iran's nuclear program provided by the Joint Comprehensive Plan of Action (JCPOA) are actually beneficial for Israeli security, Iran's rejectionist rhetoric and continued support for Hamas and Palestinian Islamic Jihad as well as Hezbollah provide ample ammunition to those who seek to isolate Tehran.
It was telling, near the end of the more than 100 minute-long conversation with Zarif on Saturday, that when asked to describe his ideal regional order, he talked of a peaceful arena in which Saudi Arabia, other Arab countries, Iraq, Turkey and Pakistan would all be respected and play a role. As for Israel, "they're not in our region," Zarif said.
Barbara Slavin directs the Future of Iran Initiative at the Atlantic Council. Follow her on Twitter: @barbaraslavin1.