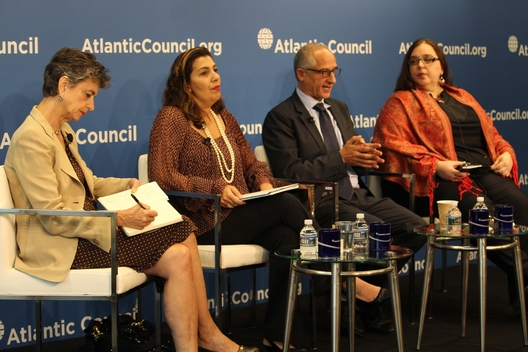 Iran's human rights record continues to deteriorate but there are effective ways to advocate for improvement that include making demands as specific as possible and enlisting broad multilateral support.
These were the main conclusions of a September 13 panel on the topic organized by the Atlantic Council's Future of Iran Initiative.
The system imposed in Iran since the 1979 Islamic revolution seeks a return to conservative social values through rigid interpretations of Islamic law. From women losing rights previously enshrined in a 1975 Family Protection Act, to intimidation and repression of civil society at large by the Islamic Revolutionary Guards Corps (IRGC) and the Judiciary, Iran has violated a wide spectrum of ethnic, social, and religious rights.

A recent report by the United Nations Human Rights Council found that rights violations in Iran in the past year include violations of due process and the right to a fair trial, arbitrary arrests and detentions, executions, including of juvenile offenders, new restrictions on freedom of expression, association and peaceful assembly and access to information. Other abuses include denial of adequate medical care to detainees, torture and other ill-treatment in detention, in particular to coerce confessions. There is also discrimination against women, religious and ethnic minorities, and lesbian, gay, bisexual and transgender individuals.
A particularly ominous trend is the arrest of lawyers who defend political detainees, said Hadi Ghaemi, executive director of the Center for Human Rights in Iran. He cited the case of Nasrin Sotoudeh, a prominent lawyer who has frequently been jailed and was detained about a month ago after being informed that she had been sentenced to five years in prison after a secret trial about which she was not informed. A close associate has also been arrested as well as Sotoudeh's husband. Ghaemi called the situation "Kafkaesque."
However, there are strategies that have been shown to produce improvements. For example, while Iran has had one of the world's highest rates of capital punishment per capita since the Ahmadinejad government, there has been a significant drop recently. The majority of the executions carried out "stem from drug related offences, usually by poor, illiterate, vulnerable people," Ghaemi said. "Eighteen months ago, the law was changed, and we have seen a drop in the number of executions. We believe this is an example where countries from Japan and Brazil, to the EU's protesting, has worked."
Ghaemi said that since the 2009 Green Movement protests of fraud-tainted elections, security forces have ramped up repression. "Intelligence and security agencies collaborating closely with the judiciary became completely unhinged and allowed the repression of civil society, protesters, independent voices, academics," he said.
During his first bid for the presidency, Hassan Rouhani "propelled himself to the front of the pack by acknowledging what he called the security state… promising he would roll back that level of securitization," Ghaemi said. However, two years into Rouhani's second term as president, "not only has nothing happened, he has moved completely to the side of the Judiciary, intelligence, and security forces by complementing them with his own Intelligence Ministry."
Since Rouhani ran on a platform of human rights and civil liberties reform, "women expected the space to open up," added Sussan Tahmasebi, a veteran women's rights activist. However, women have also been disappointed by the shrinking space for civil society. Still Tahmasebi pointed out that Iranian women have made considerable gains in areas such as literacy and education. "Literacy rates are very high for the generation born after the 1979 revolution, the birth rate is very low, the [legal] age of marriage is at thirteen, but the average age is around 25-27 years old," she said. "Over 50 percent of university students are women, and these are all development indicators; Women have broken many barriers in Iran."
While much attention has focused on recent protests by women of enforced veiling, the women's movement targets a variety of issues including domestic violence, homelessness and drug addiction, Tahmasebi said. She pointed to the advent of shelters for women seeking refuge from these scourges as another positive development from grass-roots work.
The panel also addressed the impact of the Trump administration's decision to withdraw from the 2015 nuclear deal and other actions that have strengthened anti-western sentiment in Iran, for example, Executive Order 13769 (also known as the Muslim Ban), which most heavily affects Iranian citizens seeking to travel to the US. Trump has also elected to pull the United States out of the UN Human Rights Council and has openly supported autocratic leaders and regimes, including in the Middle East.
Dokhi Fassihian, director of the Middle East and North Africa Division of Freedom House, criticized the US decision to leave the Human Rights Council.
Fassihian said that criticism of Iran by Trump and Secretary of State Mike Pompeo "can be helpful if backed with an authentic set of ideas." The twelve demands Pompeo listed in a speech in May outlying a new US policy on Iran did not include such a specific agenda on human rights, she said.
According to a former UN Special Rapporteur for Iran Human Rights, Ahmed Shaheed, peace, human rights and development are deeply interlinked, and the lifting of economic sanctions can have a beneficial multiplier effect on the human rights situation. Conversely, sanctions without dialogue and international cooperation will undermine civil, social and economic rights, Shaheed has said.
With the Iranian Rial plunging nearly 70 percent since May, protests have broken out over economic grievances, environmental issues and the lack of political and social reform. The climate has re-invigorated conservatives and hardliners, and led to more arrests of lawyers, journalists, dervishes, student activists and environmentalists.
Fassihian said it was not just the Trump administration but its predecessors that have failed to put forward "a coherent agenda on human rights and democracy in Iran… If we are going to sanction the government and the people, we have a responsibility to the Iranian people to leave them with a chance to open up their society. So, we need some democracy and human rights benchmarks."
Watch the panel on Iran's Human Rights Record here.
Masoud Mostajabi is an assistant director at the Atlantic Council's South Asia Center. Follow him on Twitter: @MMostajabi1.