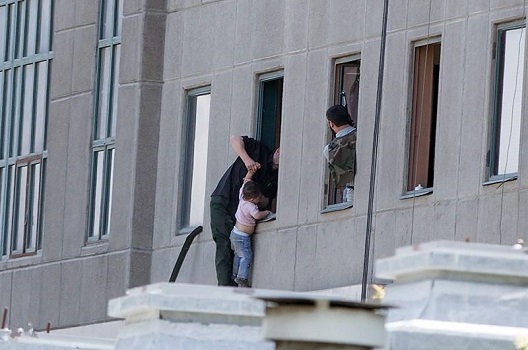 Last year's attacks in Tehran by Islamic State recruits reflect Shia Iran's ambiguous, inconsistent and at times contradictory relationship with Sunni Salafists.
While tough on extremist groups threatening its sovereignty or military presence in Syria, the Iranian government has often turned a blind eye to such groups to allow them to fight US forces in Iraq and Afghanistan and to undercut secular nationalist Iranian Kurds.
The United States and other Western nations, as well as Israel, Saudi Arabia and Qatar, have often used jihadis to counter nationalist and leftist insurgencies, overthrow adversarial governments or oust foreign occupiers. Unlike these other countries, there is no evidence that Iran has actually financed, armed, or trained Salafi jihadis.

Iran's main goal has been to defeat secular, nationalist Iranian Kurds who have been waging an off-and-on armed struggle for autonomy for nearly a century. In a classic blowback, however, religious extremists among the Iranian Kurds—who regard Shias as infidels—are now in direct confrontation with the regime in Tehran.
Iranian Kurdish fighters can easily cross hundreds of miles of porous borders into Iraq to fight alongside or against the Islamic State, or Daesh, or to join Kurdish forces fighting in Syria. And, of course, they can return just as easily to Iran. The June 7, 2017 attacks in Tehran were the first time, however, that these jihadis struck the heart of the Islamic Republic.
Iran's policy toward Salafi jihadis can be traced to the odyssey of al-Qaeda members after September 11, 2001 and to Abu Musab al-Zarqawi, the Jordanian who joined the Afghan mujahedeen in the late 1980s and later formed al-Qaeda in Iraq before being killed by Americans in 2006.
"The Islamic Republic thought if it allowed jihadis to go to Fallujah and other parts of the country, Iraq would turn into America's Vietnam, and it would forget about attacking Iran," Mokhtar Zarei, a Kurdish political activist in the Iranian Kurdistan city of Sanandaj, told this author. But, he added, "when you allow the creation of a Salafi jihadi you cannot tell him 'Jihad is over, lay down your arms,' and not expect him to come to Tehran and detonate a bomb. Jihadis are not like soldiers who take orders from an army commander."
Zarei, who spent three months in jail in Sanandaj in 2009 for his membership in the Nationalist Democratic Union of Kurdish Students, said one or two people are enough to wreak havoc. "Do you think those folks who run over pedestrians in trucks or stab people in European streets have received orders from a higher command?" he asked. "It's very difficult to fight them."
Major regional developments have contributed to the spread of the Salafi jihadi movement in Iranian Kurdistan. These include the establishment in the early 1990s of the "Islamic Emirate" in Afghanistan by the Taliban; resumption of al-Qaeda activities in Afghanistan following the US invasion; the 2001 creation in Iraqi Kurdistan of an "Islamic State" by the al-Qaeda-affiliated Ansar al-Islam and the consequent flight of remnants of the group into Iran following the US bombing of their base in 2003; the flow of foreign fighters into Iraq in the aftermath of the US invasion; the war in Syria; and, more recently, Daesh's establishment of an "Islamic State" in Iraq and Syria.
When the United States bombed Ansar al-Islam's base in Iraq, some of the hundred or so survivors fled to Iran and some went on to fight in Afghanistan. Those who remained in Iran established the al-Qaeda Brigades in Kurdistan and pledged allegiance to al-Qaeda. Mullah Abdulhamid and Mullah Mohammad were the group's more prominent leaders, proselytizing in the open and giving sermons in the mosques of major Iranian cities such as Sanandaj, Marivan, Saqqez and Bokan.
Prominent Ansar al-Islam leaders who pledged allegiance to Zarqawi and returned to Iraq reorganized the group in Mosul, Howeiza and Kirkuk. Their primary goal remained fighting the secular Kurdistan Regional Government (KRG).
"It's been said that the Revolutionary Guards [Tehran's Islamic Revolutionary Guard Corps, or IRGC] left the border points open and did not hinder their back-and-forth crossings," said Mokhtar Hooshmand, an Iranian Kurd and former political prisoner who now lives in Germany, where he researches the spread of jihadist ideologies among Kurds.
Hooshmand told this author, "They also allowed what remained of Ansar's Iraqi fighters in Iran to proselytize and establish Salafi jihadi groups because they wanted to use them as a bargaining chip in their dealings with Kurdish parties in Iraq."
Hooshmand, who shared a jail cell in Sanandaj with Salafi and al-Qaeda prisoners for two years, has published two books on Kurdish jihadi movements partly based on in-depth interviews with his cellmates.
Following the October 2001 US invasion of Afghanistan, several members of Osama bin Laden's family and some of his aides fled across the border into Iran. The family was later put under house arrest, and others were jailed, to be used as a bargaining chip with the United States and as insurance against an al-Qaeda attack, according to a 2010 Associated Press report quoting CIA sources, who described monitoring and understanding al-Qaeda in Iran as one of the most difficult jobs for US intelligence. The departure from Iran of bin Laden's men and family members began in late 2008, as the United States stepped up international efforts to sanction Iran for its nuclear program.
According to unconfirmed reports quoting Western intelligence, in the spring of 2002, under pressure from Germany to expel Zarqawi after eight of his operatives were arrested for plotting attacks, Iranian authorities escorted him to the border into a region then under the control of Ansar al-Islam. From there, Zarqawi later traveled to Baghdad in anticipation of the American invasion.
There were also unconfirmed reports that Zarqawi returned to Iranian Kurdistan during or shortly before the invasion and met with bin Laden's military chief, Mohammed Ibrahim Makawi, better known as Saif al-Adel, who asked him to coordinate the entry of al-Qaeda fighters into Iraq through Syria.
The paradox of Iran's strategy toward anti-Shia Salafi groups is reflected in its dealing with Zarqawi, a sworn enemy of Shias. Iran's tolerance of Zarqawi in the first few years of the US occupation of Iraq was mostly driven by a desire to undermine the Americans.
Hooshmand estimated that by last year, 400 Iranian Kurds had fought in Syria and Iraq alongside Daesh; some 170 of them, he said, had been killed or wounded. About 50 returned to Iran, and most of them remained free, he said.
Kaveh Ghoreishi, an Iranian Kurdish journalist based in Germany, told this author that the Tehran attacks were "directly linked to the weakening of Daesh in Iraq and Syria. When these groups become weak, it's no surprise that they would target countries like Iran and Saudi Arabia, which have so far escaped their attacks."
The Iranian intelligence ministry said last year that two of the five Tehran attackers, Fereydoon and Ghayum, were Daesh members who had fought in Raqqa in Syria and Mosul in Iraq. The ministry, which only identified the attackers by their first names, said the men were imprisoned when they returned to Iran two years ago and were released three months before the attacks. It said all five were Iranian nationals who were killed on the day of the attacks on Iran's Parliament and the mausoleum of revolutionary founder Ayatollah Ruhollah Khomeini.
The ministry linked the attacks to an operation that had been foiled a year earlier, after a team of jihadists infiltrated into Iran. Iranian security forces killed the group's leader, Abu Aisha Kurdi, whom they identified as "a senior Iraqi Kurdish Daesh commander." Daesh also claimed in a video that the group went to Iran a year earlier but was unable to carry out attacks because the ringleader was killed. It said the five gunmen remained in the country until they carried out the two coordinated attacks in Tehran last year. If true, it indicates that those attacks were not directed from within Iran and that Iranian Kurds were merely taking orders from Iraqi Kurdish Salafis.
BBC Persian reported last year that a secular rebel group, the Democratic Party of Iranian Kurdistan (PDKI), had two years earlier published on its website the name and photo of one of the assailants it identified as Saryas Sadiqi. He is believed to be one the two gunmen who attacked Khomeini's shrine by blowing himself up. PDKI accused Tehran of allowing him to freely rally support for Daesh.
Ghoreishi said Sadiqi was able to proselytize among young Iranians in the Iranian Kurdish city of Paveh because "the Islamic Republic's goal in allowing these individuals to freely pursue their activities was to create an alternative to secular Kurdish groups and to Islamize Kurdish society." At present, he said, Kurdish nationalist groups outside Iran, such as Komoleh, the PDKI, and the Kurdistan Free Life Party (PJAK), are the principal active opposition groups to the Iranian regime.
Iranian academic Seyed Mohammad Marandi said Iranian authorities had been expecting an attack such as the one in Tehran for a number of years and had thwarted several operations in the past.
Iranian authorities all but blamed Saudi Arabia for the Tehran attacks, pointing to remarks by senior Saudi figures that they would take the war inside Iran, and that Iran was to be punished for its interference in the region. But Kurdish experts discount a Saudi role. "Neither Saudi Arabia nor any other country had any role in the inception and growth of Salafism in Iranian Kurdistan," insisted Hooshmand.
"Most of the Salafi jihadis in Iranian Kurdistan had been influenced ideologically and religiously by Iraqi Kurds," agreed Zarei.
The fact that Salafism—a puritanical interpretation of Sunni Islam that came from the Arabian Peninsula and regards Shia Islam as heretical—may have taken root in Iran is alarming to most Iranians, many of whom support their country's military involvement in Syria and Iraq and Tehran's drive to defeat Daesh before it reaches Iran. Supreme Leader Ayatollah Ali Khamenei called the Tehran attacks mere "fireworks"—but were they the harbinger of more to come? And what has the regime done about the threat?
Marandi said the impact was not huge. "There is strong evidence to show that there's a sort of boomerang effect," he said. Many Iranian Sunnis are becoming increasingly alienated from Salafi ideology, he added.
But Iranian and Iraqi Kurdish observers do not take such a development lightly, especially at a time of heightened regional tensions following US withdrawal from the Iran nuclear deal. These observers say Iran's ambivalent policy is partly to blame for Salafi jihadis taking a foothold in the country.
Some of the first jihadi preachers to openly proselytize in Iran and recruit Iranian Kurds were Mullah Osman in Saqqez, Abdolhamid Aali in Marivan and Mohammad Alavi in the village of Surin in Baneh. Aali continues to openly preach jihadism. All three, who were greatly influenced by al-Qaeda after Sept. 11, 2001, later joined the al-Qaeda Brigades in Kurdistan.
Other prominent Salafi preachers were Mullah Abdulrahman Fattahi, who had formerly been with Ansar al-Islam and who, according to Hooshmand, is now fighting alongside Jabhat Sham (previously Jabhat Nusra) in Syria; and Hadi Hermidol, who had been with the brigades but in 2014 pledged allegiance to Daesh and was imprisoned in Iran.
After splitting from Ansar al-Islam in the aftermath of the 2003 US bombing, the al-Qaeda Brigades in Kurdistan engaged in military activities in the Iraqi Kurdish region. However, their operations came to a halt after Iran and the KRG reached an accord in 2007. The Iranians agreed to restrict the activities of Iran-based Iraqi groups against KRG targets in Iraq; in return the KRG promised to curb anti-Iran activities of secular Iranian Kurds based in areas under its control. Hooshmand said since the agreement was reached, there had been no operation by the Brigades on Iraqi soil.
Unhappy with the deal, a number of Brigades members split and formed The Army of Saladin in order to continue their original goal of fighting the KRG. They attacked a police station and a Peshmerga base in Iraqi Kurdistan. But after a few operations, the Iranian government and the Brigades joined forces to put an end to the Army of Saladin's activities.
On the other hand, several of the Iranian members of the Brigades, who had joined the group for the sole purpose of waging Jihad against the Islamic Republic, accused the group's leadership—which was almost entirely made up of Iraqi Kurds—of caving to Iranian demands, of informing on its members to the Iranian regime and receiving money from IRGC.
Iranian members split from the Brigades in 2009 and formed the Tawhid and Jihad (not to be confused with Zarqawi's earlier Tawhid and Jihad). A series of attacks mainly on targets in Iranian Kurdish areas raised alarm.
According to Zarei, Iranian Kurds in jihadi movements are almost always subordinate to Iraqi Kurds. "No Iranian Kurd has ever become an emir," he said.
Iranian Kurdish recruits have been used for suicide operations and as foot soldiers in Iraq, Syria, and Afghanistan, as well as against the secular Kurdish Peshmerga, Hooshmand said.
However, Hawzhin Balaghi, a Paris-based researcher of Iranian Islamist movements in Iranian Kurdistan, disputed that all Iran's Kurdish salafis take orders from Iraqi Kurds. "They have been influenced by them," she said, but "some of them, especially the Daesh ones do not directly take orders from Iraqi Kurds." She added: "Now Salafis are more independent than in the past."
During a visit to Iranian Kurdistan in May 2009, Khamenei indirectly accused Saudi Arabia of supporting jihadis, who "are fed by petrodollars to go here and there and carry out terrorist operations, in Iraq, Afghanistan, Pakistan, and other places.… Today this Wahhabi Salafi community regards Shias as infidels."
Three months later, on July 6, 2009, a jailed Salafi was executed. In retaliation or as part of anti-regime activity, Tawhid assassinated two prominent Kurdish Sunni clerics close to the regime—Mullah Borhan Aali, the Friday prayer leader of Sanandaj, and Mullah Mohammad Sheikholeslam, a member of Iran's Assembly of Experts.
In response, Iranian security forces launched a massive crackdown on Tawhid. Many were killed or arrested and then executed. It took Iranian intelligence agencies until 2012 to put an end to its activities. Its emir, who had until then moved freely, was also arrested.
By 2012, the al-Qaeda Brigades had also been drastically weakened because of the crackdown as well heavy casualties in Syria and Iraq and a break in direct links to the overall al-Qaeda leadership. Emasculated, the Brigades now operate as an Iraqi Islamist group with the acquiescence of the Islamic Republic, Hooshmand said. Its emir is an Iraqi Kurd by the name of "Aram." Some Salafi clerics such as Mullah Mohammad Alavi are still active in mosques, promoting Salafi ideology.
Hooshmand said a number of Iranian Sunnis, including Kurds, have recently joined Daesh in Afghanistan (or Daesh-Velayat Khorasan). Sources in Afghanistan said most of the Iranian recruits are based in the north in areas such as Jawzjan and Fayab.
Scheherezade Faramarzi is a veteran journalist who covered the Iranian revolution, the Iran-Iraq war, hostage crises and Iran-Contra. She went on to report from across the Middle East as well as Pakistan, Afghanistan, North Africa and Europe for the Associated Press. She has been a researcher and a freelance writer since 2011.