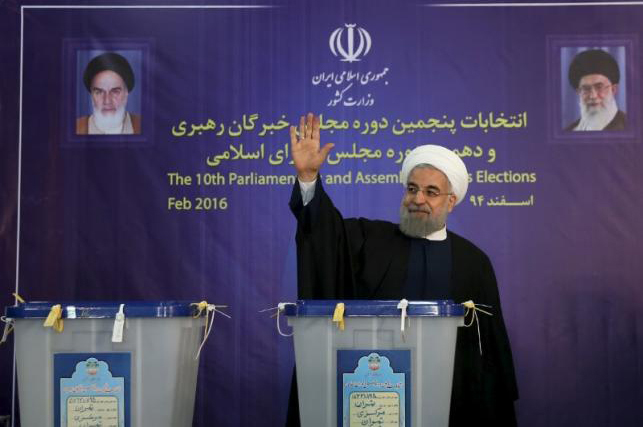 No one would ever mistake an Iranian election for an American one.
The idiosyncrasies of this US campaign season aside, there are fundamental differences in the power of elected institutions in Iran, which are subservient to a clerical Supreme Leader, Ayatollah Ali Khamenei. A body that is largely appointed by Khamenei, the Guardian Council, vets all candidates for elected office and weeds out anyone not considered sufficiently loyal to the system.
Still, Iranians have again shown their ability to make lemonade out of the lemons provided by the Islamic Republic. According to the latest results available from the February 26 elections, there have been major gains for supporters of President Hassan Rouhani in both the parliament and the Assembly of Experts, a body that could be called on to approve Khamenei's successor.

While Khamenei often inveighs against the United States, he is not impervious to popular opinion, which strongly favors Rouhani's policies, especially the recent nuclear agreement with the international community and improved relations with the West. The elections are a vote of confidence in Rouhani's outlook and in his "government of prudence and hope."
When given the chance, Iranians have generally voted for reformists or pragmatists, from Mohammad Khatami for President in 1997 and 2001, to Rouhani in 2013. The exception was Mahmoud Ahmadinejad, a populist hardliner who defeated a former President, Hashemi Rafsanjani, in 2005 and won again in 2009 in elections marred by fraud. Reformists swept parliamentary elections in 2000 but were disqualified en masse by the Guardian Council in 2004, 2008, and 2012.
The Guardian Council also ruthlessly pruned the candidate roster this year, removing nearly half of the more than 12,000 people who sought seats in the 290-member parliament, including almost all declared reformists. But a surviving reformist leader, a Stanford University-educated engineer and former Khatami Vice President, Mohammad Reza Aref, cobbled together candidates most supportive of Rouhani and the nuclear deal. Bolstered by a social media campaign that included a video of Khatami urging people to vote, this "List of Hope" swept all thirty seats allotted to the capital, Tehran. Among those defeated was the top hardline candidate, Gholam-Ali Haddad-Adel, a former Speaker of parliament whose daughter is married to Khamenei's son, Mojtaba.
In polling for the eighty-eight-member Assembly of Experts, Rafsanjani, a former Chairman of the body, led the field for sixteen seats in Tehran. Among those who failed to make the cut was Mohammad Taqi Mesbah-Yazdi, who is known as "Ayatollah Crocodile" for his anti-democratic views, and Mohammad Yazdi, the incumbent chair of the Assembly.
While the final tallies depend on runoff elections in some constituencies, the gains for more pragmatic figures, particularly in parliament, should make it easier for Rouhani to implement economic reforms and to appoint and retain qualified cabinet ministers.
As the scope of the mandate became clear, Rouhani told the official Islamic Republic News Agency on February 27: "It's time to open a new chapter in Iran's economic development based on domestic abilities and international opportunities…The people showed their power once again and gave more credibility and strength to their elected government."
Less clear is the impact on Iran's foreign policies and its treatment of internal dissent. Iran is unlikely to back away from its support of Bashar al-Assad in Syria and Hezbollah in Lebanon. But the domestic strengthening of Rouhani could help Iran play a more constructive role in diplomatic efforts to end regional conflicts. Iranian compliance with the nuclear agreement, which has provisions lasting more than a decade, also looks more secure.
When it comes to human rights, the question is whether hardline elements in Iran's security services—especially the intelligence branch of the Revolutionary Guards—will continue their crackdown on Iranian journalists and civil society activists. Also targeted have been dual nationals such as Iranian-American businessman Siamak Namazi and his father, Baquer, who have been arrested on absurd assertions that they are spearheading some sort of regime-change conspiracy.
Rouhani does not control these shadowy forces. The judiciary is also outside his purview. But he may be able to argue more persuasively that arrests like these harm Iranian national interests by frightening away prospective investors, especially from a wealthy diaspora.
Asked his view, Hadi Ghaemi, Executive Director of the International Campaign for Human Rights, wrote in an e-mail: "We have to see what tone and policies the new parliament will adopt at its onset. This is a huge victory for Rouhani's government and he will have no more excuses not to pursuit domestic reforms and ending the repressive security state."
Ghaemi added that the Revolutionary Guards and security agencies "at least in the short term will be in a state of shock and will pull back on their crackdown. But if Rouhani and his allies don't move quickly to consolidate and push back against the current repression, the IRGC and hardliners will regroup and come back with a vengeance."
Longer term, the trend lines favor a less confrontational Iran more at ease with the international community and its own people. The generation that overturned the Shah in 1979 and fought Saddam Hussein's army to a draw in the following decade is passing from the scene.
Iran's overwhelmingly young and well-educated population keeps pushing the envelope in terms of societal norms and personal freedoms. While radical political change is unlikely during the lifetime of this Supreme Leader, it is not a given that he will be replaced by another all-powerful individual or that Iran's elected institutions will stay stuck in second-class status. In a region full of turmoil, Iran's hedged democracy is a source of hope.
Barbara Slavin is the Acting Director of the Atlantic Council's Future of Iran Initiative.