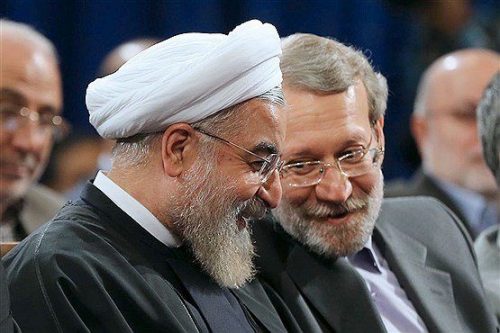 While ordinary Iranians struggle to find imported medicine and buy basic foods due to re-imposed sanctions, the political debate inside the Islamic Republic is anything but static.
As announced, the new wave of US secondary sanctions came into force on November 5. This came after unsuccessful efforts by Europe to dissuade President Donald Trump from unilaterally quitting the Joint Comprehensive Plan of Action (JCPOA) and despite efforts to persuade European countries to retain their trade with Iran through a so-called blocking statute and a Special Purpose Vehicle.

The Trump administration has allowed eight countries—China, India, South Korea, Turkey, Italy, Greece, Japan and Taiwan—to continue to buy reduced amounts of Iranian oil for the next six months. During this period, the administration appears to believe that Iran can be convinced to return to the negotiating table to reach a new JCPOA more favourable to the United States and its Middle Eastern allies.
If this scenario appears plausible, it is unlikely that the United States will abandon its belligerent and threatening tones towards Tehran. Beyond seeking more stringent curbs on Iran's nuclear program, the Trump administration is also looking to limit Iran's regional posture and intervention in conflicts in Syria and Yemen. These efforts are unlikely to change the conduct of Iranian foreign policy, as Iranian Foreign Minister Mohammad Zarif has reiterated. However, the escalating US pressures have become a factor in factional fighting within Iran. New internal challenges are paving the way for a potential redefinition of political alliances.
The moderate-conservative front that supported the JCPOA is facing harsh criticism from hardliners, while the Supreme Leader, Ayatollah Ali Khamenei is seeking to avoid internal divisions by emphasising self-sufficiency and unity. In the last few months, however, the government of President Hassan Rouhani has been hit by—often involuntary—resignations, including the ministers of the economy (Masoud Karbasian), labor (Ali Rabiei), industry, mines and trade (Mohammad Shariatmadari who replaced Rabiei as labor minister), and roads and urban development (Abbas Akhoundi). The government reshuffle highlights the president's difficulties in maintaining his political line and on-going polarization and political fragmentation in the Iranian political elite.
Hardliners invariably accuse the Rouhani government of "having sold out the country" to historical enemies. When parliament recently passed legislation to counter terrorism-financing and money laundering, as required by the Paris-based Financial Action Task Force to keep Iran off its black list, the speaker of the parliament, Ali Larijani, was accused of betraying the nation by supporting these bills. It is interesting to note the controversial statement by Zarif who confirmed the presence of money laundering operations in Iran. Without mentioning any specific person, the minister has accused the opponents of the bill of having benefited from these operations and therefore trying to prevent their control and regulations.
Larijani emerged as a key defender of the technocratic program, recognizing the importance of avoiding even more isolation at a time of renewed US sanctions. Larijani's move alienated hardliners but appears to have helped him gain support from Iranian reformists, opening the possibility that he could be a consensus reformist-pragmatist candidate to succeed Rouhani after the next presidential elections in 2021.
This sort of endorsement of Larijani by exponents of the reformist group shows how hardliners and more radical groups that seek to benefit from sanctions could be prevented from gaining power. These groups rely on the dissatisfaction of the lower middle classes toward the neoliberal policies adopted by the pragmatists. Yet, as shown by the recent street protests in Iran, it is precisely the lower classes that complain about the inconsistency between the slogans of the revolution and continuous social inequity. Radical candidates do have a chance of winning elections if turnout is low as occurred with the 2005 election of Mahmoud Ahmadinejad.
Rouhani, who cannot run for a third consecutive term, has been criticised by top reformists for not having fulfilled his electoral promises to improve the economy and open more space for civil society. This shows the fragility of the "alliance" between reformists and pragmatists and the difficulty of establishing fixed categories in Iranian politics. These two groups have often overlapped in their political ambitions and coalesced in 2009 after the fraud-tainted re-election of Ahmadinejad and again in 2013 and 2017 to support Rouhani. Nevertheless, they historically have supported different views and priorities.
At this stage, of course, it is early to identify viable candidates for the 2021 elections. Iranian voters are increasingly disillusioned by all factions and may need someone more charismatic than Larijani—a regime stalwart who ran unsuccessfully for president in 2005—to lure them back to the voting booth. What we are now witnessing in Iran is a crisis of charismatic political leaders. Political polarization has so far not produced a charismatic figure, with the result of increased popular disaffection with the system.
The impasse with the United States has always remained a problem that no political group has been able to overcome in part because of continuous internal factionalism and fear that one faction would benefit at the expense of the others if the US and Iran end their long divide. For the next elections, we can expect a low turnout, especially if the proposed candidates will be those names that have dominated the last 20 years of Iranian politics. Anti-systemic groups, such as Ahmadinejad's movement, are excluded from official politics, even if its message continues to spread with doubtful results.
A key determinant will be how successful Iran is at surviving sanctions and whether any of the candidates on offer have a strategy to relieve sanctions and mitigate the renewed hostility emanating from Washington.
Giorgia Perletta is a Ph.D. Candidate in Institutions and Policies at Catholic University of Milan, Italy. She has been a visiting researcher at the University of Toronto and received her two M.A.s in International Relations and in Middle Eastern studies at the Catholic University of Milan.