Tehran's gold market is a reminder that Iranians have lost confidence in a future with the Islamic Republic
On April 10, the global gold price fell below $2,000 per ounce as positive reports on the United States economy improved the position of the US dollar in international markets. However, the price of 18k gold continued to increase per gram. 18k gold is the standard in the Tehran gold market and its 75 percent purity demonstrates the market expectations. Like many developing countries, in Iran, gold is not just a precious metal, but a shelter for Iranians' savings. Thus, no one is surprised that its price increased to 24,891,000 Iranian rials per gram ($48.8 per gram) on April 10 based on the free market exchange rate.
When one counts the major financial markets in Iran, it includes the gold market alongside the foreign currency exchange and stock exchange markets. Like any other investor, the average Iranian seeks a low-risk portfolio where the value of their savings is not diminished by inflation. In the past four decades, Iranians have continually increased their belief and trust in gold as a method of reducing risk, since Iranian officials have failed to reduce uncertainty in the markets and have intervened in ways that have only made things more confusing.
On April 26, the officially minted gold coin, known as an Imami, cost 318,850,000 rials (about $611). An Imami coin weighs 8.14 grams (0.29 ounces) and is of 0.90 purity. Its price has increased by 169,610,000 rials compared to six months ago, signaling an increase of 113.6 percent as Iranians began to take to the streets to demand justice for Mahsa Jina Amini, the twenty-two-year-old Kurdish-Iranian woman who was killed by the so-called morality police for "violating" mandatory hijab. In contrast, gold prices began a rapidly increasing trend in Iran. It is noticeable that, prior to Amini's murder, gold prices had been growing slowly. For example, between spring 2022 and fall 2022, gold prices increased by approximately 28 percent or 17,910,000 rials. However, from September 2022 to March 2023, the change in gold prices jumped by a factor of nine.
Iranian officials blame the increasing gold prices on US imposed sanctions, a breakdown in the Joint Comprehensive Plan of Action (JCPOA), and on social networks where gold market prices are reported based on market transactions, not official prices. In an effort to tame the market, the police arrested 241 gold dealers in December 2022, charging them with distorting the market and causing abnormal volatility in the gold market. Some, like Mohammad Reza Farzin, the governor of the Central Bank of Iran (CBI), claim gold prices in Tehran do not reflect the realities of the Iranian economy. However, Iranians are ignoring such proclamations. They are witnessing rising prices while their nominal income is diminishing. The CBI has announced that prices have increased by 43.6 percent from February 2022 to February 2023. However, many Iranians are paying twice more for food and shelter.
As volatility and confusion about the future increase, Iranians want to avoid risking their livelihoods by keeping their savings in cash or deposit accounts in Iranian banks. Market analysts and observers of the Iranian economy are also baffled by government officials' contradictory statements. On April 5, a month after claiming that gold prices and currency exchange rates were inaccurate, Farzin confirmed that the government continued to borrow from CBI and Iranian banks. In other words, President Ebrahim Raisi and his ultra-conservative allies were printing money to pay for public expenses. As a result, the monetary base is expanding in Iran, with many expecting the inflation rate to rise during 2023 and well into 2024. (The Statistical Center of Iran reported that the point-to-point inflation rate reached 63.9 percent in March 2023 compared to March 2022.)
While some argue that lifting sanctions or freeze-for-freeze measures might help Iranian consumers, Iranians know that government policies are the most significant factor influencing the economy. Unfortunately, government policies have gone from bad to worse, being overwhelmed by domestic opposition and lacking the skills and foresight to implement effective policies. As authorities hope to crush Iranian calls for Women, Life, Freedom using brute force, gold prices and currency exchange rates tell a different story. Iranians do not believe in the ability of the Islamic Republic to bring either economic stability or prosperity as a governing body, which is why they are looking for ways to reduce financial risk. In the coming years, history may refer to Iran's financial markets as predictors of a significant structural change in Iran's politics.
Ali Dadpay is an associate professor of finance at the University of Dallas. Follow him on Twitter: @ADadpay.
Further reading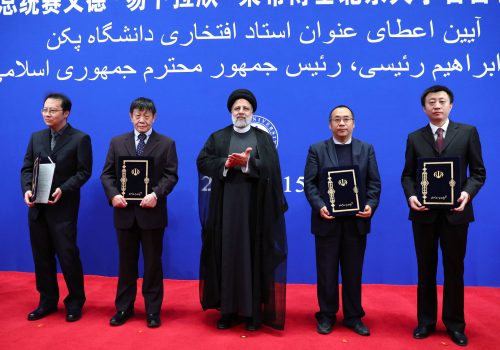 Wed, Feb 22, 2023
IranSource By Jonathan Fulton
From February 14-16, Iranian President Ebrahim Raisi was in Beijing for his first foreign trip of the year and the first official visit to China for an Iranian leader in twenty years.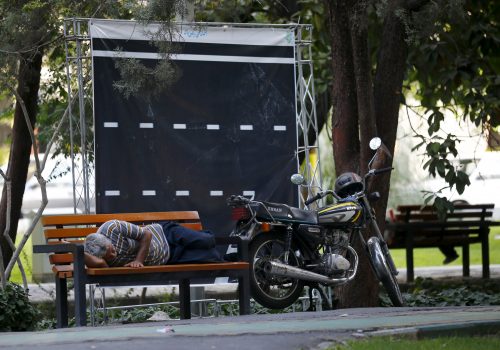 Tue, Feb 1, 2022
IranSource By Nadereh Chamlou
The Ebrahim Raisi team is seen as the weakest since the revolution, but one with the strongest links to the IRGC, and where allegiance trumps expertise.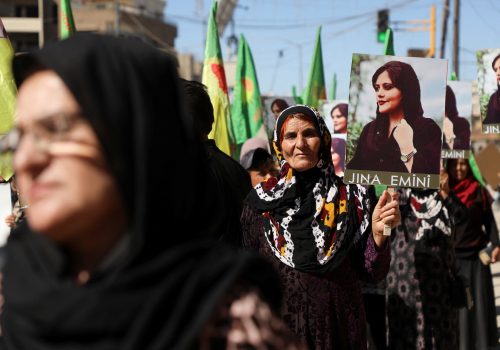 Mon, Sep 26, 2022
IranSource By Sayeh Isfahani
Women, young and old, have been at the forefront of the uprising, just like every other protest in Iran over the past decades.