The Islamic Republic is mobilizing all its forces against unveiled Iranian women, but they're pushing back
It has been seven months since the beginning of the Woman, Life, Freedom protests in Iran. The movement was triggered in reaction to the tragic death in custody of Mahsa Jina Amini, a twenty-two-year-old Kurdish-Iranian woman arrested by the so-called "morality police" for violating mandatory hijab. The protests, which swiftly transformed into a stance against the Islamic Republic, rapidly gained momentum and spread throughout the country's thirty-one provinces. The Islamic Republic in Iran responded to protests with a brutal approach, prompting human rights organizations to estimate that security forces had killed more than five hundred people and arrested tens of thousands.
Very quickly, abandoning traditional governmental norms, specifically the mandatory hijab, became one of the movement's primary characteristics. Mandatory hijab in Iran has become a symbol of the Islamic revolution with the regime's ideology towards hijab becoming synonymous with strict adherence to Islamic values and traditional gender roles. Under the clerical establishment in Iran, gender has emerged as a highly politicized issue and the female body has become a site of ideological contention. In such a society, pursuing women's rights can trigger a transformative social shift as women's rights movements often unite various social and cultural classes under their egalitarian umbrella and mobilize them towards specific demands such as democracy.
A 2020 poll conducted by Netherlands-based GAMAAN indicates that a vast majority—more than 70 percent—of Iranians across different age groups oppose mandatory imposition of hijab, which is one of the most blatant violations of women's fundamental rights in Iran. Opposing compulsory hijab and challenging the legal inequality inflicted upon women by the Islamic Republic have forged a consensus among many activist groups and created a historic opportunity for people of various generations to demand equality and practice tolerance. Therefore, the women's rights movement has become a potential driving force for democratic activities in the country. Thus, opposition to mandatory hijab is inextricably linked with regime change, such that some women's rights activists and political experts liken the hijab law to the "Berlin Wall of the Islamic Republic," a term that has recently drawn a reaction from Supreme Leader Ayatollah Ali Khamenei. The regime has recognized the movement's potency and has attempted to quell it with extensive repression.
In the initial stages of the protests, the presence of morality police vans in cities became less noticeable. This sparked suspicion that the government might have been retreating from enforcing the mandatory hijab law, particularly when demonstrations escalated and received extensive international media coverage. In recent months, videos and photos have surfaced on social media of women without hijab in public spaces, leading some to believe that the enforcement of the mandatory hijab law has weakened and that there are no longer any severe repercussions for non-compliance. However, this is far from the reality for women in Iran.
The regime's aggressive, methodical backlash
As soon as the clerical establishment regained control of the situation, it labeled protesters as violators of Islamic norms, deceived agents of Western countries, and a threat to national security. Authorities increased pressure on women, and official organizations responsible for enforcing the mandatory hijab—such as the executive ministries, the police, and the judiciary—made assurances that they would deal with non-compliant women and implement new policies to restore the hijab's public prominence—one of the main pillars of control in the Islamic Republic.
On March 14, the hardline-dominated parliament also announced that it was examining a proposal to intensify penalties as a deterrent to not wearing hijab. A heavy financial fine (up to $60k), deprivation of social services, revocation of licenses and passports, and prohibition of internet access were some of the penalties put forth in this plan. The strategy also included confiscating properties and shutting down stores and businesses that dared to serve unveiled women. According to the official report of a government institution, in Mazandaran province alone, 338 business entities (such as stores and tourism sites) have been closed in the past month for providing services to unveiled women, and thousands of others have received legal warnings. By doing so, authorities hope that the business owners will abstain from serving women without hijab for fear of being closed, reducing the cost of implementing this strategy for the government.
In its latest statement on March 30, the Interior Ministry declared hijab as an unquestionable Sharia necessity and one of the fundamental and practical principles of the Islamic Republic. This statement underlines the fact that "there has not been, and will not be, any compromise nor leniency" by the regime in this matter. The ministry repeatedly portrayed the opposition to mandatory hijab as a plot by foreign adversaries of the regime and called upon all religious and cultural authorities, the judicial system, and even ordinary people to confront and take action against women who do not comply with the mandatory hijab in public.
Then, on April 4, in his most recent speech, the Supreme Leader labeled unveiling the hijab as "a religious and political sin." His words set the stage for further stringent actions and legislations authorized by official institutions, such as the parliament and judicial system, to exercise strictness and resort to violence without fearing the public's reaction to hijab-related laws.
Shortly after the speech, the country's general police chief announced the use of city cameras and face-recognition technology to identify women who violate the hijab law. On the first day of implementing this plan, 155 business units were closed down, and more than five hundred entities received warnings.
Inciting violence against unveiled women
Moreover, the government has actively instigated hatred by inciting conservative and religious circles to commit violence against unveiled women. Several Friday prayer imams—whom Khamenei directly appoints—are weekly urging conservative Iranians to take action against non-compliant women.
Every day, more and more reports and videos surface in the media showing frequent clashes in public places between pro-regime conservatives and women who refuse to wear hijab, resulting in physical and verbal assaults on these women. In a recent incident at the beginning of April, a conservative man assaulted a mother and daughter, by throwing yogurt on them for appearing unveiled in a convenience store. The two women were arrested for violating mandatory hijab. After confronting the assaulter, the shop owner was also detained, and his store was temporarily closed. All of these strict actions by the regime and its supporters reflect the clerical establishment's profound fear of women who unveil their hijab in public.
Despite all these brutal actions by the clerical establishment, many Iranian women are taking a prominent role at the forefront of the non-violent opposition to the gender apartheid system in Iran by defying the mandatory hijab. In doing so, they expose themselves to verbal and physical assault, deprivation of social services, exorbitant financial and criminal penalties, and unfair trials. By mobilizing official and unofficial entities to legitimize the use of violence against unveiled women through religious rhetoric and legal measures, the clerical establishment is trying to maximize the cost of civil disobedience for women more than ever before. This underscores the significance and bravery of the women's movement in Iran and emphasizes the imperative to bolster and broaden its reach.
Mahnaz Vahdati is a Young Global Professional with the Atlantic Council's Middle East Programs.
Further reading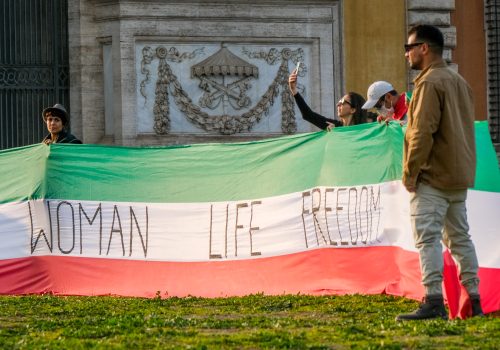 Thu, Feb 23, 2023
IranSource By Shadi Sadr
Signed by twenty organizations and released on February 13, the manifesto gathered the support of many civil society organizations in Iran.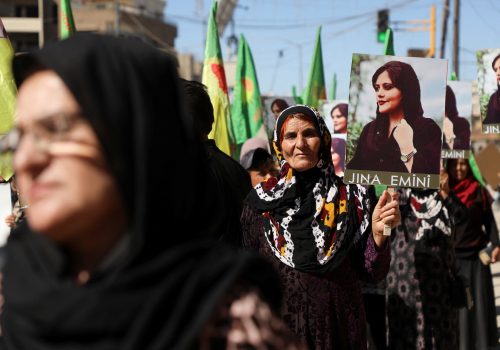 Mon, Sep 26, 2022
IranSource By Sayeh Isfahani
Women, young and old, have been at the forefront of the uprising, just like every other protest in Iran over the past decades.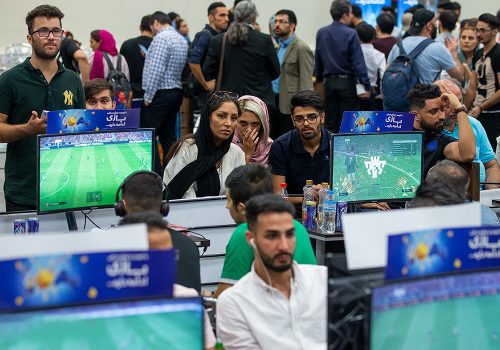 Tue, Jul 7, 2020
IranSource By Sheida Hooshmandi
According to a 2017 study from Iran Computer and Video Games Foundation, there are twenty-eight million Iranian gamers.