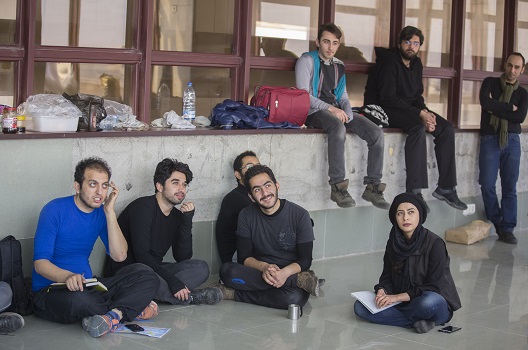 When Iran reached a landmark nuclear agreement with the international community in 2015, Iranian youth were especially happy.
After struggling with sanctions and isolation for many years, young people hoped their country was entering a new chapter in which it would be seen as a constructive actor on the international stage. They were proud of Foreign Minister Javad Zarif, a seasoned diplomat and negotiator, and believed that economic growth would return and that their society would become more politically open.

The US withdrawal from the Joint Comprehensive Plan of Action (JCPOA) at a time of full Iranian compliance has diminished the optimism of Iranian youth and undercut their belief in multilateral diplomacy and the creation of an international consensus. It has also weakened admiration for the United States, which had been the most popular country among Iranian youth.
Young Iranians share many values with Americans such as an emphasis on education, freedom of expression, hard work, economic development, scientific innovation and art and culture. In the aftermath of the US withdrawal, however, there is a sense of betrayal and disappointment among a number of young Iranians who spoke to this analyst – on condition that only their first names be used.
Shima, 35, a lawyer in Tehran, said that she "has no hope of the situation getting better. The US seems to have chosen to remain in a antagonistic relation with Iran regardless of whether Iran abides by its commitments or not."
Amene, a reformist journalist who covers parliamentary affairs and women's issues, noted that "after waiting so long for the Iran agreement to bear its fruit, now it's annulled."
Faranguiss, another women's activist, said that the Trump administration is ignoring international agreements and pursuing a unilateral approach on many global issues against the will of the Europeans and much of the rest of the international community.
Mina, another activist, said that the government of President Hassan Rouhani had done everything that was required of it under the JCPOA. She also cited the Trump administration's unilateralism and in particular its withdrawal from the Paris Climate Accords.
Those who spoke to this analyst and criticized the Trump decision are among the cohort that the US government has asserted it supports. They are critical of repressive Iranian policies on issues such as women's rights, freedom of the press and the rights of prisoners. Their human rights advocacy has now been undercut by the US withdrawal from the nuclear deal.
Other youth affiliated with more conservative groups and non-partisan individuals have been mocking reformists for having had faith in the JCPOA and international commitments. These hardline youth call for independence and self-sufficiency. They say that Iran should not rely on the US and the "world" in general and should invest in its own human and technological resources to create domestic products that can compete with foreign goods.
The JCPOA was envisioned as a basis for Iran and the US to work together on other issues and rebuild confidence that had been damaged in the past decades. The younger generation, which does not carry bitter personal memories of the 1953 CIA coup that overthrew Iranian Prime Minister Mohammad Mossadegh or the 1979-81 hostage crisis, was particularly enthusiastic about the nuclear agreement and showed this in voting in record numbers for President Rouhani.
Iranian young people had seen international agreements as "sacred" and endowed with credibility by sovereign states. They saw the world as entering a new era of development, peace and human rights in which multilateral decisions were highly cherished and could outweigh war, violence and aggression.
When the JCPOA was reached, young Iranians saw this as a moment of honor for the entire international community. Many were particularly touched by the words of then Secretary of State John Kerry, who recalled the destruction and inhumanity of the Vietnam war in which he fought as a young man.
"I went to war and it became clear to me that I never wanted to go to war again," Kerry told his fellow negotiators. "That's what this was all about. Trying to settle these matters through diplomacy and peaceful means. I learned in war the price that is paid when diplomacy fails. And I made a decision that if I ever was lucky enough to be in a position to make a difference, I would try to do so. I think that's what diplomacy was put in place to achieve, and I know that war is the failure of diplomacy and the failure of leaders to make alternative decisions."
Tahereh Hadian-Jazy is seeking her PhD and writes on women's rights in Iran and the Middle East. She holds a masters degree in modern Middle Eastern studies from Oxford University.