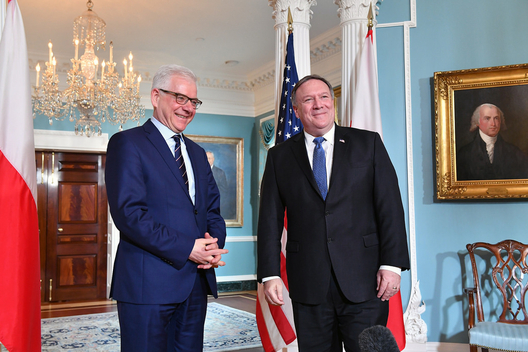 The US announcement that an international summit on the security and stability of the Middle East will be held February 13 and 14 in Warsaw was as shocking as it was unexpected, not only for Iranians but also for Poles.
Poland is an important political and military ally of the United States and Polish energy companies have decided to withdraw from Iran after President Donald Trump abandoned the Joint Comprehensive Plan of Action (JCPOA) and re-imposed sanctions. But having a multinational summit about the Middle East in Poland? It is even rumored that Warsaw was taken by surprise when US Secretary of State Mike Pompeo announced that such an event would be organized in the Polish capital next month.

Since that announcement, few details about the event have been revealed. What is the agenda? Nobody knows. Pompeo said the gathering would "focus on Middle East stability and peace and freedom and security," including "an important element of making sure that Iran is not a destabilizing influence."
However, Poland stressed that the summit was not anti-Iranian. In its only statement to date regarding "the Ministerial to Promote a Future of Peace and Security in the Middle East," the Polish Ministry of Foreign Affairs (MFA) said: "The ministerial will be a forum for countries concerned about instability in the region to share their assessments and offer ideas on a better way forward. The ministerial will address a range of critical issues including terrorism and extremism, missile development and proliferation, maritime trade and security, and threats posed by proxy groups across the region."
Who will attend? Again, the answer is that we don't know. According to the Polish MFA, "countries from across the globe have been invited to participate." It is reported that about seventy states were approached, but not Iran. If this is true, it would be a mistake—even if Iran is considered a "regional trouble-maker," it's hard to imagine that the region's problems can be solved without Tehran's involvement. According to Iranian media, the European Union's High Representative for Foreign Affairs and Security Policy Federica Mogherini will likely not attend the summit" and the level of representation by EU members is uncertain.
In the aftermath of the announcement, Polish media reported that the Iranian Embassy in Warsaw halted issuing visas to Polish citizens. Although this news was later dismissed, Polish consular authorities have warned Poles against travelling to Iran, saying that they might not be able to obtain visas at the airport upon arriving in Tehran.
Iran, meanwhile, cancelled a Polish film festival. Poland was officially accused of joining an anti-Iranian axis and spreading Iranophobia. The Iranian Foreign Ministry also warned Poland and other summit participants of unspecified "retaliatory measures." Although Iran's strong reaction is understandable, the decision to cancel the Polish film festival is sad news. Artists, scholars and those who bring nations together should not pay the price for diplomatic rows and tensions between governments. They try to build bridges, not destroy them.
What are the Polish motives for holding such an event?
Poland's plans are definitely not related to Iran. Poland does not hate Iran and is not driven by Iranophobia. On the contrary, Poland wants to decrease its energy dependence on Russia and is keen to buy crude oil and natural gas from the Middle East, including from Iran and Iraq. But in the world of politics, you cannot achieve everything. While a decision to host the summit might be unprofitable for Poland in the longer term, for now it is purely political and driven by pragmatism. Although Warsaw wants good relations with Tehran, economic cooperation with Iran is minimal while close ties with the United States are crucial. Poland has been trying to persuade the Trump administration to build a permanent US military base on Polish soil because it would—at least according to Polish decision-makers—be a stronger deterrent against Russia, which is Poland's greatest challenge. This is the main rationale for hosting the Warsaw summit and Poland is now willing to pay the price of strained relations with Iran in order to please the White House.
There is another ambition driving the Polish decision. Poland, similar to other medium-sized powers, wishes to enhance its international position and prestige. A great diplomatic success was achieved in January 2018, when Poland began a two-year term as a non-permanent member of the UN Security Council. Earlier, in July 2016, Poland successfully hosted a NATO summit. Hosting a summit on the Middle East, Polish decision-makers believe, would be not only a chance to make the American administration happy and convince it to bring troops to Poland, but also another step in moving Poland to the next level in international affairs.
But the Polish gambit is a risky one. Since the agenda of the summit and the strategy of the United States—the real host of the event—are unknown, it is impossible to forecast its outcome. Polish Foreign Minister Jacek Czaputowicz said that Warsaw's ambition for the event is to find common ground on Iran and the nuclear deal between the United States and the European Union. It would be unfair to assume he was not sincere—a strong transatlantic partnership is a long-term goal for Poland. A successful and prestigious summit, bringing together the Old Continent and America, would be the best scenario for Poland. But even a dull, fruitless event—and that might well be the result if Iran and Turkey do not attend—would be a good achievement for Warsaw.
However, if France, the United Kingdom and Germany do not send high-ranking officials, the outcome will be less positive. Worse, if the summit becomes monothematic and focused only on bashing Iran—an "anti-Iran conference" in the words of Iran's foreign minister—Poland would not only be unable to rate it a diplomatic success but also would lose its reputation as a relatively neutral country. Poland's wider Middle Eastern policy—which has yet to emerge—would be harmed too, as would the country's reputation in the region. Frankly, a warmongering conference that seeks to organize any kind of military coalition against Iran would be a disaster for Poland. For now, one must hope this is not the thinking behind this event.
Robert Czulda is an assistant professor at the University of Lodz, Poland and a former visiting professor at Islamic Azad University in Iran, the University of Maryland and National Cheng-chi University in Taiwan. He is the author of Iran 1925 – 2014: From Reza Shah to Rouhani. Follow him on Twitter: @RobertCzulda.