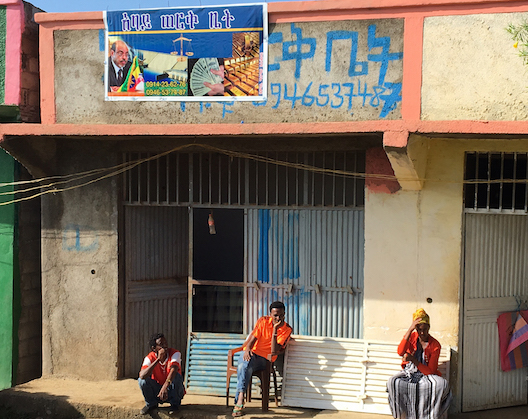 The sign above a modest, one-story shop features a photo of the Grand Ethiopian Renaissance Dam next to an image of gold and dollars: revenue expected from the dam, the great dream in Ethiopia's imagination. For Egyptians, that same dream stirs fears of drought. Tsegaab Getachew, a 29-year old Ethiopian tour organizer, hopes that the energy generated by the Grand Ethiopian Renaissance Dam will help expand the tourism industry in which he works. Amir Mikhail, a farmer in his sixties from Upper Egypt, fears his land will become fallow after the completion of the dam.
Ethiopia continues construction on the Renaissance Dam, which aims to generate 6,000 MW of electricity. It would enable the country to achieve sustainable development goals and combat poverty, which GERD Project Manager Simegnew Bekele says is Ethiopia's primary enemy. Ethiopian officials say it would enable the country to sell electricity to neighboring countries, including Sudan, Djibouti, Kenya, South Sudan, and Egypt, they describe as an economic achievement for the country. At present, Ethiopia's electricity generating capacity is about 2,060 MW—sufficient only for about 30 percent of its citizens' needs, as over 70 percent of the country's population is not adequately connected to the grid.
The Ethiopian Perspective
Sitting on the ground to charge his cell phone in the western region's Asosa Airport, about 300 km from the dam, Getachew says, "Ethiopia needs the dam to generate electricity, so we can achieve real development. This region can become an excellent tourist destination, but without electricity that won't be possible."
During a brief visit to Ethiopia, it appeared that the majority of Ethiopia's roads do not have streetlights. The country of 100 million suffers from frequent blackouts, with power outages described in local Ethiopian media as business as usual.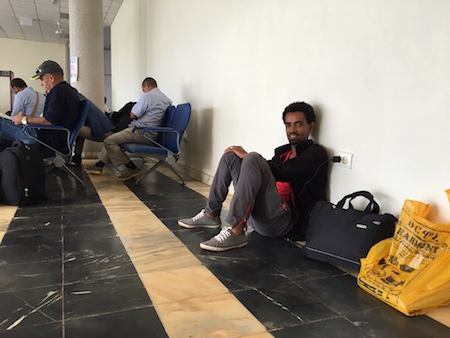 Getachew, the father of a 9-month old child, manages a tourism company in Addis Ababa, where his income is about 20,000 Ethiopian Birr (about US $1,000). He hopes to double this amount soon—and places much of that hope on the Renaissance Dam. "Having energy will enable us to develop infrastructure and utilities, build resorts, and attract first-rate tourists," he says.
Most Ethiopians—government employees in particular—contribute a percentage of their income to the dam, which they consider "a national project." This percentage varies per person, and is paid either monthly or yearly. The national pride is not unlike that of Egyptians who raised $8.5 billion in eight days, with 82 percent of the money raised through individual purchases of investment certificates.
"The dam will generate wealth and good salaries for us," Getachew adds enthusiastically. He contributed a yearly percentage he did not specify. "It's a dream for me, and for my child's future."
Getachew explains that most hotels in Ethiopia lack warm water, laundry services, fast food, and most importantly, reliable Wi-Fi service due to insufficient electricity. This dark reality was clear during a visit to Ethiopia: during just one night at the Blendana Hotel in Asosa, the hotel suffered from several power outages.
The Egyptian Perspective
These rose-colored dreams in Ethiopia of a better future in which high rates of development are achieved, contrast with real fears in Egypt of the specter of a possible drought that could afflict the country if Ethiopia completes construction of the dam. Egypt fears that the 55.5 billion cubic meters of water it is entitled to yearly will be affected by the completion of the dam when its reservoir starts to fill with water.
The country depends nearly entirely on the Nile River for its agriculture, industry, and drinking water.
Egypt, in fact, needs about 120 billion cubic meters of water annually. In addition to the 55.5 billion cubic meters of water from its share of the Nile, another 20.5 billion cubic meters comes from recycled treated wastewater and agricultural drainage water, and groundwater, according to a report published by the Center for Environment and Development for the Arab Region and Europe (CEDARE) in March 2015.These figures reveal a significant water shortage in Egypt, confirmed by statements by Ministry of Water Resources and Irrigation officials.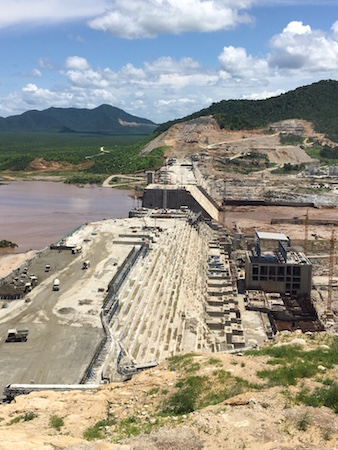 Consequently, the construction of the Renaissance Dam raises serious fears of water scarcity and drought. Egyptian media coverage of the construction of the dam has been wrought with fear, mistrust, and doubt about its impact on Egypt's share of the Nile's water. Fear mongering headlines were common in both state-run and independent media under former president Mohamed Morsi, and the media and experts continue to warn against the consequences the dam will have on Egypt. It was described in 2013 as catastrophic for Egypt, and following a recent visit by an Egyptian media delegation to the site of the dam, state-run Al-Ahram published an article saying that the visit was not enough to allay Egyptian people's fears. This is in turn reflected in citizens' attitudes about the dam.
In a lavish house in central Cairo's suburb, Zamalek, just a few meters' walk from the Nile, Salma Salem expresses her concerns about her children and grandchildren's futures if Egypt suffers from drought. "Damming the Nile means stopping the regular flow of water to Egypt, or at least that control of the water is no longer in our hands," Salem says.
"It's clear that the government has failed to deal with this crisis," she adds. "It looks like we and our children will pay the price."
After several years of disputes and stalled negotiations, Egyptian President Abdel Fattah al-Sisi signed a preliminary agreement with Ethiopia and Sudan in March 2015. The agreement allowed for the construction of the dam, but did not resolve several points of contention, nor does it outline how disputes would be resolved. In a recent interview, Sisi again broached the issue. He said that negotiations between Ethiopia and Egypt were continuing in a reassuring manner, and called on people to respond with calm and confidence, adding that the Nile waters will continue to flow. Foreign Affairs Minister Sameh Shoukry has also sought to downplay fears. Acknowledging that risks to Egypt do exist, Shoukry said in June, "We are discussing them with our Ethiopian and Sudanese partners," in order to reach an agreement.
Some are reassured by statements by Sisi, who enjoys great popularity in Egypt, that he would not easily abandon Egypt's rights. Al-Ahram even published an interview with Ethiopian Water Minister Ato Motuma Mekassa who sought to reassure the Egyptian public. Others are afraid that Egypt has given in to the inevitable, among them members of parliament, including Sisi supporter Mostafa Bakry, who just recently described the dam as one of the many conspiracies against Egypt.
Mohamed Nasr Allam, who served as Minister of Water Resources and Irrigation from 2009 to 2011, has been openly critical of the agreement with Ethiopia, and expresses concern over future "negative effects" of the dam. Allam tells MENASource that Egypt fears that filling the Renaissance Dam's reservoir will cause the lake behind Egypt's Aswan High Dam, and Egypt's water reserves, to shrink. Allam says this will cause millions of feddans of agricultural land to go fallow, reduce the amount of electricity produced by the Aswan Dam, cause drinking water stations to go dry, and cause Egypt's water table to drop.
"The High Dam can only be filled if there are no dams before it, and if it empties, it will only be able to be refilled at half the capacity," Allam adds.
In the Minya Governorate about 300 km south of Cairo, Amir Mikhail, a farmer in his sixties, speaks of his fears that "his land will become fallow" as a result of how the Renaissance Dam will affect the flow of water to Egypt. "We barely have enough water to farm now," Mikhail complains. "We share water, and take turns watering our land." He adds, "Constructing the Renaissance Dam will be a disaster for sure. I'm afraid of the day I won't be able to water my crops. God help us."
Mohamed Mahmoud is an independent journalist based in Cairo.