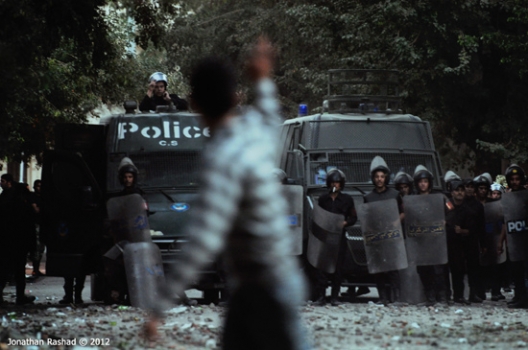 Several political parties and youth movements said on Tuesday they would renew a campaign aimed at amending Egypt's repressive protest law. The decision comes in the wake of a Cairo court issuing a surprisingly harsh fifteen-year sentence in absentia against activist and blogger, Alaa Abdel-Fattah, and twenty-four others for protesting in November against the military trial of civilians. Abdel-Fattah and another defendant were also convicted on charges of attacking a police officer and seizing his walkie-talkie.
On June 11, Abdel-Fattah and his colleagues went to the highly secured court house in Tora expecting a regular session in which the judge would question witnesses and go through the evidence. However, Judge Mohamed al-Fiqqi opened the trial unexpectedly early at 9 am, and delivered the harsh verdicts to an empty court room, in the absence of the defendants and their lawyers. While the defendants were still trying to pass through security checks to enter the courthouse, a few policemen went directly to Abdel-Fattah, and arrested him. Two other defendants, Ahmed Nubi and Wael Metwalli, who just happened to be sitting with Abdel-Fattah at a coffee shop next to the court's entrance, were also arrested, following an argument with the arresting officers. The remaining twenty-two defendants, present at the time, were not arrested.
"This clearly indicated the police targeted Alaa because of his harsh criticism of the Interior Ministry and its practices," said Taher Abul-Nasr, one of Abdel-Fattah's lawyers. "There were several other defendants outside, and even inside the court, and they could have all been arrested to carry out the sentence, but police only came to arrest Alaa," he added.
According to Egyptian law, defendants are granted an automatic retrial if they are convicted and sentenced in absentia. However, according to the lawyers, it also means they receive the maximum penalty. Abul-Nasr said all twenty-five defendants in the case appealed the sentence, including Abdel-Fattah, but his release from prison won't be determined until a new court sets a date for retrial. "We know this is not a final sentence, and it will be changed in the Appeals Court, but to deliver such a harsh sentence of fifteen years imprisonment against all defendants despite the different charges against them raises serious questions on the independence of the judiciary and guarantees for a fair and free trial," Abul-Nasr added. Additionally, there is no time limit for when a new trial will be set – so while the verdict can be appealed – it translates into another possible long stay in jail for Abdel-Fattah.
Facing daily demonstrations by supporters of Morsi and the Brotherhood, former Prime Minister Hazem El-Beblawy issued the protest law in November that granted the interior ministry wide powers to approve or reject requests to hold protests. It also banned sit-ins, and imposed harsh penalties of up to five years in prison and hefty fines against violators.
Al-Dostour, a center-left party led by Hala Shukrallah, together with the Arab nationalist, al-Karama Party led by Mohamed Samy, the Popular Socialist Alliance led by Abdel-Ghaffar Shukr, who is also Deputy President of the National Human Rights Council, Misr al-Hureya party led by Amr Hamzawy, al-Adl Party, leftist al-Aish wa al-Hureya Party, and the Popular Current led by former presidential candidate, Hamdeen Sabbahi, issued a joint statement on June 17, criticizing the protest law. They said activists who supported the January 25 Revolution against ousted President Hosni Mubarak, and the popular revolt on June 30 against former President and Muslim Brotherhood leader, Mohamed Morsi, should not be treated in the same manner as members of groups involved in acts of violence.
"In the context of the repeated court sentences, that come out almost daily, sending young members of political parties and youth movements that ignited the 25 January/30 June Revolution to prison terms for periods ranging between two and fifteen years, the undersigned parties cannot but renew their firm condemnation of the infamous and unconstitutional protest law, especially when it targets peaceful demonstrators who were seeking to express their opinions freely, which is a basic right in a developing democracy," the parties said in their statement. The protest law has led to the imprisonment not only of Abdel-Fattah, but also of other leading revolutionary youth figures, among them co-founders of the April 6 movement, Ahmed Maher and Mohamed Adel, as well as activist Ahmed Douma, each of which have been hit with three year prison sentences. In the statement, the parties also called on the authorities not to confuse these protesters with "groups that use armed violence, especially as they were victims of similar repression and intimidation…by the deposed (Brotherhood) regime."
The statement went on to demand the law's amendment, "to assure its consistency with the rights to demonstrate, enshrined in the constitution." It also called on security forces to "stop using unjustified violence against peaceful demonstrators among the revolutionary youth, and not to treat in the same manner they deal with members of violent groups." Former presidential candidate Khaled Ali, had earlier filed an appeal against the law, saying it violates articles 8 and 11 of the Egyptian constitution. On Tuesday, the case was referred to the Supreme Constitutional Court (SCC), which means the Administrative Court found reasonable argument to question its consistency with the constitution which Egyptians approved in a January referendum with a 98.5 percent majority. If the SCC finds the law unconstitutional, this will be a face saving solution allowing Sisi to amend the law, while saying he respects the judiciary, and did not simply bow to pressure from opposition. However, the SCC is often slow in ruling, and can take up to one year to issue a verdict.
Several revolutionary groups, including the Revolutionary Socialists and the April 6 Movement, will hold a demonstration in front of the Ittihadeya Presidential Palace on June 21, marking what they have dubbed the International Day of the Egyptian Detainee. Khaled al-Sayed, a leader of the Revolutionary Socialists group who himself was held in prison for three months for taking part in an unauthorized demonstration on January 25, 2014, said they would also prepare an amended protest law that lifts the many restrictions included in the present law.
Parties that claim allegiance to the January 25 Revolution and youth movements have held, to no avail, scores of demonstrations against the protest law over the past months, and appealed for the release of dozens of their members. However, the shocking sentences against Abdel-Fattah and his colleagues that were criticized by local and international human rights groups, as well as the United States and several European countries, have given the campaign renewed energy. The parties also hope that Sisi will seek to open a new page with liberal and leftist parties that supported the ouster of the Brotherhood, but diverted with the interim regime over social and democratic rights.
Khaled Dawoud is currently Assistant Editor-in-Chief of Al-Ahram Weekly, an English language weekly published by Egypt's oldest news establishment, Al-Ahram. He is also the official spokesman of social-liberal Al-Dostour Party established by Nobel Peace Prize Winner Dr. Mohamed ElBaradei.