Factbox: Iranian influence and presence in Syria
Since the beginning of the Syrian civil war in 2011, Iran has found different approaches to increase its military and security influence in Syria. The first approach was by directly working with foreign militias and recruiting local militias. The second approach was created from the core of the first one. Its main objective was to integrate local Iranian militias into Bashar al-Assad's military and its security branches to give them a legal standing in Syria and an umbrella of protection from possible Israeli or US air strikes.
However, with a decrease in military operations in Syria, Iran began searching for new ways to enhance its control and influence in different Syrian provinces, especially after its success in infiltrating the regime's army and security apparatus.
Since the beginning of 2017, Iran has turned some of its focus on infiltrating Syrian society and strengthening its relations with Syrian businessmen. This factbox presents a limited summary of Iran's military and security power in Syria, revealing the extent of its sway over Syrian society and its economy.
Iranian's military influence and presence in Syria
During the last several years, the Iranian military involvement in Syria has grown and become more visible, which has made targeting them an easy job for the Israeli air force. As a result, in 2017-2018, Iran had to find a different approach for its military involvement in order to protect its militias. Iran then began the ambitious plan of redefining its presence in Syria by creating the Local Defense Forces (LDF), supporting specific brigades within the Syrian army and, most recently, establishing local private security companies.
The following two maps explain the massive transformation of Iranian influence and control between 2013 and 2020. In 2013, Iran's military influence was indirect and through the presence of Lebanese militant group, Hezbollah (Map 1).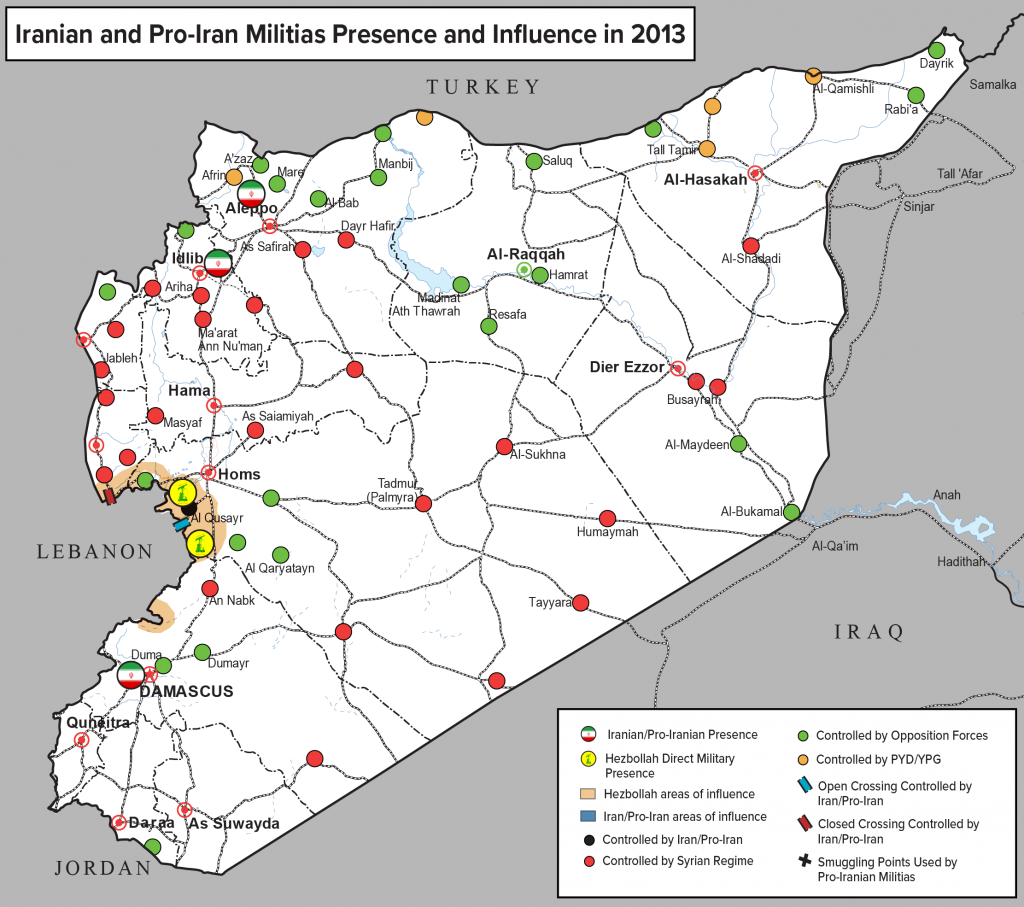 Iranian militias recruitment
Local Militias
Iran encouraged the Shia minority in Syria to form special militias and recruited Sunnis—especially clans—in the provinces of Aleppo, Raqqa, and Deir ez-Zor. In addition, some of the Shia militias in Syria were and continue to be recruited on a sectarian basis under the pretext of defending places considered holy by the Shia community. For example, campaigns are being conducted in the areas housing holy Shia shrines in Damascus in the Sayeda Zeinab district.
After individuals are recruited, they are sent for about twenty-one to forty-five days of light and medium arms training and sometimes for six months for heavy weapons training. The Syrian militias backed or formed by Iran are divided into several groups.
National Defense Forces: The formation of the National Defense Forces (NDF) began in 2012 with Iranian guidance and support in the city of Homs. It included members of all sects—Sunnis, Alawites, and Druze—and has headquarters in each province. The NDF was considered the largest Syrian militia in terms of number and outreach, with an estimated forty thousand fighters. Iran demanded that the Syrian regime legitimize these forces like the Shia Popular Mobilization Forces (PMF) in Iraq and integrate them into the Assad regime's military. In 2016, the regime dismantled the NDF, which forced Iran to fully neglect the militia and focus more on the LDF. It's worth noting that the Russians started communicating with the NDF in late 2018 in order to integrate them with the Fifth Corp, so as to bring militias and ex-Free Syrian Army into Assad's military to fight on the battlefronts of Hama, Daraa, and Homs.
Local Defense Forces: Iran recruited fighters from the provinces of Aleppo, Deir ez-Zor, and Raqqa under the name of the Local Defense Forces (LDF). The LDF are considered part of the Syrian army and have over fifty thousand fighters. The most prominent militias within the framework are considered to be the Nayrab Brigades (Special Operations), al-Sefira Corps, al-Baqir Brigade, the Nubul and Zahra Brigades, and the Qatraji forces.

Syrian Shia militias: Iran recruited from the Shia minority in Syria; mainly from northern Aleppo, northern Homs, and parts of Raqqa. The Syrian Shia militias have an estimated five thousand to eight thousand fighters. The most prominent of these militias include: the Aleppo branch of the Imam al-Hajjah, the Mahdi soldiers and the Mahdi Army in Nubul and Zahra, the Damascus branch of the Rukia Brigade, the Idlib branch of the al-Waed al-Sadiq Corps, the Homs branch of the forces of Imam Reza, Zin El Abidin Brigade, the Deir ez-Zor branch of the Brigade 313 Busra al-Sham in Daraa, and Al-Mukhtar Al-Thaqafi Brigade (Lattakia and Hama), among others.
Foreign Militias
Iran uses several mechanisms to recruit foreign fighters. It employs the ideological factor through its own "Husseiniat Scouts" to recruit Shia volunteers under the motto of "Protecting Shia shrines."
Iran also lures fighters to Syria with salaries. For example, every fighter in the Fatemiyoun brigade is given anywhere from $450 to $700 monthly, which makes the militia the highest paid by Iran. For other militias, Iran pays salaries between $200 to $300 and, for local militias, such as Nubl and Zahra Brigades, it gives less than $100 month. The militia salaries are funded from the Islamic Revolutionary Guard Corps' (IRGC) budget of approximately $7.6 billion.

The IRGC and Hezbollah typically train members of these militias in camps in Mashhad, northeastern Iran and then transfer them to Syria either by land through Iraq or by air. When they aren't sent to Iran, the IRGC can rely on several military bases and camps inside Syria, such as Damascus International Airport, al-Tayfour Airport, Azraa Base, Sayeda Zeinab Base, al-Kaswa Camp, Zabadani Camp, and al-Qusayr Camp.
Iraqi militias: Iraqi Shia militias began to appear in Syria at the end of 2012, after Iran directed them to support the Assad regime. Of note are the Zulfiqar Brigade, Abu al-Fadl Abbas Brigade, Asaad Allah al-Ghalib Brigade, the Imam Ali Brigade, and Asayeb Ahl al-Haq Brigade. However, a number of these militias were forced to return to Iraq in mid-2014 to counter the expansion of the Islamic State of Iraq and al-Sham (ISIS), following its takeover of the city of Mosul.

Afghan militias: The IRGC recruited Afghan Shia in Iran and Afghanistan and formed the Fatemiyoun Brigade, which began to appear in Syria in November 2012. The brigade has an estimated three thousand to fourteen thousand fighters spread between three battalions in Damascus, Aleppo, and Hama provinces. Some of the leaders of the Fatemiyoun Brigade fought in the Abu Thar Brigade during the 1980-1988 Iran-Iraq war and the Army of Muhammad during the 1979-1989 Soviet-Afghan war.

Pakistani militias: The IRGC recruited Pakistani Shias and formed the Zaynibion Brigade, which began to appear publicly in Syria in early 2013. The brigade has an estimated one thousand to five thousand fighters deployed in Damascus, Aleppo, Daraa, and Hama provinces.

Lebanese militias: Hezbollah intervened early in the Syrian crisis in May 2011. The Lebanese militant group provided training and technical support to security forces and the Syrian army. Hezbollah has also launched field combat missions since 2013 and has an estimated five thousand to eight thousand fighters in Syria.
Syrian private security companies affiliated with Iran
Before May 2013, the activities of private security companies in Syria were limited to securing shopping malls, banks, and concerts. The growing need for legal armed forces not bound by government regulation led to the issuance of Legislative Decree No. 55: a legal contract that allows militias to operate in Syria and use military force—depending on their contract—thereby allowing these entities to operate freely without needing to report to Assad's army or security branches.
Iran used private security companies to insert Iranian influence in sensitive Syrian areas, such as the capital, Damascus, without concerns about maintaining this presence in the future, because private security companies are under the guise of a registered Syrian company. Iran found private security to be an ideal way to maintain a presence in strategic locations, like the Baghdad-Damascus highway in the eastern desert of Syria.
Iranian influence and presence beyond the military and security
The Syrian opposition forces' gains between 2014-2015 was one of Iran's most important triggers to strengthen its military presence and direct involvement in Syria. Map 2 shows the reality of the current territorial control and influence of Iran, as well as on its local and foreign militias.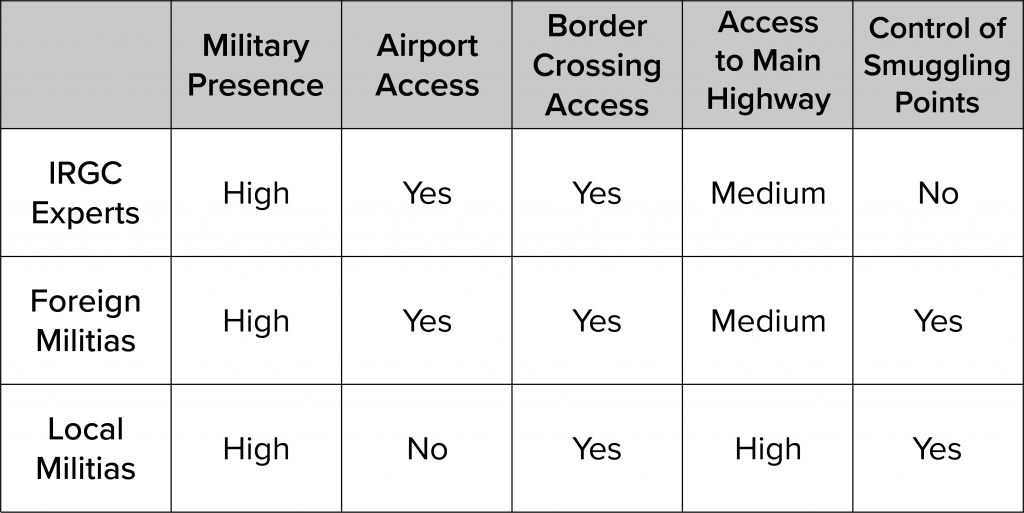 As for the Iran-backed foreign militias, the IRGC used a completely different tactic in 2018 to mitigate the risk of Israeli airstrikes. First, it reduced the activity of these militias and used local brokers to work on their behalf, such as the Iraqi Badr Brigade. The militia still maintains three bases in southern Aleppo and near Aleppo international airport. It's worth noting that all its social media accounts stopped posting about their activity in the area and have since worked under the umbrella of the Syrian LDF.
As the map shows, Iran's plan was to spread in almost all parts of Syria using a combination of local and foreign militias. The following table explains the actual military strength and involvement of Iran and its allies in Syria in 2020.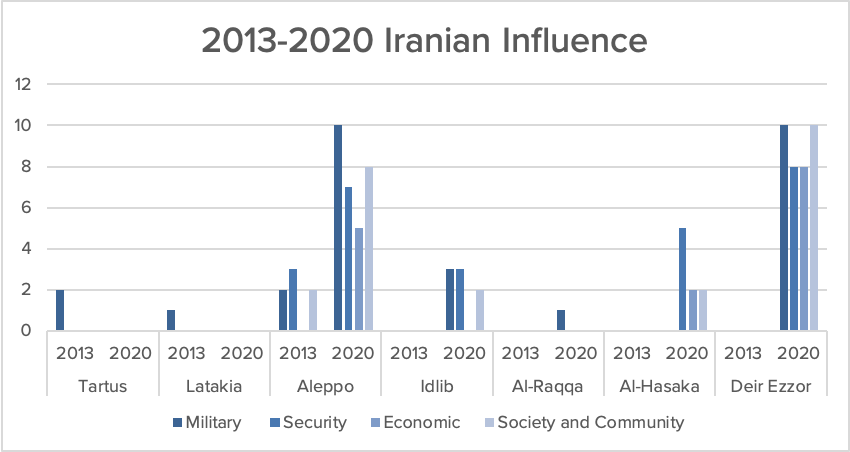 The aforementioned Iranian control is no longer limited to military and security presence. Iran's focus continues to be infiltrating Syrian society and strengthening its presence in the Syrian economic system in order to ensure its survival in Syria—especially in the event that an international agreement is made to neutralize its military presence. The following figures show Iran's influence and the extent of its military, security, social, and economic control in various Syrian provinces. For example, when it comes to economic control, Iran reactivated the Syrian-Iranian Business Forum in 2018, which played a fundamental role in the spread of Iranian projects in various areas in Syria, mostly focusing on power generation projects.
Iran also works with charitable organizations to better integrate into Syrian society. One of the most significant Iran-backed organizations is Jihad Al-Bina Organization, which focuses mostly on the issue of restoring schools and health centers. The organization is currently active in Deir ez-Zor and Aleppo provinces.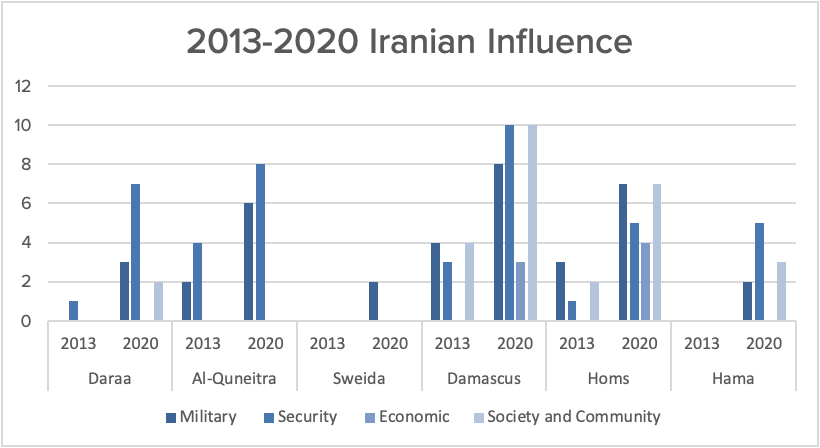 Iran has also recently focused on education outreach, with the number of constructed educational facilities now up to seven, in addition to Iranian cultural centers, which play an important role in spreading Iranian culture in Syrian society. In 2019, Jihad Al-Bina restored sixteen schools in Deir ez-Zor alone. Each had a placard confirming that Iran had supported the operation. Jihad Al-Bina periodically distributes food aid to civilians in an effort to gain loyalty from the local population. During the coronavirus pandemic, Iran established several small medical points in Deir ez-Zor to supply civilians with Vitamin C and surgical masks. Though a minute gesture, many civilians saw the aid as a big deal, while some even saw it as a sign that Iran would never abandon them.
The spread of Iran's influence in Syria is working accordingly, though not in a fast or clear-cut way. Iran is in Syria for the long term and is taking the time it needs to get results.
Navvar Saban is a conflict expert at the Omran Center for Strategic Studies, where he specializes in Iranian influence in Syria, focusing on Shia militia activity. He is also a non-resident researcher at the Orsam Center. Follow him on Twitter: @Nawaroliver.