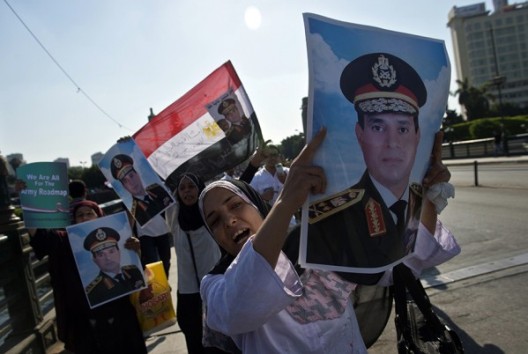 "Is Sisi coming?" women in the back rows of a Shubra El-Kheima hall ask each other enthusiastically. They have gathered for a rally for presidential candidate and former defense minister Abdel-Fattah al-Sisi. The female residents of the middle-income and rural parts of the Qalubiya province are prepared with posters and songs. Sabah Hussein, a mother of five and a grandmother, adds her cheerful ululations to the mix. Her excitement at the prospect of meeting the man she adores is short-lived. She's ready with justifications, which she offers to herself and others: "He can't come here. He is targeted. It's unsafe for him."
It was May 19, sixteen days after campaigning for the presidential race had started and it had become clear that the man expected to win would not be making any public appearances. He conducted closed meetings with various groups and delegations and gave a handful of interviews. In them, he revealed he had been the subject of two assassination attempts.
On the day the rally took place, Sisi had yet to reveal a solid program. The following day his campaign outlined his vision in seventeen points, derived from his TV interviews. His answers during two interviews on local channels provided scattered solutions to economic woes, leaving much room for interpretation of the ideological nature and specifics of his vision. In that Shubra hall outside the last station on the subway line, voters identified with a socialist program, heavy on state-intervention. "He will tax the rich and give to the poor," said Magda Mansour, a government employee who believes Sisi should focus on social justice.
A poll conducted by the Egyptian Baseera Center in May showed that "62 percent of those who have decided on the candidate they will vote for have not heard anything of the electoral program of their chosen candidate." Such results did little to ease criticism even within the pro-military camp. At his rallies, some campaigners and supporters expressed concern that the absence of a program and that a lack of legwork by the various campaigns could hurt their favorite candidate.
"Sabbahi has a lot of the youth working for him," Mansour said. On the stage in front of her, young members of the Conference Party, founded by Amr Moussa, held a banner supporting Sisi. In addition to the occasional distribution of posters, that was as far as they went. Sameh Saksak, a 20-year-old college student, was confident voters would cast their ballots for Sisi even though he and his colleagues weren't taking to the streets to talk to people about him, as opposed to campaigners of his opponent and those during the 2012 presidential vote.
"An electoral campaign isn't just about promoting a candidate," said Osama El-Shaher, who is handling part of the Sisi campaign in Giza. Sitting in a five-star hotel in the eastern Cairo neighborhood of Heliopolis as part of a pro-Sisi rally organized the former presidential candidate Ahmed Shafiq's National Movement Party, he explained that logistics such as distributing and housing delegates to observe the vote and the counting are the more complex part of the process. "And this is what we are focusing on now."
This election is an opportunity for those planning to contest the parliamentary elections to prove their worth, both to their constituencies and to the regime, explained Ahmed Sarhan, former spokesman of Shafiq's 2012 campaign. Outside Cairo, he added, it's not just about encouraging people to vote but to provide them with transportation to the polling stations, a process that requires planning and meticulous logistical work on election days. It's a an electoral violation, but one that is often ignored.
Sarhan argues that Sisi needs over 90 percent of the votes in order to be able to rule effectively; the close race of 2012 that left Mohamed Morsi with only 51 percent of voters should serve as a reminder of the difficulty of keeping a divided country together.
Sisi could very well pull it off without an electoral program. The latest Baseera poll indicates that he has the vote of 69 percent of the 80 percent of respondents planning to vote. In the Pew Research Center's poll, conducted a month earlier, only 54 percent saw Sisi in favorable light but he remains on top of the short list. The shrinking political space left many without alternatives, but his popularity is rooted in a strong and hopeful faith in a better future. Many see the military as the only functioning state institution and use this as justification for their belief that Sisi, "a strong man," would be able to restore order to the country.
He hasn't made any promises. His campaign says he can only promise hard work and expects Egyptians to reciprocate. The optimism he represents to potential voters doesn't only feed on dreams of prosperity. A large chunk of his campaign and rallies focus on fear, danger and an onslaught of conspiracies.
In a 20-minute speech in Shubra, journalist Mostafa Bakry, who claims to be close to Sisi and a regular in the Cairo rallies, packed about half a dozen conspiracies that the former defense minister allegedly foiled during Morsi's presidency. These include an American sponsored plan masterminded by Israel and Hamas to move Gazans to Sinai and a Muslim Brotherhood plot to dismantle state institutions and the police.
"Because they want to set it ablaze as they did in other countries, because of a religion they wanted to misuse, change and take as justification. Because of all of this, you either go and vote for Egypt on May 26-27 or leave it to sink," blares the familiar voice of advertising guru Tarek Nour on the radio in one of the Sisi campaign's ads. "They" refers to the Muslim Brotherhood, which he names in another ad.
Sisi himself pushes the same rhetoric in his interviews. The reason he hasn't provided specific details of his program is not to give much information that can be used against him and Egypt, he explained in two TV appearances. Evoking his former post as military intelligence chief he said Egypt's national security is at stake.
As with the case with his rare appearances, this justification resonates with and convinces his supporters. In Shubra, they cheered whenever Bakry mentioned his name, describing him as the shrewd officer challenging and foiling the plots of world powers. On May 23, the last day of campaigning, supporters flocked to the streets in celebratory ad-hoc rallies. Together with the security's customary closures of main squares in anticipation of Muslim Brotherhood demonstrations on Fridays, these rallies brought the capital to a standstill. On the same day, his campaign promised another video conference appearance to a rally in the southern province of Fayyoum, while a recording of a 7-minute speech was aired on TV.
The perception of him as a statesman compensated for the faults of the campaign, giving many something to identify with and aspire to. "We will win. We are Egypt. We are the state," a National Movement Party member told me after the Heliopolis rally.
Sarah El Sirgany is a nonresident fellow at the Rafik Hariri Center for the Middle East. She is a Cairo-based journalist and television producer, contributing to regional and international publications and networks including CNN, the New York Times, Al-Monitor and Mada Masr.