Humanitarian aid cannot be weaponized. Gazans are depending on it.
On October 13, the International Committee of the Red Cross (ICRC)—an impartial, neutral humanitarian organization key to the origin story of the Geneva Conventions—issued a rare and exceptional public statement reminding parties to the escalating Israel-Hamas conflict of their obligations under international humanitarian law. After first condemning Hamas's brutal attack on Israel on October 7, ICRC stated that "[t]he instructions issued by the Israeli authorities for the population of Gaza City to immediately leave their homes, coupled with the complete siege explicitly denying them food, water, and electricity, are not compatible with international humanitarian law." The ICRC's decision to depart from its standard practice of confidential communications to governments—given its usual strict adherence to independence and neutrality—is telling of the severity of the looming humanitarian crisis and the urgency in its appeal to governments that have stalled in getting life-saving aid into the Gaza Strip.
Five days after the ICRC statement, the situation stands as follows: the last working seawater desalination plant in the Gaza Strip shut down on October 17 from lack of fuel. Hospitals in Gaza have entered a state of collapse, running out of fuel, basic supplies, and even painkillers. The United Nations (UN) warned that water shortages have now "become a matter of life and death," with civilians in Gaza drinking contaminated water from the only aquifer that exists in the Gaza Strip.
This dire situation exacerbates the precarity that already existed in Gaza, where more than sixty percent of the population faced food insecurity. The ICRC has mobilized sixty tons of humanitarian aid but says safe access is urgently needed. The UN World Food Programme said that 300 tons of food are either already at the Egyptian border in Rafah or on their way. Countries like Turkey, Qatar, and the United Arab Emirates have already sent various planes with supplies to Egypt. Ursula von der Leyen, President of the European Commission, announced that the European Union (EU) is launching an EU Humanitarian Bridge operation with several flights to Egypt, beginning this week, to deliver supplies to verified humanitarian organizations on the ground.
Yet, despite urgent appeals for aid and multiple deliveries to Egypt, no outside aid appears to have made it into Gaza. Until October 18, Egyptian officials alleged that Israel was not cooperating with humanitarian assistance delivery efforts at the Rafah crossing and that air strikes nearby further stalled aid efforts. The Rafah crossing is located on the border between Gaza and Egypt's Sinai Peninsula and is the only border crossing from Gaza not controlled by Israel and the only exit not leading into Israeli territory.
Earlier, the head of Israel's National Security Council, Tzachi Hanegbi, indicated that any aid efforts must broach the issue of the hostages taken by Hamas on October 7, saying that the "issue of returning the hostages… must be a central component of any humanitarian effort." A senior adviser to Prime Minister Benjamin Netanyahu explained that Israel wants guarantees that humanitarian aid will not end up with Hamas. Secretary of State Antony Blinken noted that the US shares "Israel's concern that Hamas may seize or destroy aid entering Gaza or otherwise preventing it from reaching the people who need it."
On October 18, the Israeli military announced that humanitarian aid would be made available "if necessary" in Al-Mawasi, south of Gaza City, again urging residents of northern Gaza to evacuate. Following Biden's visit to Israel on the same day, Netanyahu's office said it would allow Egypt to deliver limited quantities of humanitarian aid to the Gaza Strip—the first concrete indication during a ten-day siege that aid would be allowed in. Once again, few details were shared. The statement only said that Israel would not "thwart" humanitarian assistance deliveries, limited to food, water, or medicine, but no mention of fuel, which is critical for hospitals and water treatment. Additionally, the aid will only be allowed into the southern part of Gaza, and the statement did not say when aid would begin to be allowed in. The statement also made clear that Israel would not allow any humanitarian assistance from its territory into Gaza "as long as our hostages are not returned." President Biden indicated that the assistance would be subject to inspections and could only go to civilians.
Given the ongoing humanitarian crisis and humanitarian aid piling up, it's necessary to understand the legal obligations at issue. Specifically, international humanitarian law provisions regarding humanitarian assistance vary based on the classification of the conflict. This is a complicated question on which much disagreement exists, especially regarding Gaza and the conflict between Israel and Hamas. Many in the international community argue Israel's role in the West Bank and Gaza Strip constitutes an occupation. Others instead view the current conflict with Hamas, a non-state actor, as a non-international armed conflict, arguing that Israel's withdrawal of troops from Gaza in 2005 meant it was no longer in "effective control" of the territory such that even if it had been an occupying power before, it ceased to be one. Israel's Foreign Ministry released a report in 2009 where it stated that the "Gaza Strip is neither a State nor a territory occupied or controlled by Israel" and that "as a matter of policy," Israel "applies to its military operations in Gaza the rules of armed conflict governing both international and non-international armed conflicts."
Regardless of the legal classification of the conflict, there is, at a minimum, an obligation to allow humanitarian assistance to be delivered to the civilian population by an impartial and non-discriminatory humanitarian organization if refusal to do so would result in mass starvation. The law of occupation, for example, imposes a positive obligation on the occupying party to provide humanitarian aid itself or, if unable, to facilitate its delivery to the occupied territory.
Under Article 55 of the Fourth Geneva Convention, the occupying power "has the duty of ensuring the food and medical supplies of the population," and "it should, in particular, bring in the necessary foodstuffs, medical stores and other articles if the resources of the occupied territory are inadequate." Under Article 56, it also "has the duty of ensuring and maintaining, with the cooperation of national and local authorities, the medical and hospital establishments and services, public health and hygiene in the occupied territory." Additionally, Article 59 establishes that if the "whole or part of the population of an occupied territory is inadequately supplied, the Occupying Power shall agree to relief schemes on behalf of the said population, and shall facilitate them by all the means at its disposal," adding that all parties "shall permit the free passage" of humanitarian assistance provided by other states of impartial humanitarian organizations.
However, Israel does not consider itself the occupying power in the Gaza Strip. While its self-assessment does not determine whether it is an occupying power, it does govern Israel's policy and conduct. A legal classification of the current conflict is beyond the scope of this post for the reasons mentioned above. And, ultimately, no matter how the conflict is classified, there is an obligation to allow humanitarian assistance for civilians in extreme situations where refusal to do so would result in mass starvation. In this sense, it is crucial to note that the obligations regarding humanitarian assistance apply to all parties to the conflict, that is, equally to Hamas and Israel.
The ICRC notes that the rule is that, subject to the right of control, all parties to a conflict must allow humanitarian relief for civilians, impartial and conducted without adverse distinction. This is a norm of customary international law and applies in international and non-international armed conflicts. Customary international law norms apply universally, regardless of whether states have ratified certain treaties. Additionally, non-state armed groups, like Hamas, are bound by customary international law and certain treaty provisions.
But what does "subject to the right of control" mean? It means that the consent of the belligerent parties is required for impartial humanitarian organizations to deliver assistance to civilians in the territory under their control. However, consent cannot be arbitrarily denied or founded on unlawful reasons.
Nevertheless, Article 23 of the Fourth Geneva Convention (governing international armed conflicts but instructive for the interpretation of the customary norm) subjects the free passage of humanitarian aid to the condition that the party allowing for it "is satisfied that there are no serious reasons for fearing… that the consignments may be diverted from their destination." This speaks directly to the fears expressed by Israel and shared by the United States that Hamas may divert or seize the aid intended for civilians for its purposes.
The commentary for Article 23, however, explains that a "doubt as to the destination of consignments would not be sufficient reason for refusing them free passage" and that, instead, "the fears of the Power imposing the blockade must be based on serious grounds, i.e. they must have been inspired by the knowledge of certain definite facts." It adds that "supervision by a neutral intermediary," like the ICRC, "should afford the blockading Power adequate assurances."
While concerns that Hamas may divert or seize aid are clearly relevant in assessing Israel's obligation to allow entry of assistance, conditioning this entry on the release of hostages is not supported by the law. It is generally accepted that a party's consent may be withheld for reasons of military necessity, however, the withholding cannot itself result in a violation of humanitarian law and must be necessary and proportionate. Ultimately, the ICRC has observed that if "a civilian population is threatened with starvation and a humanitarian organization which provides relief on an impartial and non-discriminatory basis is able to remedy the situation, a party is obliged to give consent." Lastly, the ICRC has also clarified that a party conducting a siege must allow the free entry of food and other essential items for the civilian population.
Given the clearly deteriorating situation in the Gaza Strip and the extremely rare statement issued by the ICRC that the denial of food, water, and electricity to civilians, crucial for their survival, is not compatible with international humanitarian law, it is evident that humanitarian assistance delivered by impartial and non-discriminatory humanitarian organizations must be allowed to enter Gaza. Israel's October 18 approval of entry of humanitarian aid to Gaza from Egypt, following an hour-long meeting with President Biden, is a step in the right direction. At the same time, it is also essential to ensure that this life-saving aid makes it to the intended recipients: civilians. As the commentary to Article 23 notes, "constant surveillance is necessary to ensure that the articles are in actual fact received by those for whom they are intended and that any illegal trafficking is made impossible." But even that cannot be done if the aid cannot enter as soon as possible. The survival of civilians depends on it.
Lisandra Novo is a staff lawyer for the Strategic Litigation Project at the Atlantic Council. She was previously a judicial fellow at the International Court of Justice, a Fulbright scholar in Spain researching post-conflict transitional justice, and a visiting professional at the Inter-American Court of Human Rights.
Further reading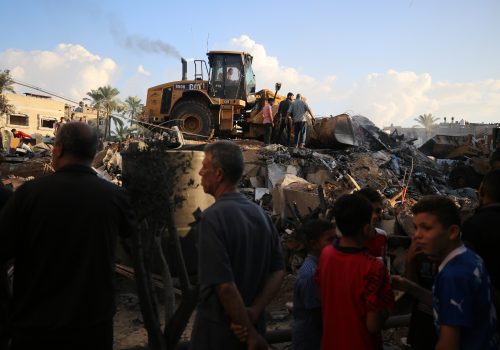 Mon, Oct 16, 2023
MENASource By Elise Baker
There are clear indications that both Hamas and the IDF have violated international humanitarian law, and some of their attacks constitute grave violations.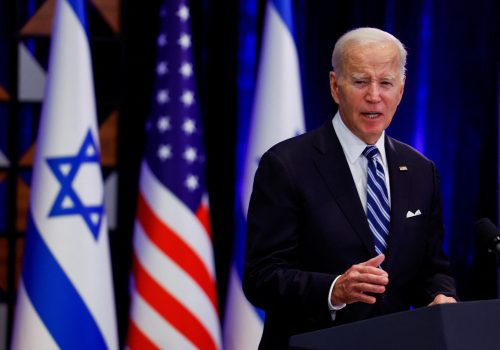 Wed, Oct 18, 2023
New Atlanticist By Atlantic Council experts
Atlantic Council experts share their insights on the implications of Biden's visit for Israel and the wider region.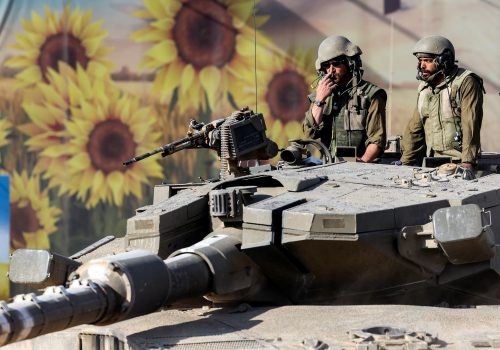 Mon, Oct 16, 2023
New Atlanticist By Atlantic Council experts
Atlantic Council experts are analyzing the Israel-Hamas conflict as it enters its second week.