The political situation in Libya has slowly reached one of apparent paralysis while the military situation is continually evolving with frequent clashes across the country. Given the lack of any progress, the whole approach undertaken by the international community has clearly failed and desperately needs a new strategy. Political negotiation alone, without one that engages the various militias, will not yield new gains. One adjustment to the strategy could include investing in the development of local authorities at the municipal level and engaging them in the slow process of reconstructing state-society relations—an essential component of state rebuilding.

Good governance and stability in Libya remains an elusive target at the national level, despite continued efforts by numerous Libyan actors, the United Nations (UN), and the international community. Prospects for future elections remain in doubt, while the House of Representatives (HoR) continues to lack the necessary quorum to deliberate and advance important legislation. The Presidency Council and the UN-backed Government of National Accord (GNA) struggle to exert even limited influence. Efforts to reign in corruption and curb illicit trade have produced marginal successes, but general insecurity and sporadic clashes persist in areas across Libya—most recently seen in Sabha, a city in Libya's southern region. Violent extremists remain a threat to Libyans, their neighbors, and the international community, as does the risk of a full-scale civil war, according to a recent statement by US AFRICOM commander Gen. Thomas Waldhauser.
Today, Libya comfortably fits the definition of a fragile state. The Fragile State Index currently places Libya within the top 25 most fragile states in the world with a notable increase in recent years (Figure 1). Despite efforts to reach a political settlement since 2014, ongoing power struggles have created conditions that produced a country where power is extremely fragmented and primarily localized. Under such conditions, formal powers at the national level will face a steep uphill battle to regain a monopoly over legitimacy and control.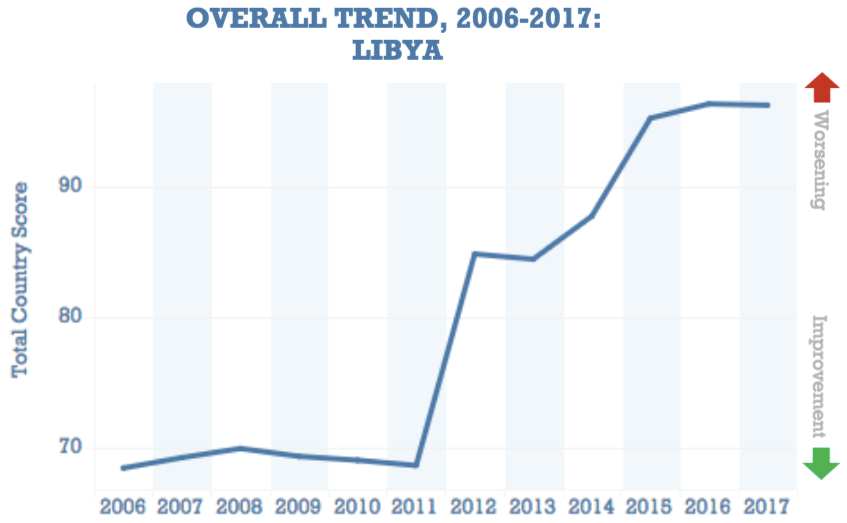 Figure 1. Fragile State Index for Libya, 2006-2017.

Increasingly, attention has been placed on the role that local authorities can play in bringing order and services to the cities in which they operate. International donors, implementers, and Libyans at large need to define a new system through which municipalities can work together in facilitating the establishment of a central state that would bring stability to the whole country. In other words, how can stability at the local level be projected at the national level?
With support from international actors, part of the strategy is already being implemented. European and US donors provide assistance via programs implemented by organizations such as VNG International, GIZ, and the International Republican Institute. The EU in partnership with UNDP, UNICEF, and the Italian government recently announced €50 million in funding for a new program that will "enhance access to basic and social services for vulnerable people and support local governance, in particular in the Libyan municipalities most affected by migratory flows."
As seen in statements issued at gatherings of municipal authorities, empowering these actors through consistent funding of budgets and enforcing and possibly improving the local administration law (Law 59) is critical to formalizing the powers of local authorities. So too will assisting local authorities professionalize their staff, improve the delivery of services, and create municipal development plans.
In addition to the devolution of formal powers to local authorities while ensuring adequate and consistent funding to these institutions, it is also important to place value on the soft power that local authorities possess. As highlighted in the Brookings Institute's 2017 report, Leading Beyond Limits: Mayoral Powers in the Age of New Localism, the most important capacity for local actors (such a mayors) is "the ability to build, maintain, and activate networks of stakeholders across sectors and levels of government." In Libya, local authorities have regularly utilized such networks to effect or support meaningful change in their communities.
A study funded by the Dutch government investigated the role that local authorities in Zuwarah, in northwestern Libya near the Tunisian border, played in pulling together a variety of local stakeholders to combat human trafficking. Following a particularly horrific accident killing more than 250 irregular migrants off the shore of Zuwarah in August 2015, the Counter Crime Unit (CCU) conducted an operation to arrest human traffickers in the city. The success of this operations hinged on the cooperation of multiple local authorities, such as the Municipal Council, the Shura Council, the local Crisis Committee, and several civil society organizations. Subsequently, and not without controversy, these local authorities unanimously formed a special tribunal that prosecuted the human traffickers and issued fines or prison sentences. Since then, the ban on human trafficking in Zuwarah has remained in place and demonstrates the significant power that can be produced when local authorities mobilize their networks.
Similarly, a series of case studies on local governance in Libya funded by the EU in 2017 uncovered additional examples of local authorities mobilizing local networks. In Suq al-Juma, a neighborhood of Tripoli, the Municipal Council gathered experts and academics from the community to form an Experts Council to advise on development strategies. In eastern Libya, the Municipal Council in the city of Bayda has solicited support from professors at the city's university to provide technical advice and conduct studies for the council. Near Misrata, the Municipal Council of Zliten created the Conflict and Dispute Resolution Committee. This committee, comprised of 15 respected local sheikhs, is tasked with resolving property disputes within the municipality.
In 2018, a study of civil society organizations in Libya funded by the British government found that despite the limitations of local councils' formal authority, respondents have confidence in them and view them as integral partners in community development. The study highlights the ways that civil society, local councils, and the business community support each other. The study concluded that Libyans agree that these community-to-council engagements are creating a "new model of community development."
In a fragile state where formal power is limited, such as Libya, the soft power produced locally by webs of smaller, localized actors can affect positive change in Libyan state-society relations. While state-building and reconciliation efforts at the national level remain immensely important in healing the country's wounds, harmonizing these efforts with those produced by networks of local actors—civil society, municipal councils, and other local authorities—can create a synergistic effect in sewing the roots of stability across Libya. If the international community continues and preferably strengthens its efforts to support local authorities in developing and nurturing these networks of stakeholders, it would support real, on-the-ground changes that could lead to a positive future for Libya.
 
Karim Mezran is a senior resident fellow at the Rafik Hariri Center. Follow him on Twitter @mezrank.

Frank Talbot is an independent research consultant focused on conflict analysis and transitional governance in the Mediterranean region. Follow him on Twitter @talbotfd.