If well managed, Italy and Algeria could build a strong and viable geo-economic bridge between both shores of the Med
Since Russia invaded Ukraine in February 2022, energy supply to Europe has become a crucial issue. European countries like Italy have sought alternatives to Russian gas, with Algeria managing to fill the void. Before the war, Italy relied on Russia for 40 percent of its energy supply. In October 2022, the number dropped to 10 percent, while Algeria's exports to Italy increased significantly to an estimated 20 percent.
In this European energy race, Italy has a clear advantage over countries such as France or Spain. In 2018, Rome and Algiers agreed to find new avenues for Italian investments in Algeria outside the hydrocarbons sector. Not surprisingly, more recently, on January 22, Italian Prime Minister Giorgia Meloni made a two-day visit to Algiers, leading to the signing of various contracts and other agreements. 
However, this growth of ties is not new, as an old friendship prevails between Rome and Algiers dating back to the 1960s. During Algeria's war of independence, Enrico Mattei, the then head of Italian state-owned energy company ENI, was a fervent defender of Algeria's independence. In 2022, to pay tribute to Mattei, the Italian Embassy in Algiers (in collaboration with ENI) published a book titled: Enrico Mattei and Algeria: An unforgettable friend (1962-2022). Surfing on these special ties and the war in Ukraine, Italy and Algeria have undoubtedly spotted an opportunity to further strengthen their economic and geopolitical relationship. 
A strengthening economic partnership
In April 2022, under the leadership of former Prime Minister Mario Draghi, numerous contracts were signed, such as a $4 billion gas contract between ENI and the Algerian state-owned oil company SONATRACH, which would increase gas volumes to 18 percent (in other words, up to 9 billion cubic meters per year in 2023-2024).
Months later, in July 2022, during the fourth inter-governmental summit, fifteen memorandums of understanding and cooperation were signed under the leadership of Draghi aimed at strengthening bilateral political, economic, and cultural relations. Similarly, in October 2022, an accord was also signed with FIAT for its car production in Algeria in March 2023, with an initial capacity of sixty thousand that will eventually increase to ninety thousand. As a result of contracts signed since 2018, commercial exchanges between Italy and Algeria rose from $8 billion in 2021 to $16 billion in 2022. These latest investments prompted Algerian President Abdelmajid Tebboune to refer to them as a "high level of strategic relations uniting Algeria and Italy."
During Italian Prime Minister Meloni's visit on January 22, contracts were signed for constructing a new gas pipeline, linking Algeria to Italy directly through Sardinia. This pipeline will add to the existing one that goes through Tunisia, the Enrico Mattei pipeline—also known as Transmed—in tribute of the former ENI chief executive officer. Besides gas, this pipeline will also transport hydrogen, ammonia, and even an underwater electric cable. During a joint press conference on January 23, Tebboune and his Italian counterpart recalled that "Algeria is considered as a main [gas] furnisher and we hope to go further, as due to its geographic position, this new gas pipeline will make Italy the entry point and energy hub of Europe."
More importantly—and as stated by the Algerian authorities to their European counterparts—more Algerian gas necessitates more investments, which ENI has agreed to do. This would, in turn, modernize Algeria's hydrocarbon infrastructures. Currently, Algeria exports sixty billion cubic meters to Italy through the Transmed. With a second pipeline, Algiers can significantly augment its exporting capacity to Italy and even other European countries.
During the January 23 meeting, other discussions were conducted over cooperation on spatial activities and the transfer of technology.Besides all these major contracts, for Tebboune, Algeria can also benefit from Italy's small and medium enterprises experience. On the same trip, Algiers and Rome also celebrated the twentieth year of the Friendship, Good neighboring, and Cooperation Treaty.
From the Italian perspective, the January 23 visit is a means to further establish Rome's ambition to strengthen its cooperation and development with the African continent. For Meloni, North Africa is Rome's priority, especially its essential partner Algeria.  
Common ground on Libya
Besides the strengthening ties between Algeria and Italy, there are other issues at play when it comes to North Africa; for instance, the thorny Libyan dossier, in which Algiers and Rome share similar viewpoints in regard to ending the decade-long political crisis and instability, which some experts even deem as a civil war.
Libya constitutes a major security challenge for Algeria. For Algiers, the violent character of the ongoing conflict in Libya contributes to complex and multiple threats along Algeria's eastern border. In January 2020, President Tebboune stated that "the security of Libya is the extension of our [Algeria's] own security." In August 2021, Algeria hosted a neighboring foreign ministers meeting to revive the 'Libya Stability Initiative,' during which Algiers reiterated its support for Libya's political process and roadmap that would have led to elections in December of the same year. Likewise, following the failure to organize those elections, the Algerian president announced in April 2022 that Algiers would host a second Libya conference, emphasizing Algiers' support for international coordination concerning these elections.
In this respect, Rome, which wants to increase its political and economic profile in North Africa, is aware that Algiers' view cannot be ignored, as they are a direct neighbor of Libya with direct interests. Moreover, because of its neutrality between the Libyan parties and potential role as a mediator in this complex conflict, Italy—as well as other European states, such as Germany—relied on Algeria's involvement to bring peace and stability to its neighbor. In this respect, after she visited Algiers, Prime Minister Meloni flew to Tripoli on January 28 to discuss political and security issues, such as illegal migration with her Libyan counterpart, Prime Minister Abdulhamid al-Dbeibah, head of the internationally-recognized Government of National Unity (GNU) in Tripoli. During the trip, Rome and Tripoli also signed a new $8 billion gas contract, hinting at Italy's reliance on Libya for energy regardless of the conflict.
A win-win partnership between Rome and Algiers
Like her predecessors, Meloni wants to continue strengthening ties with Algeria and position Italy as a leader in the Mediterranean. This was evident in her comments on December 3, 2022: "After years of backtracking we'd like to regain our strategic role in the Mediterranean." While the vision of ENI's late CEO Mattei—building fair relationships to support newly-independent countries—is still a work in progress, since the Ukraine war began, the question of energy independence for Europe has gained new urgency. Consequently, Italy senses there are opportunities for its companies in dealing with the region's energy crisis.
According to Andrea Dessi, Head of the Mediterranean, Middle East and Africa Programme at the Istituto Affari Internazionali, "since the war in Ukraine broke out, there is an alignment of interests between Italian state companies, such as ENI and other institutions, to reinvest [in] the Mediterranean and African space. And the relation[ship] with Algeria is the spearhead of this strategy."
The war in Ukraine has put Algeria at the forefront of the European scene. The North African giant has become an inevitable choice due to its gas capacity and immense economic investment potential. Undoubtedly, this is an immediate gain for Algiers. However, for this current gain to last, Algerian authorities must bet on a long-term strategy, which they appear to be doing with Italy.
Italy and Algeria are aiming at a win-win partnership that would not only benefit the two countries, but also their respective neighbors and beyond. If well managed, Rome and Algiers could build a long-term, robust, and viable geo-economical bridge between both shores of the Mediterranean Sea.
Abdelkader Abderrahmane is a nonresident senior fellow with the Middle East Programs at the Atlantic Council.
Further reading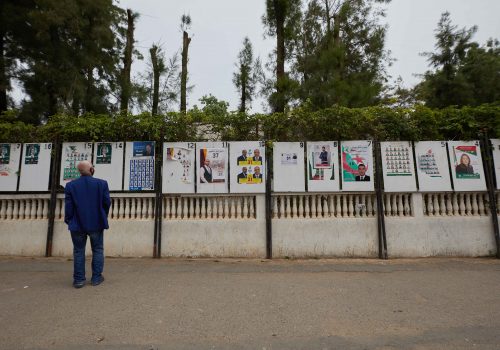 Thu, Jun 3, 2021
MENASource By Abdelkader Abderrahmane
While the coronavirus pandemic put on hold the Hirak movement, its resumption in February this year indicates that many Algerians have not renounced challenging the Algerian government.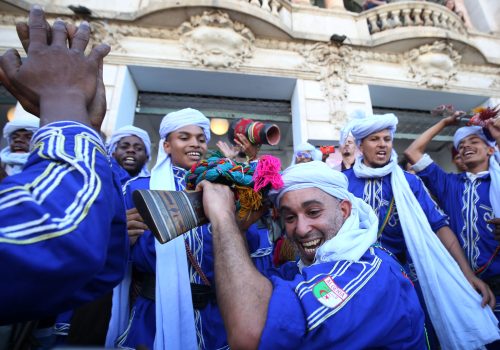 Wed, Jun 29, 2022
MENASource By Andrew G. Farrand
On both the substance and presentation of its foreign relations, if it is to seize this moment, Algeria has much catching up to do.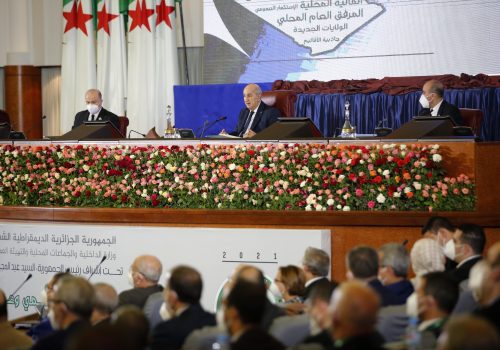 Thu, Feb 17, 2022
MENASource By Andrew G. Farrand
In light of its recent history, Algeria is one country whose fate could swing substantially based on Russia's actions in eastern Europe.