In Syria, the earthquake 'did what the Assad regime and Russians wanted to do to us all along'
As I write this, I have images juxtaposed in my mind on top of the photos and videos that are coming out now. They are the images of past tragedies: children's dust-covered and blood-streaked faces; mothers crying silently; and rescue teams desperately digging through rubble—often with their bare hands.
Like an evil creature from the most horrific of nightmares, the deadly 7.8-magnitude earthquake on February 6 destroyed hundreds of miles of homes and lives in southern Turkey and decimated a population that was already in many ways decimated in Syria.
I know the areas impacted by the earthquake well. The southeastern Turkish city of Gaziantep is where my charity, International Network for Aid Relief & Assistance (INARA), has its Turkey office based, and is where all our staff and beneficiaries live. In my years as a CNN senior international correspondent, that border zone is where I spent weeks on end covering everything from refugees flooding across, to the Islamic State of Iraq and al-Sham (ISIS)'s takeovers of areas in Syria, to the relentless bombing of the miserable Syrian rebel-held swath of Idlib.
Turkey, well equipped to deal with the aftermath of natural disasters, has mobilized its emergency teams and military. On the ground, international rescue teams continue to arrive from the United States, Ukraine, Lebanon, Japan, and more, as many countries pledge their support for the victims in Turkey and Syria. However, whether the level of international response will be enough or not is yet to be seen. The earthquake has already killed more than 19,000 people. The scale of the crisis is incredibly vast. Turks and Syrians in Turkey have posted countless messages on social media about the lack of rescue efforts in certain areas, and people I know have messaged that their friends are still trapped under the rubble.
While aid increasingly flows into Turkey from around the world by air, land, and sea, areas on the other side of the border in Syria's rebel-controlled areas are seeing none of that. Syrians impacted by the earthquake in northwest Syria have already endured a twelve-year war, hunger, cold, and a pandemic. They have long felt and, in fact, been abandoned by the international community. Since the earthquake rocked the region, non-governmental organizations (NGOs) have been pleading to international agencies and the world's governments to provide much-needed support to implement effective search and rescue operations in the vital first seventy-two hours of the crisis.
In a continuation of what has become a daily reality throughout the last twelve years, NGOs have to beg and plead for funding for Syria, but never come close to hitting their targets. On the ground, the Syrian Civil Defense, also known as the White Helmets—experts in saving lives in the aftermath of bombings—has been leading the search and rescue efforts. However, this level of destruction all at once eclipses their capacity.
The White Helmets and other volunteer groups are suffering from a lack of everything that they could possibly need, including a shortage of diesel to run their heavy machinery, a lack of shelters for those now out in the cold and snow, and a lack of winterization kits. While local organizations rush to deliver humanitarian assistance—a drop in the bucket of what is needed—there has yet to be a single official rescue team dispatched by governments across one particular border into Syria. In fact, there has not been anything going across that border at all.
Despite having several functioning border crossings between Turkey and northwest Syria, there is only one lone border crossing that has been authorized by the United Nations (UN) Security Council to deliver UN aid to rebel-held Idlib and the 4.1 million people who live there, many of whom are originally from elsewhere, having fled bombings by the Bashar al-Assad regime, Russia, and Iran multiple times. The border crossing's existence has always been heavily politicized, with the threat of a Russian veto looming every six to twelve months as the Assad government in Damascus continues to insist that all aid to Syria should come through the capital. Right now, that border crossing is not functional. The UN has said that, while the crossing itself is intact, the roads leading to it are either closed or damaged—all of which leaves this rebel-held region at the mercy of its meager resources and a government that wants to wipe its population off the map.
The Assad government-controlled areas, like Aleppo and Lattakia, have also been impacted in devastating fashion. Hundreds have lost their lives there, since there is a severe lack of infrastructure or ability to launch rescue operations despite being under Assad regime control. However, aid has arrived in Damascus from countries like Iraq, Iran, and Russia.
In theory, Damascus could be an entryway to reach all Syrians in need, but that's hardly about to happen, given that access to humanitarian aid has become one of the biggest geopolitical cards. German Foreign Minister Annalena Baerbock called on Russia and all international actors to put pressure on the Assad regime to allow aid to reach everyone in the country. This is tragically laughable, since the international voices that did not work to stop the Assad government from bombing its people are hardly going to be effective in getting the regime to feed and keep its people warm.
To quote a Syrian friend in the hours after the earthquake struck: "It did what the Assad regime and Russians wanted to do to us all along."
Arwa Damon is a nonresident senior fellow at the Atlantic Council's Rafik Hariri Center for the Middle East and a former senior international correspondent at CNN.
Further reading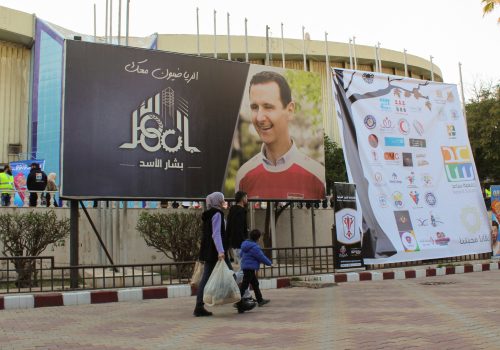 Fri, Jan 13, 2023
MENASource By Karam Shaar and Said Dimashqi
Before making concessions, the United States can increase its leverage in Syria by dedicating resources to make use of the smart sanctions that US policymakers have already developed.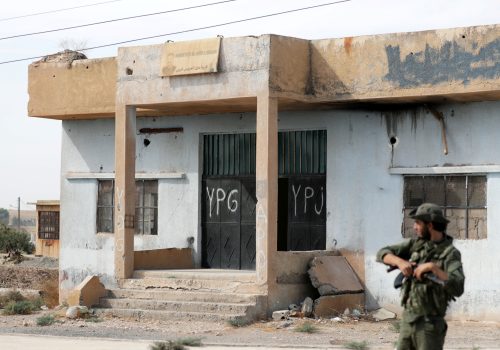 Mon, Jan 23, 2023
MENASource By Ömer Özkizilcik
The December 2022 meeting in Russia is the first of many that may ultimately result in a direct encounter between Recep Tayyip Erdogan and Bashar al-Assad.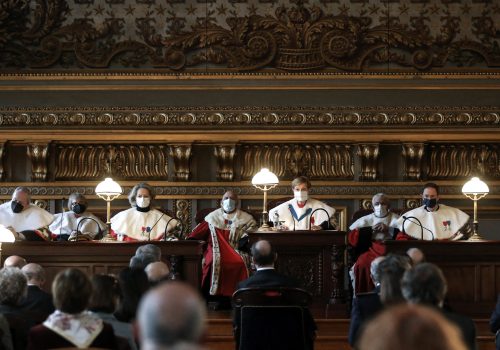 Thu, Feb 10, 2022
MENASource By Michel Duclos
If the scope for changing the course of events in Syria is limited, it's honorable to take a stand against the abominable crimes of the Bashar al-Assad regime. It would be a great pity for France to be seen as a safe haven for Assad's accomplices.