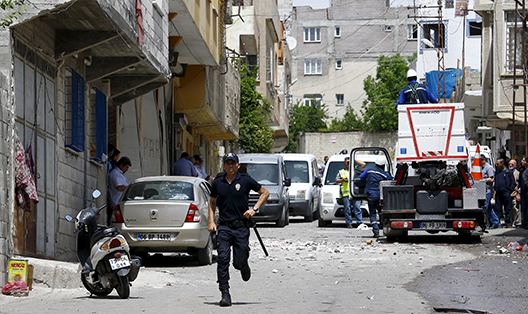 The Turkish town of Kilis, located just three miles from the Syrian border, has come under rocket fire from Islamic State (ISIS) controlled territory in Syria. The intensity of the rocket attacks increased since April putting upward pressure on the Turkish government to address the threat. According to an on-going Atlantic Council study, the rockets have hit as far north as the Atatürk neighborhood and the city's southern neighborhood of Kazancıoğlu. In all cases, ISIS used katyusha rockets, an inaccurate and unguided 107mm or 122mm rocket that has a range of between 12 and 20 miles. For the purposes of this study, the Tekke Mosque – which has been hit by rocket fire and lies at the center point between these two neighborhoods – was used as a reference to measure distances into Syria, in order to locate potential ISIS firing points. The resulting data underscores the inherent challenges of defending civilian population areas from indiscriminate rocket fire, and of the extent to which elements of the Syrian civil conflict have spilled over the border.
Despite attempts to increase border defenses, Turkey's efforts to counter the rocket fire have little chance of success, unless the Turkish military launches a ground offensive or allied rebel forces push ISIS firing positions beyond 20 miles. The Turkish government has installed a siren in the town and announced plans for psychological and medical care, in addition to the provision of armored ambulances. In order to further mitigate the threat to civilians, the Turkish government could build shelters for civilians to flee to when a rocket attack is detected.



The Turkish government has also asked the United States to increase drone patrols in the area and appear to be using indigenous drones to cue artillery strikes, but both approaches have serious limitations.
The fundamental problem with identifying and destroying katyushas is that they are small, easily transportable firing systems, capable of being fired remotely. The firing mechanism also puts off little-to-no heat, which helps prevent the detection of the launcher using live video or thermal imagery from circling drones. The launchers can be placed on trucks, and in previous asymmetric conflicts, non-state actors have disguised these vehicles, often times as civilian transport, in order to avoid preventative targeting from the air.
Israel has a similar threat from these short-range rocket systems, first during its war with Hezbollah in 2006 and then with Hamas in 2009. In the latter operation, the Israeli military refrained from undertaking a large ground operation, and therefore had little success in decreasing the number of katyusha strikes. During the 2009 offensive in Gaza, the Israeli Defense Forces updated its tactics, synchronizing air and ground forces, used dozens of armed drones/manned aircraft to monitor the entirety of the Gaza strip in real time to target rocket launchers, in addition to various other intelligence, satellite, and reconnaissance (ISR) assets to identify and attack rocket launchers. This increase in force significantly decreased rocket attacks in comparison to the 2006 campaign, but nevertheless, failed to stop them completely. Moreover, the drop in rocket attacks stemmed from a decision to introduce a sizeable number of ground forces into Gaza, according to Benjamin Lambeth's study of Israeli air operations against Hezbollah and Hamas.
The current numbers of deployed ISR assets inside Turkey is not adequate to provide the type of coverage or tactics Israel employed in 2009. Further still, Turkey has no passive defenses, like the Iron Dome anti-rocket interceptor and radar, designed to engage targets that escape detection from the air or bombardment of suspected rocket sites in airstrikes.
To counter this threat, Turkish officials have been very realistic about the threat they face, saying that there is no easy solution, and privately confirming much of this analysis. The Turkish government's best option to end the threat to Kilis is to push ISIS out of firing range using "friendly" anti-Assad opposition forces. Beginning in March, a number of Turkish-backed rebels, including Ahrar al Sham, Faylaq al Sham, the Turkmen majority Sultan Murad Brigade, and a smattering of other Free Syrian Army groups, began an offensive from the previously static front line near the border town of Doudyan. Turkey used artillery to back this offensive, which may explain why ISIS has intensified its rocket attacks in recent weeks.
The offensive took place during the "cessation of hostilities," freeing up these forces to fight only ISIS, rather than Syrian government forces, and its Russian and Iranian allies. By April 26, the groups had taken some 10.5 miles of territory along the border, advancing as far as 'Ayasha (on the eastern outskirts of the strategic border town of Al-Rai), according to data on Syria Live Map. They also, however, suffered setbacks, with the rebels unable to hold territory, particularly on the easternmost edge. In recent weeks, the front lines have solidified, with some incremental opposition advances, but ISIS remains strong – and should be expected to fight hard to retain control over Dabiq, a city of apocalyptic importance for the group.
This pace helps to place the longer term rocket threat in perspective. ISIS can fire rockets at Turkey from a large sweep of land at the edges of rebel-held territory just south of the town of Al-Rai and the outskirts of Marea, a distance of some 13.7 miles, in addition to some 11.7 miles of territory north of Sawran and the southern end of the estimated firing zone. These two towns sit at opposite ends of potential ISIS launch points.
A Turkish-backed offensive will take time, perhaps subjecting areas along the Turkish border to the continued threat of rocket fire. Moreover, if Syria returns to pre-cessation of hostilities levels of violence, rebel forces may once again have to fight on multiple fronts. For now, the Turkish military and government officials have ruled out a ground operation to suppress rocket fire – and Turkish aircraft still do not fly missions over Syria, owing to concerns about Russia targeting Turkish jets in retaliation for Turkey's November 24 shoot down of a Russian SU-24 bomber.
Faced with these limitations, Turkey is likely to increase its support for its preferred rebel groups, owing to the need for these groups to take territory from ISIS and help close the "Manbij pocket," the strip of territory between Marea and the Euphrates. Ankara may also pair this policy with a reiteration of its long-standing policy of support for a safe zone, protected by a no-fly-zone, over northern Syria – a policy the United States rejects. The imposition of a no-fly-zone would entail the destruction of regime assets, in addition to countering Russia's S-400 missile system, either by destroying it or reaching an agreement with Moscow. In this scenario, rockets would still pose a problem, so long as ISIS maintains launch points in range of Turkey or forces deployed inside Syria. Moreover, the risk of military escalation with Russia would also have to be factored in, particularly if force is required to eliminate their air defense system in Syria.
The likelihood of continued instability in Syria underscores the continued threat of asymmetric threats, including from katyusha rockets. As a first step, Turkey must continue to improve indigenous ISR capabilities, and then take steps to further integrate land and ground forces to prepare for similar threats in the future. However, this policy option is a longer term investment, and will not remedy the current situation. To seriously address the rocket threat, ground forces, working in cooperation with air assets are required. For now, Turkey is leaving the ground operation to opposition groups in the area, backed by artillery units deployed to the border. This policy may succeed in the medium-to-longer term, but in the interim, there is no easy fix for the current rocket threat to Kilis.
Aaron Stein is the Senior Resident Fellow for Turkey with the Rafik Hariri Center for the Middle East.