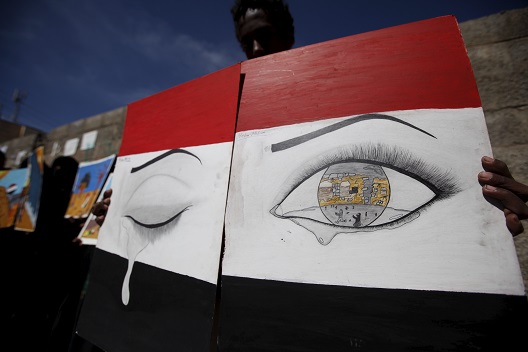 The figures reported for the ongoing conflict in Yemen speak for themselves: more than 5,000 dead and 26,000 injured (according to the NGO Action on Armed Violence and the UN Office for Coordination of Humanitarian Affairs, a staggering 86 percent of those killed and injured are considered civilian), almost 2.3 million displaced from their homes, and more than 21 million people—about 80 percent of the population—is in desperate need of humanitarian assistance. But the figures fail to adequately portray the crippling sense of despair with which Yemenis must live, especially the youth.
Media interviews of those on the ground in Yemen provide a glimpse of people's lives as they struggle under the weight of war. One interviewee was a young man from the city of Taiz. Taiz epitomizes the suffering of people across Yemen: as the city lies under a siege by the Houthi militias aided by ex-president Saleh forces, preventing the delivery of the limited supply of commercial goods and humanitarian aid that is already constrained by the Saudi-led coalition's blockade on Yemen. Civilians in Taiz live under daily shelling from the Houthi/Saleh militias targeting civilian neighborhoods and coalition airstrikes that often kills innocent civilians. When asked about the future, the young man from Taiz answered, "What future? The future is gone. There is no hope."
The 27 million Yemenis trapped under the brutal conflict have to live with the torture of watching their future—and that of their country—shatter before their eyes. All their dreams, aspirations, and hopes are crushed by the ongoing conflict surrounding them.
The story of Abdullah Qais al-Sanabani embodies this poignant reality for many Yemenis today. Videos available online show the twelve year-old Abdullah in 2012 on the stage of TEDxSana'a, beaming with pride and enthusiasm. He had just returned from a trip to NASA, which he won after receiving first place in Iken Scientifica, an international science competition. He could barely hold back his excitement as he spoke on stage, describing his hopes and plans for innovation and invention in the future. Now at age fifteen, Abdullah gave a markedly different interview to The Independent. He lay on a hospital bed in Jordan, badly scorched and hardly able to speak after an air strike by the Saudi-led coalition targeted his uncles' wedding in his village of Sanaban, killing more than fifty civilians and injuring dozens of others. He said, "I wanted to do something that benefits human kind. So when I die, people remember me." If he survives, his dream might still come true.
When such overpowering desperation grips an entire generation, Yemeni youth have two options: either wait for death to come to their homes or go to meet death elsewhere. On October 6, another young man chose the second option. Moath Anwar, a twenty-two year-old from Aden, appeared in photos and videos released by the Yemeni branch of the Islamic State (ISIS or ISIL) as the suicide bomber who targeted the government headquarters in Aden. People who knew Moath were shocked. Photos of him on his Facebook profile page, prior to the Houthi rebels attack on Aden, show him sporting trendy hairstyles and the latest fashion in clothes. The crushing effect of open and unpredictable violence severely limits options in the minds of young men. Without a future to which he could aspire, Moath succumbed to radicalization and extremism—a path he otherwise would never have endorsed.
Global impotence in the face of the indiscriminate Saudi-led bombing campaign, the Houthi and Saleh targeting of civilians and violations of human rights, rebel and government intransigence over a political deal, and an ever worsening humanitarian crisis all contribute to Yemen's slow collapse. A protracted conflict not only affects Yemen and its youth, but also has far broader implications in the region and beyond. Not only does it intensify refugee flows that threaten to overrun Europe, or aggravate an extremist phenomenon that target both regional and foreign interests, it also threatens a fundamental notion of hope, without which even the nonviolent will find little reason to build a better future.
Rafat Al-Akhali is a Nonresident Fellow with the Atlantic Council's Rafkil Hariri Center for the Middle East. Follow him on Twitter @ymnraf.