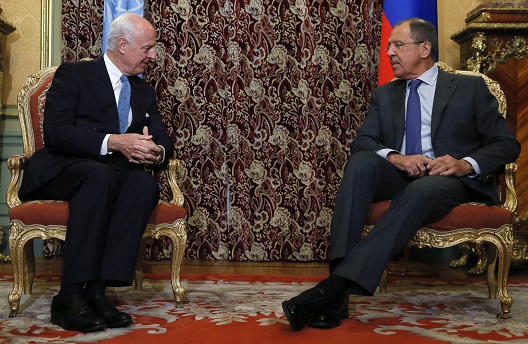 The White House recently held meetings to decide on whether to participate in Russian plans for fresh Syria peace talks in Moscow. Moscow has described these talks in vague terms—as "consultations and preparatory contact" between the "constructive opposition and the Syrian Government." While the Assad government, a client of Russia's, has agreed to the talks, the opposition has refused due to the absence of a clear agenda or goals for negotiations. What position should the United States take towards this Russian-led initiative?
First, US policymakers should note just how evasive Russia has been about the intended goals and agenda for the talks. At a press conference last month, Russian Foreign Ministry Spokesman Alexander Lukashevich repeatedly sidestepped questions from reporters on who from the opposition would be attending. He said that talks would be "informal" and would therefore not require official invitations, he refused to name any opposition figure or organization that would be involved, and he stressed initial talks would only include "quite a small group of people."
In the end, Russia invited five members of the Syrian Opposition Coalition, the main opposition body: former President Hadi Bahra, Abdulahad Astepho, Badr Jamous, Abdul Basit Sida, and Salah Darwish. Coalition members who received Moscow's invitations have complained that the invitations addressed only individuals and did not mention group affiliation. Even officials from the National Coordination Body, based in Syria and tolerated by the regime, have made the same complaint.
On the other hand, Russia has been far more forthcoming regarding the types of opposition figures who will receive preference: "Those who can generate constructive ideas about launching an inter-Syrian dialogue … rather than putting forward unacceptable demands for regime change." Russia has also expressed a desire for the opposition groups to develop "constructive ideas and positions" among themselves before meeting the Assad regime.
We can already guess how the Moscow conference will go. Any talk of a future Syria without Bashar al-Assad will be dismissed as an "unacceptable demand." Russia will seek to marginalize or force a compromise from the opposition groups who favor Assad's departure, including the Syrian Opposition Coalition and most Syrian civil society groups and elected bodies. Then, Russia will attempt to elevate the tolerated and irrelevant internal opposition that even today, with over 200,000 Syrians dead, makes only token criticisms of the regime and is therefore deemed "constructive." If opposition leaders with wide popular followings take a stand against Assad's demands, Russia and the internal opposition will side with Assad to create a "constructive" final communique.
Policymakers should consider that the main purpose of the Moscow talks might be to destroy the opposition's narrative. Why else would Russia invite senior Syrian Opposition Coalition figures= by dint of their senior status, without referring to their official titles or organizations? Russia wants a conference without organizations, where popular anti-Assad figures and obscure internal opposition figures are treated as equals, and where there is only one party to the talks formally representing a group with ambitions to govern Syria: the Assad regime.
US policymakers need to ask themselves if they really support so-called peace talks rigged from the start to support Russia's client dictatorship in Damascus. They also need to ask themselves if they wish to undo what little progress has been made in the past three years of Syria diplomacy.
Since the start of the Syrian revolution, only one legal document has ever resulted from multilateral diplomatic talks on a transition in Syria: the Geneva Communique. The United Nations, the Arab League, Russia, China, and the main international supporters of the Syrian opposition agreed upon this document in June 2012. It has formed the basis of all international diplomatic talks on Syria since its signing. According to the Geneva Communique, the international community should facilitate the formation of "a transitional governing body which can establish a neutral environment" for a transition to multiparty democratic elections.
If the Moscow talks will really recognize only one organization, the Assad regime, then there is no way they can be reconciled with the Geneva Communique of 2012. The Assad regime is a party to the conflict. In fact, the regime has starved more civilians, destroyed more neighborhoods, and committed more massacres than any other party to the conflict in Syria. Therefore, the regime can never create the "neutral environment" required by the Geneva Communique, nor could it ever permit a true multiparty democracy because voters would quickly oust it from power.
However many rhetorical statements Russian diplomats make about how the Moscow talks are just an "informal" gathering of "quite a small group of people," US diplomats must realize the following: the Moscow talks are an attack on the Geneva Communique. Russia pretends to further the document by promoting a Syrian-led dialogue while it undermines every other provision of the document save for that one. If endorsed by the United States, the Moscow talks could erase the final shred of hope for an internationally negotiated political transition in Syria.
Finally, US policymakers should remember who is organizing a peace conference in such a highly unconventional and "informal" format. Russia and its ally China have single-handedly blocked four UN Security Council resolutions condemning Assad's atrocities in Syria, while providing the Assad regime with drones, armored vehicles and guided bombs to continue its assault on civilians. Last September, one month before a column of Russian tanks rolled into Ukrainian territory, diplomats in Moscow condemned US airstrikes against ISIS because they violated Syrian sovereignty.
With the Moscow talks, Russian diplomats have invited the Syrian opposition to enter their alternate reality in which opposition organizations and the Geneva Communique do not exist and Assad can lead a neutral transition government. But Russia is barely a credible international actor in its own right, let alone as a diplomatic mediator to resolve the world's bloodiest current conflict.
Even senior opposition figure Mouaz al-Khatib, who went to Russia in November to reason with Moscow, has boycotted the talks on the grounds that Russia is not serious about a peaceful transition.
US diplomats must realize that a peaceful transition in Syria requires empowering those who will listen to the other side. The opposition—incorporating activists, organizations, and brigades of varying political beliefs—is far better equipped to lead a neutral transition government than the Assad regime. Former UN envoy to Syria Lakhdar Ibrahimi practically stated as much this June, when he said at last year's Geneva II talks that the Syrian Opposition Coalition "tried to put forward some ideas for discussion," but the regime was not "even listening to the other side."
To promote a political transition to end the conflict in Syria, the United States should more strongly empower the Syrian opposition, which has repeatedly demonstrated its openness for dialogue. Syria's Alawite community, which includes the very core of the Assad regime, has grown increasingly and more openly hostile to the regime over the past four months. To force Assad to the negotiating table, the United States must accelerate this trend by offering funding, expedited visas, and stronger general support to high-level Alawite defectors.
The United States must also ramp up lethal and nonlethal support to moderate rebels, both to reduce the weight of extremists and to encourage negotiations. Based on his contacts with the regime, UN envoy Brahimi has said that Assad fully expects to win militarily. As such, Assad has very little incentive to negotiate. Robust support to the moderate opposition will ensure that the revolution cannot be crushed by force, thereby increasing Assad's incentive to sit at the negotiating table. This policy will also encourage military defections; even if Assad does not get the message, other members of his inner circle will.
With the fourth anniversary of the Syrian uprising just two months away and no end to the conflict in sight, US policymakers will undoubtedly feel the urge to seize on something—anything—that would reduce the violence. The Moscow talks are not that chance. Now is the time for policymakers to take real steps toward ending the violence by rewarding and empowering those actors who have shown real readiness for a peaceful political transition.
Bassam Barabandi is an adviser to the Syrian American Council and a former Syrian diplomat. He is the cofounder of People Demand Change, an organization dedicated to providing aid and support to civil society actors in the MENA region.