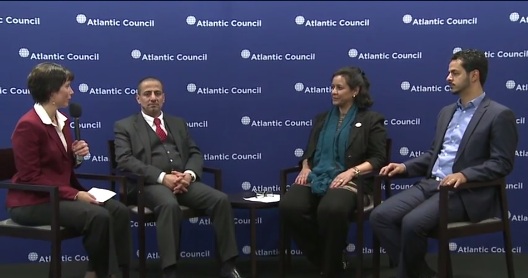 On the sidelines of an Atlantic Council symposium on Yemen's economic challenges, which discussed the findings of a new report on the topic, Yemen's Economic Agenda: Beyond Short-Term, Danya Greenfield interviewed three Yemeni experts :
Jamila Rajaa, a member of Yemen's National Dialogue and founder and manager of Consult Yemen
Ahmed Bazara, one of only three private sector representatives in the National Dialogue, founder and chairman of Arab Iron and Steel Corporation (AISCO) and the chairman of Shamil Bank of Yemen & Bahrain
Rafat al-Akhali, cofounder and chairman of Resonate!Yemen, a youth-oriented NGO working to bring the voices and ideas of young Yemenis to the public policy discourse.
Here's what they had to say about Yemen's current situation:
How has the political environment affected Yemen's economic policies?
What are the benefits of the National Dialogue to Yemen's transition?
What would you ask the United States to do to help Yemen?
Economic discontent helped spark Yemen's demands for change, but could also result in its nascent transition's undoing if bold steps to correct its economic path are not taken soon. In a recent article, Yemen's Economy Needs Action Now, Danya Greenfield, acting director for the Rafik Hariri Center and assistant director Stefanie Hausheer argue that the Yemeni government should forego its narrow view of itself as solely stewards of a political transition and pay greater attention to the symbiotic relationship between the political and economic realities on the ground. Yemenis across the political spectrum and throughout the country are frustrated and losing patience with the current transition government's lack of progress on job creation and basic service delivery, and the longer the government waits, the more difficult it will become. The emphasis on the National Dialogue and negotiating between competing political factions has consumed both Yemeni and many international stakeholders, which has detracted from a much-needed focus on the underlying catalyst for instability as well as one of the leading drivers of the revolution: the deteriorating economy.