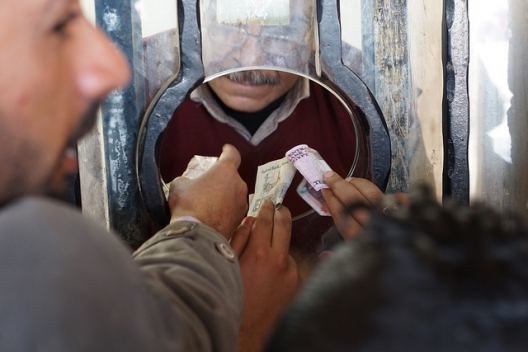 Following three years of unrest, President Abdel Fattah al-Sisi's election was viewed as an opportunity to strengthen Egypt's deteriorating economy. Sisi's immediate decision to cut fuel and electricity subsidies was considered an unpopular, yet necessary policy, and has since garnered him praise from global institutions such as the World Bank and the International Monetary Fund for his commitment to economic reform. Another success was the Economic Development Conference in March 2015, which could potentially bring in billions of dollars in investment and loan agreements.
One Year On
Over the course of the coming days, EgyptSource will publish a series of blog posts highlighting milestones marking Sisi's first year in power. An in-depth look at the domestic politics, foreign policy, human rights, economic developments, legislation, and the media will give a comprehensive overview of the past year.
These successes seem to reflect that Egypt is once again "open for business." It remains to be seen, however, if Sisi will be able to address Egypt's many remaining economic challenges, the principal one being to create sufficient jobs for the expanding young labor force. Sisi's embracing of mega-projects, such as the New Suez Canal project and a new administrative capital, will help but this is unlikely to generate enough jobs and will depend on whether the government can raise sufficient financial resources. Aid from Gulf allies cannot alone sustain the economy.
Egypt's economy has witnessed positive changes over the past year—subsidy reform, a reduction in the fiscal deficit, increased foreign exchange reserves, as well as amendments to the competition and investment laws. Egypt is also finalizing a Value Added Tax (VAT) law that can be implemented quickly. On the other hand, a long laundry list of problems remains—issues with infrastructure, revisions to a slew of laws including bankruptcy, labor, and corporate laws, and access to land.
Gulf Loans
Saudi Arabia, the United Arab Emirates, and Kuwait, were quick to pledge $12 billion to Egypt in the wake of Morsi's ouster in 2013. According to Minister of Investment Ashraf Salman, by the end of 2014, the three countries had pledged $23 billion in financial aid. In March 2015 at the Economic Development Conference (EDC), the three Gulf Cooperation Council (GCC) countries pledged another $12.5 billion to Egypt in investments and central bank deposits. These three countries have given or pledged about $35 billion to Egypt in aid in the form of oil shipments, cash grants and central bank deposits since Morsi's removal. The money from the Gulf has been instrumental in keep Egypt's economy afloat and avoiding a foreign exchange crisis.
The following is a breakdown of what the GCC countries have pledged to Egypt, some of which was promised prior to Sisi's election:
Saudi Arabia
July 2013: $1 billion in cash, a five-year $2 billion interest free deposit at the Central Bank of Egypt (CBE), and $2 billion in the form of petroleum products. Egypt and Saudi Arabia announce the completion of the $1.6 billion Egyptian-Saudi electrical linkage project.
May 2014: Saudi Arabia agrees to grant Egypt $1.3 billion in the form of petroleum products in May and June.
November 2014: Egypt signed three agreements worth S350 million with Saudi Arabia. One for $100 million would finance two electricity projects and the other $250 million agreement was with the General Petroleum Authority for Saudi exports.
March 2015: $1 billion CBE deposit, and $3 billion in financial aid and investments.
Kuwait
July 2013: Non-refundable grant of $ 1billion and a five-year $2 billion deposit to the CBE and $1 billion worth of petroleum products.
2014: Kuwaiti investments in Egypt amount to $2.8 billion. April 2014: Kuwait's national oil group says it will provide Egypt with 85,000 barrels of crude oil per day, boosting supplies from Kuwait by 31 percent. Kuwait Petroleum Corporation (KPC) says it will increase its supply of diesel and jet fuel to 1.5 million tonnes per year, up from 860,000 tonnes previously.
November 2014: Kuwait reportedly grants Egypt $1 billion – contradicting responses from government officials.
March 2015: $4 billion in investments.
United Arab Emirates
July 2013: $1 billion grant and a $2 billion interest-free deposit at the CBE. Seven shipments of fuel worth $225m.
September 2013: $2 billion as deposits and grants.
October 2013: Egypt and the UAE sign an agreement worth $4.9 billion.
November 2013: Minister of State for Local Development Adel Labib says the UAE allocated around EGP 1.8 billion for 135 water sanitation projects in nine governorates. UAE funds Egypt's second stimulus package with $2.8 billion in financial assistance.
August 2014: UAE agrees to loan Egypt $9 billion to finance the purchase of petroleum products.
November 2014: UAE Khalifa Fund for Enterprise Development signs $200 million loan to finance microfinance projects in Egypt.
February 2015: UAE firm submits a proposal to develop the efficiency of seven thermal power stations in northern Egypt.
March 2015: $2 billion CBE deposit and $2 billion for projects that have yet to be announced. UAE's Dana Gas agreed to invest $350 million in Egypt's gas industry.
Additionally, the Arab Fund for Economic and Social Development (AFESD), headquartered in Kuwait, said in April it would loan Egypt $1.5 billion over a five year period. It also signed agreements to finance electricity projects, as well as a $50 million loan with state-owned Social Development Fund (SFD) to finance small and micro enterprises, and loaned Egypt another $102 million for a power plant project.
While the Gulf countries have undoubtedly been staunch supporters of Sisi's government, with the exception of Qatar, the relationship hasn't been without its controversy. Alleged leaks aired on pro-Brotherhood channels broadcasting from Turkey contain conversations between Sisi's top aides speaking dismissively about the country's Gulf patrons. "There should be no compromises, especially with half-states," Sisi's Chief of Staff Abbas Kamel, allegedly said.
Budget
In July 2014, Sisi approved an amended budget for FY 2014-15 that targeted a 10 percent budget deficit as a proportion of the gross domestic product (GDP), down from 12 percent in the previous fiscal year. New taxes and a cut in energy and electricity subsidies were introduced in an effort to decrease the budget deficit.
In February 2015, Egypt's Finance Ministry said the budget deficit reached about 5.7 percent of GDP during the first half of the fiscal year. Total revenues also declined while expenditures increased by 9.7 percent compared to the previous year. The Finance Ministry attributed the increase in expenditures to a rise in social programs spending.
For the first nine months of the current fiscal year, the Finance Ministry announced that the budget deficit rose to 9.9 percent of gross domestic product (GDP), compared with 8.2 percent for the same period last year. However, the deficit figure is in line with the FY2014-2015 deficit target of 10 percent. The increased deficit was attributed to a decrease in grants and expenditures rose by nearly 15 percent. Egypt's Minister of Investment has said that Egypt aims to reduce its deficit to 8 percent in the next four years.
Military Economy
In May 2014, in an interview with Reuters, then presidential candidate Sisi attempted to brush off speculations that the military controls as much as 40 percent of the economy, asserting that "there is talk that the army owns 40 percent of the economy. This is not true. It does not exceed two percent."
The expansion of the military's stake in the economy increased in the months leading up to Sisi's election. For example, the Ministry of Defense was awarded contracts by the Ministries of Health, Transportation, and Housing and Youth worth over $1 billion to carry out large infrastructure projects including building new highways and renovating public hospitals. Gulf funding has also been used by the military to enter new sectors. In March 2014, the UAE's Arabtec Construction announced plans to collaborate with the Egyptian military on a $40 billion project to build 1 million low-income housing units.
The military's involvement in the New Suez Canal mega-project also demonstrates its growing role in in Egypt's economy. The military is the primary contractor for the project and Egyptian firms involved in the project will work under the military's supervision. The army engineering corps is leading the drilling of the new canal, at a cost of $4 billion. In February, the chairman of the Suez Canal Authority, retired admiral Mohab Memish, said the military could be involved in building an industrial hub around the new canal. Egypt wants the Suez Canal project to eventually make up 30–35 percent of its overall economy, according to Investment Minister Ashraf Salman, unveiling plans to build an international industrial and logistics hub to attract foreign investment. Given that the Suez Canal Authority is traditionally headed by a member of the military, and given that the military manages security along the canal, its involvement in the project is to be expected.
Macroeconomics
Growth: Egypt's Minister of Finance predicts an annual growth rate of over 4 percent for the current fiscal year, which is supported by projections from the World Bank and the International Monetary Fund (IMF) that predict growth of 4.3 percent and 4 percent respectively. That marks a significant increase from to 2.2 percent growth in FY2013/14. The World Bank attributed the increase in economic activity to "broad-based sector recovery," particularly in the tourism and manufacturing sectors. While the IMF said Egypt's macroeconomic stabilization plans and structural reforms are expected to increase confidence in the country's growth, it cautioned that continued fiscal consolidation, implementation of reforms, and external financing are needed in order to maintain stability, stimulate growth, and create jobs. Last month, Egypt's Planning Minister Ashraf al-Araby said Egypt is targeting a 5 percent growth in GDP in FY2015/2016 and 6 percent growth by FY2018/2019.
Unemployment: In May, Egypt's unemployment rate dropped to 12.8 percent in the first three months of 2015, compared to 13.4 percent during the same period last year. Sisi has pledged to bring the number down to 10 percent in the next five years. Prior to the uprising, Egypt's unemployment hovered around the 9 percent mark. The IMF has projected that the unemployment rate will be about 12.7 percent in 2015.
Balance of Payments: Egypt posted its largest current account deficit in more than two years in the first quarter of 2015. The Central Bank said the deficit was driven by a contraction in net transfers and lower export receipts. In particular, a pause in aid from Gulf allies has significantly contributed to the deficit, which stood at $8.38 billion in the first nine months of FY2014-2015, compared to $543.1 in the previous year. Still, the deficit was partly offset by an increase in foreign direct investment (FDI), with inflows nearly tripling to $2.9 billion for the first quarter of 2015. Egypt's foreign currency reserves were down to $19.559 billion at the end of May, from $20.5 billion the previous month. The increase in reserves in April was the result of Gulf deposits. Reserves stood at about $36 billion before 2011.
International Business and Trade
Egypt's Economic Development Conference: Egypt signed deals worth $38.2 billion at the Economic Development Convergence (EDC) including investment deals worth $33 billion, and European aid and loans worth $5.2 billion. At least $18.6 billion of the agreements are going towards engineering, procurement, and construction projects. Egypt also signed MOUs for potential deals worth $92 billion. A full summary of pledges and agreements can be found here, including additional MoUs with the GCC countries.
The conference was attended by participants from 112 countries, 2,500 participants, 775 companies, and thirty heads of state. Prominent participants included US Secretary of State John Kerry, Britain's Foreign Secretary Philip Hammond, Kuwaiti Emir Sheikh Sabah al-Ahmed, Saudi Arabian Crown Prince Muqrin bin Abdel-Aziz, UAE Prime Minister and ruler of Dubai Sheikh Mohamed bin Rashed al-Maktoum, Russian Minister of Economic Development Alexei Ulyukayev, and Qatari Assistant Minister of Trade and Industry. Turkey, Iran, and Israel were not invited to attend the conference. More information on attendees can be found here.
Egypt also unveiled plans for a new administrative capital. The planned $45 billion capital, which will take up 490 square kilometers, will be located east of Cairo and west of the Suez Canal, and can house up to 5 million residents. According to the government, it will also create 1.1 million new jobs and will be Egypt's information technology hub.
Bond Sale: The Egyptian government conducted its first international bond sale in five years on June 4, selling $1.5 billion of 10-year bonds at a yield of 6 percent to both generate external financing and to establish the country's return to the global capital markets. The issue drew more than $4.5 billion of investor orders. Investors from the United States took 45 percent of the paper, the United Kingdom 35 percent, European accounts cornered 11 percent, while Middle East investors got just 7 percent of the issue.
African Tripartite Free Trade Area: Senior officials of three African economic blocs met in Egypt on June 7 to start discuss details of a free trade agreement. The Tripartite Free Trade Area (TFTA) is to be launched at a summit of heads of state and government on June 9 in Sharm al-Sheikh. The deal between the East African Community, Southern African Development Community and the Common Market for Eastern and Southern Africa will create a market of twenty-six countries. The deal gives Egypt free trade access to seven new African nations. "The agreement will bolster Egypt's status internationally and strategically," Egypt's Minister of Industry and Foreign Trade Mounir Fakhry Abdel-Nour said. Egypt expects to see its exports to African countries rise by 100 percent in three years to $5 billion, compared to $2.7 billion in 2013. Abdel-Nour added that Egypt has agreed with the African Development Bank to provide credit facilities worth $500 million to Egyptian exporters to support Cairo's trade deals with Africa.
Energy
Fuel Subsidy Cuts: One of Sisi's first economic measures as president came in July 2014, when fuel subsidies were cut. Natural gas subsidies were cut, and bread subsidies were also lowered by 13 percent. The cuts led to price increases of up to 78 percent on gasoline and 175 percent on natural gas.
| | | | |
| --- | --- | --- | --- |
| Petroleum product | Price increase | Price change | Consumed by |
| 80-octane gasoline | EGP 0.90 to EGP 1.60 per liter | 78 percent | Old vehicles |
| 92-octane gasoline | EGP 1.85 to EGP 2.60 per liter | 41 percent | Most vehicles |
| 95-octane gasoline | EGP 5.85 to EGP 6.25 per liter | 6.8 percent | Luxury vehicles |
| Diesel | EGP 1.10 to EGP 1.80 per liter | 64 percent | Public transportation/ trucks |
| Natural gas | EGP 0.40 to EGP 1.10 per cubic meter | 175 percent | Taxis |
While previous governments shied away from subsidy cuts due to potential social unrest, Sisi's government enacted the measure within the first month of his election, cutting fuel subsidies by 40 to 50 billion Egyptian pounds. Initial data reflecting the impact of subsidy cuts showed a 29 percent year-on-year drop in subsidy bill in the first quarter of FY2014/15. A new smart card system implemented for bread subsidies has also been met with success. No further fuel subsidy cuts are expected in 2015/16. In December 2014, Sisi said that 75 percent of Egypt's budget still goes towards subsidies, together with debt servicing and government wages. The remaining 25 percent is spent on health, education, services, and utilities.
Coupled together with reduced global crude oil prices, the move to cut subsidies led to an improvement in Egypt's credit rating, and boosted investor confidence. Moody's Investors Service upgraded Egypt's rating from B3 with a stable outlook from Caa1 in April. Moody's cited improved macroeconomic performance, reduction in external vulnerabilities, and ongoing commitment to fiscal and economic reform as the key drivers for the improved rating. Moody's also mentioned support from GCC countries and other foreign donors, as well as improved relations with the IMF. Amr Hassanein, the Chairman of Middle East Rating and Investors Services (MERIS), said the move was a positive one but that Egypt's rating remains very low.
Energy Crisis: Sisi's first move in a wave of subsidy cuts in July 2014 was to increase electricity prices as part of a plan to eliminate power subsidies within five years. Electricity prices are expected to double over the next five years as part of the plan. Electricity Minister Mohamed Shaker said the average price for a kilowatt hour, which was around 0.23 Egyptian pounds ($0.03), would reach almost 0.51 pounds after gradual increases over five years. The government spent about a fifth of its budget on energy subsidies in FY2013/2014.
In May 2015, Sisi announced an emergency plan "not only to avoid summer power cuts across the country, but also to provide more energy in general." His statement came as part of a monthly national address. Sisi said 3.6 gigawatts would be added to the national grid in June and that fifty-six new agreements to excavate for oil and gas have been signed. He also said announced that $30 billion in investments will be injected into the energy sector.
On June 7, Sisi issued a decision to exempt millions of subscribers from an electricity price hike in order to ease the financial burden on the country's poorest citizens. The decision exempts fifteen million subscribers, who make up the lowest three electric consumption brackets, from the new price hike
Egypt has signed multiple agreements to address the country's energy crisis including a $1.9 billion deal to boost power capacity with General Electric, a $12 billion deal with British petroleum, a $1.6 billion with Kuwait's Alghanim International, a $2 billion exploration deal with Italy's Eni, and a $9 billion deal with Siemens for a power plant.