In an endless series of Israeli operations, Operation Shield and Arrow in Gaza was yet another name on the list
On May 2, Khader Adnan, a senior Palestinian Islamic Jihad (PIJ) leader in the West Bank, died as a result of an eighty-seven-day hunger strike while being detained in an Israeli prison. In response, a hundred rockets were fired from the Gaza Strip into southern Israel.
After waiting a week, on May 9, the Israel Defense Forces (IDF) performed a pre-dawn raid on Gaza, killing Islamic Jihad military leaders and ten civilians. Operation Shield and Arrow, the first military operation under Prime Minister Benjamin Netanyahu's current government, had been officially launched.
So, what were its goals and consequences? And how will it affect the balance of power between Israel, Hamas, and PIJ in the Gaza Strip and West Bank in the near future?
Israel versus PIJ
Operation Shield and Arrow targeted Palestinian Islamic Jihad, but not Hamas—the real ruler of the Gaza Strip and the actor that has effectively governed Gaza since 2006. This strategy is not new for Israel, as Operation Breaking Dawn, launched in August 2022, followed the same logic: divide and rule. In other words, engage with the smaller and weaker PIJ and avoid involvement with Hamas.
Breaking Dawn started with the arrest of an Islamic Jihad operative, Bassam al-Saadi, in the West Bank. This followed a months-long escalation and rise in terror activity inside and outside the so-called green line—the demarcation line set out in the 1949 Armistice Agreements between Israel and Arab armies. PIJ leaders in Gaza threatened to retaliate, and soon Israel targeted a few of them. In return, hundreds of rockets were fired into southern Israel.
Israel currently identifies PIJ as one of the most volatile forces in the West Bank and Gaza Strip. It intentionally targets the group, leaving Hamas—the stronger organization of the two—out of the picture. The three Islamic Jihad leaders killed in this latest operation had been key members of the IDF's most wanted list for some time. Thus, it's safe to assume that, if it weren't for the death of Adnan in detention, some other trigger would have led Israel and PIJ to violence.
This was best highlighted with a Hebrew language meme that circulated on social media during the operation, which included a list of fifteen Israeli military operations in Gaza over the last two decades and sarcastically claimed, "For sure, this one will be different," reflecting the public mood in Israel.
During a speech on the first day of the operation on May 9, Prime Minister Netanyahu and Defense Minister Yoav Galant spoke at length about returning to deterrence against terrorist organizations in Gaza. Still, right-wing analysts attacked them for failing to create a new power equation against the PIJ. In essence, Shield and Arrow was just another operation in a long line of IDF military campaigns in Gaza, and its objectives were achieved when top PIJ figures in the strip were killed.
Israeli citizens—especially those living in southern Israel—are well aware that the attacks against senior PIJ leaders, such as Baha'a Abu al-Ata in November 2019, induce fierce rocket fire from Gaza (while the breaks between the operations become shorter and shorter).
It's important to note that Israel did succeed in driving a wedge between Hamas and the Islamic Jihad. Despite fiery statements, Hamas never joined PIJ's military effort and left it to handle Israel's attacks by itself. However, Israel already achieved this goal during Operation Black Belt in 2019 and Operation Breaking Dawn in 2022.
It can be argued that some violent energy was released before Jerusalem Day, an official Israeli holiday that marks the reunification of Jerusalem after the 1967 war. During this day, right-wing supporters in Israel participated in a controversial "Dance of Flags" and a parade organized by Am Kalbiya, a non-governmental organization, and the followers of the recently deceased Rabbi Haim Drukman. The procession usually passes the Muslim quarter of the Holy City and provokes angry reactions from Palestinians in Jerusalem, the West Bank, and Gaza Strip. According to Arabic language media, PIJ demanded for the cancellation of the Flag Dance during indirect negotiations on a ceasefire, which was rejected.
It's worth noting that Operation Shield and Arrow positively influenced Netanyahu's domestic poll performance. Polling also indicated a bit of a comeback for Likud after bleeding mandates for a while. On the question of compatibility for the role of prime minister, Netanyahu scored better. However, despite the operation's outcome, his opponents are still leading in the polls.
The limitations of Israeli power
During the last few years, the goal of PIJ has been to interconnect Jerusalem, the West Bank, and the Gaza Strip. An attack inside the Al-Aqsa Mosque, a flag march in Jerusalem, or the death of one of their leaders in jail will result in terror attacks in the West Bank and rocket fire from Gaza. At the same time, Hamas has developed a dual resistance strategy to strengthen its presence in the West Bank while keeping Gaza as quiet as possible to avoid fierce confrontation with Israel. After Operation Breaking Dawn, Israel stated that it "claimed a heavy price from the terrorists," effectively undermining Hamas' goal. Yet, in May, the equation seemed unchanged.
During the recent escalation around Al-Aqsa amid the holy month of Ramadan, Israel had to deal not only with rocket fire from Gaza and terrorist activity in the West Bank: its territory was also attacked from the North. At that time, Israel didn't blame its archenemy Hezbollah but put full responsibility on Hamas in Lebanon and retaliated against it. It seemed that Hamas was able after to maintain unity.
In addition, even if badly hit, Islamic Jihad was still able to make half of Israel's population run to shelters, even before launching a single rocket from Gaza. This was no small achievement for a medium-sized organization that has been overshadowed for years by Hamas.
Just one day into the operation, Egyptian mediators had already proceeded with the drill: shuttling between Israel and PIJ to produce a ceasefire as soon as possible.
This round of fighting took more time to negotiate and was more difficult this time around, according to Egyptian sources. During these extended hours, Israeli citizens sought shelter against the occasional rocket that could prove deadly. Those in Israel who loudly wished for the return of deterrence were disappointed; as always, the limitations of power were quickly drawn by Egypt, the United States, and Israel's new allies in the Arab world: the Emiratis, who didn't waste any time in condemning the military operation.
Others in the region joined the condemnation, including Jordan, Qatar, the Organization of Islamic Cooperation (OIC), and the Arab League. However, Saudi Arabia, the primary target of Netanyahu's normalization efforts in the Arab world, remained silent.
From a strategic point of view, the situation in Gaza hasn't changed. Netanyahu's current government is just as unable as previous ones to produce a solution that would provide long-term security to the south and prevent terrorist organizations from growing. Palestinian Islamic Jihad will undoubtedly continue its malign activities in the West Bank, and another military operation in the West Bank and Gaza might be imminent.
Hamas currently enjoys better relations with Cairo and receives goods that enter Gaza through Egypt, as well as a strategic détente with Israel, which allows for 17,000 Gazan workers to enter Israel and bring wages home. Furthermore, this gentlemen's agreement allows Hamas to grow its military capabilities without Israel attacking the militant group. Since 2014, Israel has carefully avoided any ground operations in the sector, perpetuating the existing status quo. Thus, Hamas doesn't seem to be eager to change the existing equation in order to challenge Israel.
It seems that the next Israeli operation in Gaza is inevitable. Everyone in Israel, Gaza, and Egypt knows how it will look and how many days it might take. The only unknown factor is the operation's future name.
Ksenia Svetlova is a nonresident senior fellow with the Atlantic Council's Middle East Programs, and is the director of the Israel-Middle East Relations Program at Mitvim. Follow her on Twitter: @KseniaSvetlova.
Further reading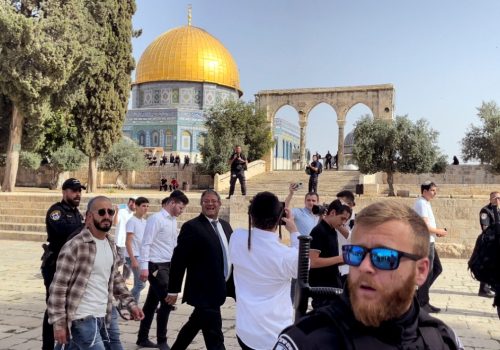 Mon, Jan 30, 2023
MENASource By Ksenia Svetlova
Will PM Benjamin Netanyahu find the desired equilibrium between the radical politics of his coalition partner and diplomacy with Arab capitals?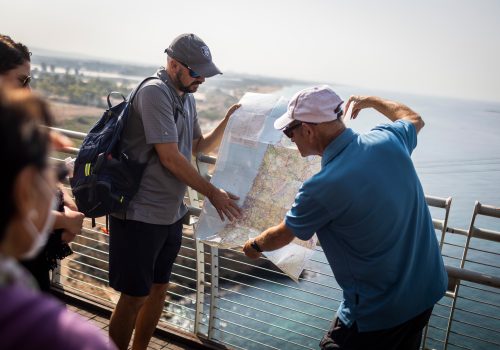 Fri, Oct 28, 2022
MENASource By Ksenia Svetlova
Despite the obvious sense of relief among all those who supported the maritime agreement, there is no doubt that the success of the agreement will be measured solely by its performance in the future.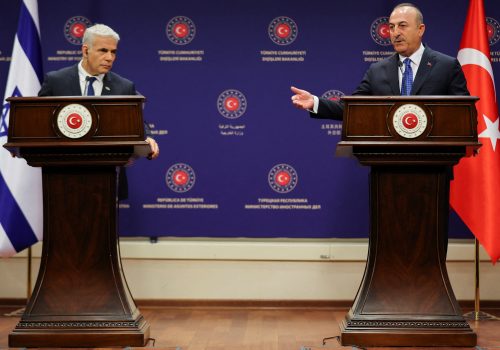 Fri, Sep 9, 2022
MENASource By Ksenia Svetlova
Ankara and Jerusalem will continue to work jointly to prevent terrorist attacks on Israeli citizens in Turkey and explore the possibility of pursuing common goals vis-à-vis the Islamic Republic and its many regional proxies.