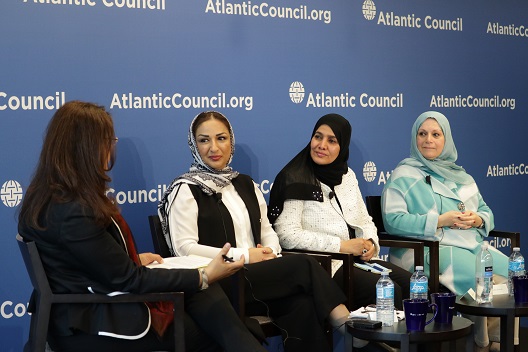 As the wealth of Arab states in the Gulf has increased over the past few decades, there has been a dramatic rise in parity between the education levels of men and women, with more women entering institutes of higher education, studying in Western countries, and entering the workforce, according to women leaders from the Gulf hosted by the Atlantic Council's Rafik Hariri Center for the Middle East on May 10, 2017. Hariri Center Deputy Director and Director of Research & Programs Mirette F. Mabrouk moderated the discussion.

Dr. Hamda al-Sulaiti, who serves as secretary-general of the Qatar National Commission for Education, Culture, and Science, noted that in Qatar education for women has improved greatly since the discovery of oil and gas. She added that civic duty and human rights-based curriculum, parental engagement in school administration, and more modern features in schools such as science and computer labs has created a better educational environment especially for women.
In Kuwait, Dr. Lubna al-Kadi, founder and director of the Women's Research and Studies Center, stated that new application standards for Kuwaiti universities visibly benefitted women, especially in science, technology, engineering, and mathematics (STEM) fields. Dr. al-Kadi reported that since the reforms, women now make up ninety percent of students in engineering programs, and sixty-nine percent of those studying medicine. "We have a reverse gender gap in favor of women," Dr. al-Kadi said, also noting that there are more female than male doctors in Kuwait.
Saudi Arabia has made its own strides in educating its women. "Saudi Arabia's population is fifty-one percent male and forty-nine percent female, but females make up fifty-two percent of the educational system," said Amal Almoallimi of the Saudi Human Rights Commission. She also noted that while the kingdom has no official discrimination policies, opportunities available to women vary based on province and city. "Saudi Arabia is huge and has different populations, different cultures, different social backgrounds," Almoallimi explained, "So what applies in Jeddah, for example, does not apply in Najaran or Jawf." It is not a question of official government policy, she said, but instead "it's all about traditional and social backgrounds of society." Almoallimi attributed female success in higher education to their diminished status in society, saying girls in school "are less distracted because the opportunities that they have are less, so they are holding on tight to this opportunity."
Saudi Arabia also still has strict guardianship practices that require women to have male approval to enjoy a number of basic freedoms such as apply for jobs and be issued a passport. As the government recently announced changes to scale back the guardianship system, Almoallimi is confident that issues with the current guardianship system will be addressed in the coming years.
On the subject of female political participation, an area in which Gulf countries do much worse compared to most developed countries, Mabrouk noted that "Saudi Arabia does very well on education, but does not do well on political participation or gender parity." Fifteen women ran for seats in Kuwait's last parliamentary election, with only one woman, an incumbent, winning a seat. In Qatar, there are two women in the country's forty-five person Consultative Assembly. Dr. al-Kadi attributed the disparity in her country to tribalism, saying that women do not have the social networks or financial resources necessary to campaign and lobby successfully. "We need to awaken voters to vote for women," she said, adding that "women do not have the backing men have," as both male and female voters tend to back the male candidate from their own tribal groups.
Almoallimi made a point to mention that in the 2016 municipal elections, the Saudi government worked to make sure that men and women had "fair and equal opportunity to participate" in elections, and that the twenty-one women who won in the elections "had full support from their families, from their tribes, from the community" and that the women who won were mostly from remote rural areas. She added that the Saudi government ensured that these elections had widespread publicity, which encouraged voter participation.
Discussing gender-based violence, a serious issue in the Gulf and other Middle Eastern countries, Dr. al-Kadi noted that "unfortunately, in most Arab countries, you do not really know the…women who have been abused," referring specifically to domestic violence. She said that while the Kuwaiti government is working on legislation to address violence against women and children, they need to "raise awareness" among men and women about why this violence is wrong. "Cultural pushback is getting diluted," but "there is always going to be resistance, and culture, yes, is a big handicap," she said, noting changing these norms through both legal means and education will be difficult.
"Traditional and cultural attitudes are significantly more difficult to change than the laws," agreed Mabrouk, noting that even absolute monarchies and their policies are still subject to public opinion. Almoallimi brought the conversation back to education, saying it is "a key element to changing societal attitudes." She also cited economic change as a catalyst that is forcing the reform of traditional norms.
The progress in women's education and employment are significant in the Gulf, but there are still several challenges. The Gulf will need to balance its current successes for women and continuing challenges on cultural norms and traditions to open up spaces for women to participate in shaping local and national politics and human rights for significant changes.