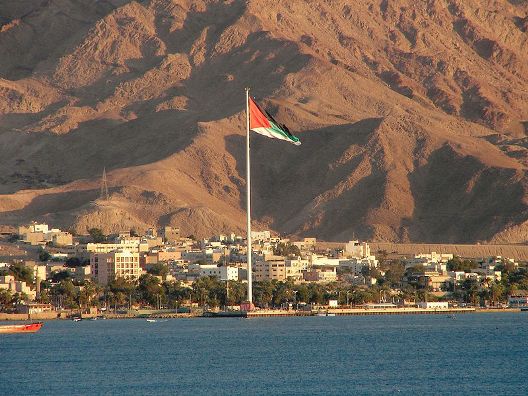 March 22 is World Water Day. It is a time to celebrate: Since its first observance in 1993, important steps have been made to sustainably improve global water security. But as the refugee crisis in Jordan underscores, water supply is complicated by local and regional dimensions, and compounding crises can threaten stability and development.
"Last summer, there were riots," said Ali Abu Sumaga, director of the water utility in northern Jordan's Mafraq governorate. "People screamed, 'You're government! You're sh–! You need to provide water to us!' It was a disaster."
We sat in Ali's second-floor office. Behind him, through the window, unfurled the rolling landscape of brown, arid Jordan. "Mafraq was on fire," he recalled. "People burned tires in the street and closed the roads."
"There was tension over water in the past," he said. "But the Syria crisis has made it much worse."
The Kingdom of Jordan has long been one of the world's driest countries, but last year, after 600,000 Syrians crossed the northern border seeking solace from the bloody civil war engulfing their country, they placed profound new pressures on the country's dwindling water resources. And now, as detailed in a new report by humanitarian agency Mercy Corps, supply pinches are threatening health and stability in a vital U.S. ally.
"In the present environment," said Marwan al-Muasher, the Kingdom's former deputy prime minister, "water scarcity is an existential threat to Jordan."
Throughout the north, this is an era of desperation. In some places, Syrians have doubled the local population. Mafraq City is emblematic: once home to 70,000 Jordanians, today it is packed with an additional 90,000 refugees. Water shortages have spiked. Hospitals and schools don't have enough water to meet sanitation standards. Mosques cannot perform the necessary daily ablutions. Pipelines are running dry, particularly in the hotsummers. Sometimes weeks elapse before a drop comes out of the tap.
Based on local assessments by Mercy Corps and UNICEF, eighty liters of water are required every day for a personliving in Jordan to meet basic needs. Prior to the refugee crisis, the government—by over-pumping from its groundwater basins—was able to meet this minimum. But no more. In some places daily availability has dropped below thirty liters—less than one-quarter of a bathtub. At that level, disease incidence rises, subsistence crops wither, and children go thirsty.
Unfortunately, water authorities lack the means to respond. Government actors, saddled with crushing debt, have been unable to properly maintain the badly decayed pipeline network. Of all the water Jordan pumps, billions of liters never reach a family's tap. Instead it gushes out of broken pipes. The amount of water lost nationwide could satisfy the needs of 2.6 million people: more than one-third of Jordan's population.
Meanwhile, many of Jordan's poorest lack access to the water network altogether.
Last summer, when the village of Thaghret al-Jub ran out of water, villagers camped out on the main highway in protest. A poor community, they were not connected to the water network, and private well water had become too expensive. They built barricades and blocked traffic for days. The air stank with burning tires. In the past, Jordanian security forces would have cleared the road, but now the government tends to treat public demonstrations with a velvet glove.
"It was incredibly tense," Ali said. "People were thinking of the Arab Spring."
Finally, King Abdullah II personally intervened, promising to provide Thaghret al-Jub with tanker trucks of water.
"They said no!" Ali shook his head in disbelief. "They told the king no. They didn't want water by tanker truck. They wanted water to their houses, they wanted more pipelines. The king promised to do this, and they went home. We need to get a pipeline to those people as soon as possible. Summer is coming."
And if water service is not provided to places like Thaghret al-Jub by next summer?
"Then I will take this thing—" Ali held up his prayer beads "—and I will run away to Saudi Arabia."
To address Jordan's water crisis, Mercy Corps recommends a three-part solution:
International actorsmust increase investments in long-term development. Given the prolonged nature of the refugee crisis and its devastating impact on host community water resources, assistance must be provided to upgrade and properly maintain existing Jordanian infrastructure and services.This is particularly important in rural areas, where the poor often have limited access to the water networkand few opportunities to peacefully voice frustrations.
International actorsmust work to bridge the governance gap. While responding to the immediate needs of the crisis, we must also build the capacity of Jordanian government actors working on the front lines.Investments in equipment, spare parts, and training for local utility personnel could improve response times in fixing network failures. In addition, key local stakeholders—municipal governments, civil society, tribes—should be actively engaged in managing communal water resources and outlining development priorities. By decentralizing the response, responsibility can be shared and local people empowered.
International actorsshould work to address both conflict and conservation. Mercy Corps' programs provide models for how to target interventions, easing tensions while strategically improving sustainable practices around water use. Local investments in water-saving technology—such as rainwater catchments, cisterns, and household greywater treatment systems—can diversify supply; successful conservation programs can reduce demand; and conflict mitigation programs, which train Jordanian and Syrian community leaders in interest-based negotiation, can nip tensions in the bud.
Challenges of scarcity are complex—and require a multi-faceted response. But this is not simply another crisis, and Jordan is not just another country. For years it has been a steadfast US ally, a moderate voice in a troubled region, and a sanctuary for generations of refugees. If its international partners want the Hashemite Kingdom to remain a buffer against sources of instability, they must shore up support for Jordan in the face of acute refugee pressures—or potentially face yet another Middle Eastern country in turmoil.
Keith Proctor is the Senior Policy Researcher at Mercy Corps and a Visiting Fellow at the Feinstein International Center, Tufts University. To read or download Mercy Corps' new report "Tapped Out: Water Scarcity and Refugee Pressures in Jordan," click here.