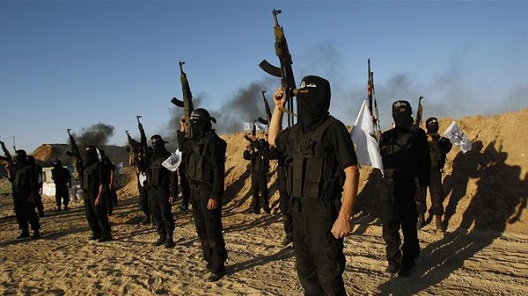 The Sinai-based Ansar Bayt al-Maqdis (ABM) is one of the most active "unaffiliated" jihadi groups, having yet to pledge fealty to either the Islamic State of Iraq and al-Sham (ISIS) or al-Qaeda (AQ). Given its strategic position between Egypt's Nile Valley and Israel, and its attacks against both, the group's activities receive major international coverage—even attacks for which it does not claim responsibility are reported as having "hallmarks" of the local terrorist group. As such, speculation of "will ABM affiliate or won't it?" has been rampant among Egypt-watchers, counter-terrorism experts, and especially supporters of the Islamic State.
It is within this context that on Monday evening the pro-ISIS Twittersphere lit up with news that ABM had formally pledged allegiance to its cause. This was the second time ABM was alleged to have joined ISIS since Abu Bakr al-Baghdadi called on all Muslim's to join his "Caliphate" this summer. In July, reports of a "pledge" appeared to be a case of mistaken identity: a small, unheard of group in the West Bank with a similar name voiced its support for the Islamic State. This time around, the alleged ABM statement appeared authentic enough that even Reuters ran with the story, amplifying its attention.
The news, however, was false—or at least premature. The Institute for the Study of War's Aaron Reese and Jantzen Garnett, who had previously documented the loose ties between ABM and ISIS, were quick to debunk the latest statement. By mid-morning, Ansar Bayt al-Maqdis itself used its official Twitter account to deny the story: "The statement that has been circulating on media regarding our pledge of allegiance to the Islamic Caliphate has nothing to do with us and we urge everyone to be accurate and to report from our official sources."
There do appear to be clear connections between some jihadis in Sinai and some members of the Islamic State, and both ABM and ISIS propaganda have referred to actions by or featured statements from each other. In September, a Reuters report claimed that ABM admitted to communicating with ISIS, with the latter sharing advice and instructions on "how to carry out operations." Similarly, there appear to be links between some jihadis in Sinai and some leaders of al-Qaeda, and early ABM videos featured the likeness of AQ leader Ayman al-Zawahiri, who himself praised ABM attacks in Sinai.
Indeed, ISIS may be the hot topic of the day, but as recently as this spring some wondered whether ABM was actually a secret AQ affiliate. In addition to Zawahiri's public encouragement of jihadi activity in Sinai, a Sinai-affiliate was on the alleged AQ "conference call" reported by The Daily Beast in the summer of 2013. Egyptian and foreign intelligence sources place many al-Qaeda loyalists at ABM's founding, in its organization, or involved in advancing its proficiency. These figures include US-designated terrorists Mohamed Jamal and Ramzi Mowafi, as well as Zawahiri associate Ahmed Salama Mabrouk.
Recent ABM statements, calling on Allah to bring victory to IS, have clearly sided with the Islamic State in its tussle for domination over al-Qaeda for leadership of the global jihad. This leaning toward ISIS is part of the reason many believe a formal affiliation is forthcoming. However, it appears that there could be an internal tussle in ABM over support for these international organizations. Indeed, many of the ABM members that have fought abroad in Syria and Iraq did so alongside IS, and the skills gained there have greatly advanced the Sinai group's capabilities over the past fourteen months. This faction of returnees, especially, likely sides with the Islamic State and may be pushing the al-Qaeda loyalists to formalize relations with the ascendant group. Indeed, one possible source of this week's "ABM statement" may have been an ABM faction trying to nudge the group toward an allegiance.
Getting Ansar Bayt al-Maqdis to publicly declare itself part of the "Caliphate" would be a major public relations win for the Islamic State—which is why ISIS supporters are so quick to jump on any hint that it is true. Since declaring himself leader of the Muslim faith, few jihadi groups that did not already support the cause have signed up with al-Baghdadi: and certainly none as attention-grabbing as ABM. Another possible source of the statement, therefore, could have been an ISIS supporter that recognized the PR value.
The problem for the Sinai group is that, even if it sides with IS, publicly pledging allegiance to a foreign organization would make its local jihad more difficult without adding much benefit. ABM members have already gained technical proficiency fighting alongside ISIS members and other jihadi groups abroad. However, ABM's own propaganda presents itself as the defenders of Egypt's Muslims—especially the marginalized population of Sinai. Internationalizing the conflict through a formal affiliation with either ISIS or AQ turns ABM into a foreign agent instead of a "local hero," which could cost the group its local support. This would especially be true if a condition of its ISIS affiliation would be to attempt the enactment of harsh ISIS-style governance. Because internationalization of its jihad might impact support in its Sinai base, the alleged pledge was perhaps a black propaganda move by the Egyptian intelligence apparatus.
One rumor circulating in Egypt is that ABM is preparing to pledge its allegiance to ISIS and this statement was simply leaked early by an enthusiastic member. Of course, rumors in Egypt should always be viewed with skepticism, and Egyptian ISIS-supporters have been saying that ABM will affiliate "any day now" since the summer. Arguably, though, any impending announcement could be pushed back by this latest incident: an unauthorized leak, followed by a quick denial, would reveal disorder in the ranks if followed again by an official statement.
However, a coincidence of note is that ABM broke its month-long silence in rough synchronization with the release of the unofficial statement. Despite a busy October in Sinai—there was a cross-border shooting against an Israel Defense Force patrol, the October 24 attack in which at least thirty-one soldiers were killed, and of course the Egyptian policy to displace border residents and create a buffer zone abutting Gaza—ABM's newest statement was not new at all. The group released an archive of all its previous statements, since its founding in 2011. Perhaps Ansar Bayt al-Maqdis is getting its house in order before joining the Islamic State. Of course, fed up with fake claims and statements in its name, ABM could simply being putting all its real messages in one place for all to see.
Zack Gold is a Middle East analyst and author of the International Centre for Counter-Terrorism – The Hague research paper "Security in the Sinai: Present and Future." Follow him on Twitter: @ZLGold