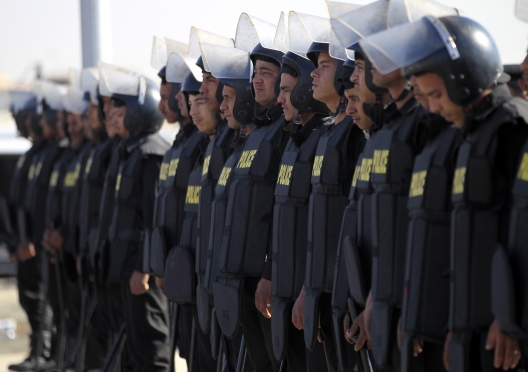 As attacks against security forces show no signs of abating, President Abdel-Fattah al-Sisi recently replaced Egypt's Interior Minister, Mohamed Ibrahim, with Magdy Abdel Ghaffar. However, Sisi was keen to make it clear this was not in response to opposition demands, and even provided Ibrahim with an honorary title of National Security Adviser to the Prime Minister.
Despite the praise Sisi has had for his interior minister, Ibrahim was removed in a rather humiliating manner. He was kept in the dark, only learning about losing his job after the new Interior Minister Magdy Abdel-Ghaffar was sworn-in. In fact, Ibrahim was touring a Central Security Forces camp in Suez when he first heard the news. The same was done to the five other ministers replaced in the reshuffle.
Ibrahim, whose removal has long been a demand by secular and Islamist opposition groups, was appointed by former president and Brotherhood leader Mohamed Morsi in January 2013. While serving under Morsi, Ibrahim's ministry employed heavy-handed tactics, with Egypt seeing a resurgence of torture, and the continued killing of protesters. Morsi even praised police for their role in the January 25 Revolution. Ibrahim, however, quickly became unpopular for his apparent support for Morsi, even within his own police force. Interior ministry officers who spent decades fighting the Brotherhood and radical Islamist groups did not want to deal with, nor trusted, the group. A few months before Morsi's ouster, thousands of low-ranking police officers staged nationwide protests against what they described as the 'Brotherhoodization' of the ministry. In an apparent sudden, 180-degree change of heart, Ibrahim turned his back on Morsi, supporting his ouster. During mass popular protests in June 2013, police were seen showing explicit support for Morsi's ouster, taking to the street alongside Egyptian citizens. As a result, Ibrahim was the only minister to retain his post in the cabinet under interim president Adly Mansour. Ibrahim also remained in his position as Interior Minister after Sisi's election. It wasn't until Sisi's first cabinet reshuffle that he was removed.
His removal at this juncture has been attributed to repeated failures by the ministry of interior to contain violence that continues to spread across the country. Near daily attacks ahead of Egypt's Economic Development Conference, which Sisi has said is vital in order to bring in much needed funds and investments to support Egypt's ailing economy, continue to increase. While, the interior ministry has routinely blamed these attacks on the Muslim Brotherhood, the outlawed group continues to deny its involvement. Some groups, such as the little known Popular Resistance Movement, have claimed responsibility for the attacks, saying they are an attempt to prevent the conference from succeeding, and to prove to the world that the "military coup leader," Sisi has no control over the country. Nevertheless, Ibrahim always claimed success, saying the police force has prevented more violent attacks than those that have actually succeeded. Other theories as to why Ibrahim was removed include the deaths of over twenty soccer fans in early February, the killing of Popular Socialist Alliance member Shaimaa el-Sabbagh, and a recent bombing outside Egypt's High Court in downtown Cairo, the building that houses the offices of Egypt's top Prosecutor-General. The honorific bestowed on Ibrahim was reportedly given so as not to openly admit that he was fired because of these failures, but he likely will not be consulted on security matters.
While Ibrahim grew in his career as an officer combating crimes such as robbery and murder, the new minister, Magdy Abdel-Ghaffar, 63, spent most of his career in the infamous State Security Department (SSD), which Mubarak heavily relied on to suppress all forms of opposition, whether from political Islamist groups or secular parties. The SSD was also instrumental in rigging several parliamentary and presidential elections. Due to its heavy-handed tactics, involvement in torture, and spying on citizens, one of the first measures the Supreme Council of the Armed Forces (SCAF) took in the wake of Mubarak's removal was to order an overhaul of the SSD, renaming it the National Security Department (NSD).
Abdel Ghaffar, who according to informed interior ministry sources was not a close associate of Mubarak-era interior minister Habib al-Adly, was removed from the SSD in 2008, after a thirty-year long career, and was transferred to the Ports Authority Department. It wasn't until after the January 25 revolution that he was brought on to reform the NSD. In a rare interview in June 2011, Abdel-Ghaffar, then deputy director of the NSD, admitted that there were "many mistakes and excesses carried out by the former State Security Department, including lack of respect for human rights and the privacy of citizens." The video of his interview with the private Hayat television channel emerged again hours after his appointment in a clear attempt by activists to remind him of his pledges to respect human rights, and his admission that the former State Security Department was used "for political purposes by the previous (Mubarak) regime." In his attempts for reform at the time, Abdel Ghaffar says he shut down departments that illegally spied on citizens, and removed dozens of officers who were allegedly involved in mistreating prisoners during investigations. After Morsi's removal on July 3, Ibrahim decided to reinstate these state security officers because of their experience in fighting terror.
Key question for Abdel-Ghaffar today concern his role with the Muslim Brotherhood. Abdel-Ghaffar was promoted under SCAF to director of the National Security Department in October 2011. Less than a year later in August 2012, Morsi ordered Abdel Ghaffar's removal. Several officers known to be close to Abdel-Ghaffar in the NSD were also transferred to other departments at the interior ministry. A number of commentators, such as Mohamed Amin, a columnist for Al-Masry Al-Youm, noted that Abdel-Ghaffar's appointment meant that the government will maintain its heavy security crackdown approach against the Brotherhood, and make use of his lengthy experience under Mubarak in confronting the group.
However, Abdel-Ghaffar could also use his knowledge of the Brotherhood and its top leaders to reach some sort of a reconciliation deal with the group. Abdel-Ghaffar supported an initiative with armed Islamist organizations, aimed at convincing them to renounce their use of violence in the late 1990s. He took part in brokering an unofficial truce between Mubarak's government and al-Jama'a al-Islamiya, the Islamist group behind the assassination of former president Anwar Sadat, and the massacre of sixty-two people, mostly tourists, in Luxor.
Within the ministry, Abdel-Ghaffar wasted no time showing he means business. A day after he was sworn in, he announced a major ministry reshuffle involving twenty-four major generals. Khaled Tharwat, director of the National Security Department, was among the high level officials removed from their posts, and was replaced by Major General Salah Hegazy—a veteran officer whom Abdel-Ghaffar worked with for many years in the former State Security. Hegazy served as his deputy while NSD director, and was transferred to the Civil Affairs Department by Morsi. A number of senior officers known to be close to Ibrahim were also removed, including his deputy for security affairs, and director of Cairo Security Department. Abdel-Ghaffar also appointed new heads of the security directorates in Cairo, Giza, Assiut, Qena, and Gharbeya.
While nearly all political parties welcomed Ibrahim's removal, there was little doubt that confronting terrorism will remain the key challenge for Abdel-Ghaffar, and the litmus to test his success. Secular parties also hope he will put into practice the pledges he publicly made after the January 25 Revolution on respect of democracy and human rights, but that's not likely to be a top priority in light of ongoing daily violence Egypt faces.
Khaled Dawoud is currently Assistant Editor-in-Chief of Al-Ahram Weekly, an English language weekly published by Egypt's oldest news establishment, Al-Ahram. He is also the official spokesman of social-liberal Al-Dostour Party established by Nobel Peace Prize Winner Dr. Mohamed ElBaradei.