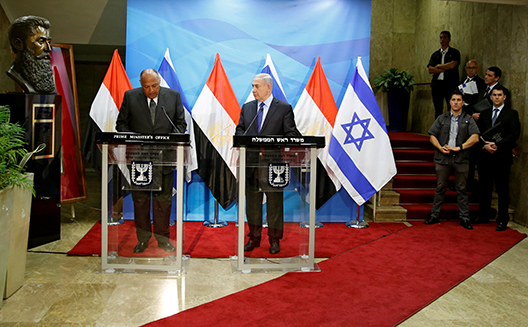 While Israeli-Egyptian relations can be best described as "cold peace," the security establishments in both countries have, in fact, developed impressive levels of cooperation in recent years. The outbreak of the so-called Arab Spring and the Egyptian revolution (or revolutions) that followed it have contributed to even closer relations between the states' leaderships.
Interestingly, the seeds of closer Israeli-Egyptian security cooperation during the Arab Spring were planted during the era of president Mohamed Morsi of the Muslim Brotherhood, an Islamist movement that rejects Israel altogether. Early in his presidency, Morsi expressed respect for the agreement but distanced himself from the unpopular relations with Israel by leaving the Israel portfolio with the military chief, then-Field Marshal Abdel Fattah al-Sisi. When Washington announced it will condition its aid to Egypt on the Muslim Brotherhood government living up to its obligations as stipulated in the 1979 treaty, Israel lobbied the US to release military aid to Cairo, arguing it was needed to address security threats in the Sinai Peninsula. When the military ousted Morsi in July 2013 and Sisi became president, Egyptian-Israeli ties grew stronger. In early 2016, for the first time since 2012, Egypt appointed an ambassador in Tel-Aviv and Israel reopened its embassy in Cairo, closed since protesters stormed it in 2011.
In further accounting for closer Israeli-Egyptian relations in recent years, several key developments should be taken into consideration. Specifically, Jihadi insurgency in the Sinai Peninsula, Hamas and the situation in the Gaza Strip, and the worldviews of the countries' leaders – Sisi and Prime Minister Binyamin Netanyahu.
Insurgency in the Sinai Peninsula
The Sinai Peninsula serves as a buffer zone between the countries and its stability is key to both Egyptian and Israeli security. Its vast 23,500 square miles of desert, mountains, and impoverished local population, however, make it ideal for insurgency. In light of growing threats and violent attacks from Sinai in recent years, the countries have facilitated closer ties to address the mutual threats from that area.
Since the outbreak of the Egyptian revolution in late January 2011 and the subsequent fall of president Hosni Mubarak in February 2011, lawlessness drastically increased. Local and foreign Jihadists, including affiliates of the Islamic State (ISIS), filled the power vacuum created after the weakening of the Egyptian security apparatus. The mix between economic hardships; deep animosity towards the Egyptian government after years of discrimination; and growing Salafi influence among Sinai's Bedouins since the 1980s, have led some of Sinai's 370,000 Egyptian Bedouins to seek illicit forms of income, such as arms trafficking. Local Bedouins continue to play a key role in arms trafficking from post-Qaddhafi Libya and Iran to the Sinai Peninsula and the Gaza Strip. ISIS affiliate in Sinai, Wilayat Sinai (formerly known as Ansar Bayt al-Maqdis) recruits disenfranchised Bedouin youth and terrorizes tribal leaders who oppose the Jihadi insurgency.
Since 2011, armed insurgents have attacked Egyptian government and security facilities across Sinai, killing hundreds of Egyptian soldiers to date. Additionally, numerous rockets and other cross-border provocations from Sinai into Israel were recorded, some of which were deadly. One, among several, incidents included four, highly elaborated, successive attacks near the border and inside Israel by attackers armed with heavy weapons, shoulder antiaircraft missiles, guns and explosives killing Israeli civilians and soldiers. In response in 2013, Israel completed the construction of a sophisticated fence from the Palestinian border city Rafah to Eilat, making the project one of the largest projects in the country's history. Additionally, the IDF deployed to the border a larger number of more qualified regular forces.
Nevertheless, these problems cannot be addressed unilaterally, but rather require joint Israeli-Egyptian actions. According to the terms of the peace treaty, Israel must consent to an Egyptian military presence in the demilitarized zones of Sinai. Thus, when half a million Palestinians poured into Sinai across the breached border in 2008, Israel allowed Egyptian forces to operate in the demilitarized zone near the countries' border. With full Israeli consent, the Egyptian military has been engaging in an unprecedented military campaign to crush the Sinai insurgency since August 2011. In 2015, Israel permitted the Egyptian army to supplement its police units with two divisions, commando forces, and air support into northern Sinai as part of Operation Sinai. Egypt also permits Israel to carry out numerous drone strikes in Sinai against Jihadi insurgents.
Hamas
In early 2015, Egypt classified both Hamas's military and political wings a terror organization. The decision represents a shift in Egyptian policy towards the Palestinian movement that hitherto only its military wing, the Izz ad-Din al-Qassam Brigades (IDQB), was defined a terror organization. The background for the policy shift is much more rational than ideological. Cooperation between Wilayat Sinai and the IDQB has reportedly increased in the past two years in the form of weapons smuggling from Sinai into the Strip and the training of Wilayat fighters by Hamas. Egypt accused Hamas of masterminding and providing logistics to Wilayat Sinai, whose attack in northern Sinai in late 2013 killed 33 Egyptian soldiers as well as the smuggling of explosives and Wilayat fighters through Gaza's tunnels; all of which Hamas leaders deny. Internally, Hamas is torn between the movement's military and political wings. Whereas both perceive smuggling key to Hamas's survival, Hamas's political wing is wary of further deepening the breach with Cairo while the IDQB supports a rapprochement with Iran instead.
But while Israel and Egypt share the view of Hamas as a terrorist organization and Israel has increased intelligence sharing with Egypt, their tactics are not necessarily in concert. Sisi allows the opening of the Rafah crossings—the only non-Israeli-controlled entry way into the Strip—only periodically with frequent closings. Egyptian forces also destroyed dozens of the tunnels that Hamas dug into Egypt's territory and which are instrumental to Hamas's military and economic activity. From 2013 to 2015, Egyptian authorities razed over 3,000 homes in Rafah in order to widen the 0.6 mile buffer zone between the Egyptian border and the Gaza Strip.
Conversely, Israel, for the moment, prefers Hamas to remain in control in Gaza. From the Israeli perspective, the likely alternatives to Hamas are far worse. This includes a number of radical groups such as the Iran-backed Islamic Jihad, other smaller Jihadist groups, and the Population Resistance Committees, an umbrella of several Palestinian militant factions. These groups have no clear political or social platforms. Militants often challenge Hamas's authority by attacking Israel from Gaza or from Sinai.
Nevertheless, Egypt remains an important player here. Egypt's security services helped several times to moderate unofficial, indirect talks between Israeli and Hamas delegates. For example, Egyptian mediation under leadership of the Supreme Council of the Armed Forces helped secure the exchange of Gilad Shalit, an Israeli soldier long held in Gaza, for 1,027 Palestinian prisoners in late 2011. Since Sisi's rise to power, Egyptian policy has clearly favored Israel over Hamas. For instance, in 2014, Cairo sided with Israel and waved off American, and pro-Hamas Turkish, and Qatari initiatives to end Israel's fighting against Hamas. In fact, Sisi's proposed ceasefire was designed such that Hamas would not emerge from the conflict with gains that will depict it as victorious.
Israeli and Egyptian Leaders
Often excluded from the analysis is the "strategic romance" between Israel's Bibi and Egypt's Sisi. The two men share a conservative foreign policy to the Middle East. Both leaders appear determined to maintain the status-quo and stability by avoiding grand foreign policy designs and strengthening relations with likeminded regimes.
When it comes to the Palestinians, Egypt's real concern is the links between Hamas, other Palestinian armed groups in Gaza, and Jihadi groups in Sinai. The visit by Egypt's Foreign Minister Sameh Shoukry to Israel to discuss efforts to renew stalled Israeli-Palestinian talks as well as Sisi's address in the UN General Assembly last month where he called for the sides to restore talks should be taken with a grain of salt. What may seem to be a genuine concern about the Palestinian issue might, in fact, be an instrument to serve Egyptian national interests. Through a leading position on the Palestinian issue, Egypt could improve its image both domestically and in the Arab world while also legitimizing deeper relations with Israel, especially if talks resume. Israel would welcome an important Egyptian role not only because it may strengthen Sisi's regime, but also because it may help Israel counter an unfavorable potential Security Council initiative, led by the European powers, to end the conflict.
While the Israeli-Egyptian relation is experiencing unprecedented levels of cooperation, talks about an alliance are premature. IDF Deputy Chief Major General Yair Golan recently said, closer relations with Egypt are not based on love or common values, but described the current level of cooperation as "a good starting point." Moreover, because of Sisi's primary concerns of security and an improved economy, he pursues and welcomes opportunities for economic development even with Israel. For instance, recently Egypt raised interest in Israeli-Egyptian projects on sea water desalinization and tourism. For its part, Israeli apprehension over the Egyptian government's stability makes it prepared to cooperate and assist to Egypt in the fields of energy, agriculture, irrigation, and gas. Regarding security, Egypt's military campaign in Sinai is far from ending. As long as the peninsula is unstable, regional dynamics remain unclear, and the incumbent leadership stay in power, Israeli-Egyptian relations may continue to prosper.
Moran Stern is an Adjunct Lecturer at the Center for Jewish Civilization in Georgetown University's Edmund A. Walsh School of Foreign Service where he teaches courses on Israel and the Middle East. In addition, he is a PhD candidate in Government & Politics at the University of Maryland and a Graduate Fellow in Advanced Israel Studies. Previously, Stern taught at American University's Center for Israel Studies. His analyses appeared in venues such as The Atlantic, The Jerusalem Post, The Forward, and Washington Jewish Week. Stern holds an M.A. in International Relations, Economics, and Middle East Studies from the Johns Hopkins University (SAIS) and B.A. in Philosophy and Communications from Saint Francis College, New York. He speaks Hebrew and Arabic.