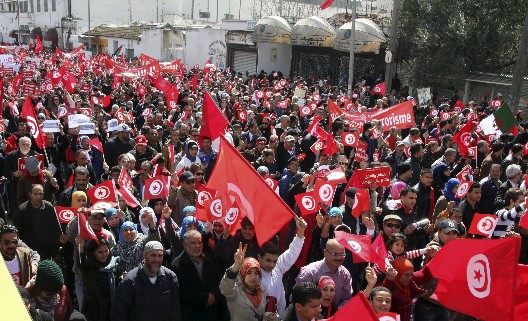 Tunisia has faced increasingly complex security problems since its uprising in 2011 and in the country's post-revolution phase. Tunisia's government has taken some steps towards addressing its security concerns by placing security logistics as a top priority and key political actors—including police unions—have debated security reforms within the public discourse. No one doubts Tunisia's need for increased capacity, but the question remains: how? Capacity building through partnerships with regional and international actors can help Tunisia respond better to the growing terrorist threat, secure its borders, and participate in—or at least support—military operations that affect its interests throughout the region. But without investigating deeper structural issues, Tunisia's security problem will remain only partially addressed.
After the terrorist attacks of 2013, when Islamist militants assassinated two prominent politicians, and again after the Bardo Museum attack, attitudes in Tunisia shifted in favor of increased security. Train-and-equip programs became a key element in foreign governments' strategies to build the capacity to support stability in Tunisia, thereby improving security in their own countries. However, this purely technical approach to the problem misses an important institutional dimension—the structure of the security sector itself.
Although the post-revolution context—increased terrorism, Libyan unrest, and regional instability—provides a rationale for building Tunisian security capabilities, this approach faces difficulty when its purpose is not clearly defined and when the security structure responsible for its implementation is not prepared to do so. Who exactly would the government and its partners train and equip? Would it involve only the national police force or would it encompass a whole-of-government interagency approach? Would it require a special task force, and if so, who would lead it?
Issues regarding scope also come into play and could face criticism on both ends of the spectrum. If capacity programs only focus on the operational dimension, critics could argue that it only provides temporary solutions to specific emergencies. Yet, broadening the scope to include the military or judicial system could face budgetary and bureaucratic challenges. These questions underscore the inherent difficulties in balancing the costs and benefits of such programs.
The Tunisian public, however, expects a balance between efficiency (countering terrorism, fighting smuggling, restoring security, etc.) and building new and responsible institutions (structural reforms and civilian oversight). The train-and-equip approach, presented as a key element in the current fight against militant extremism by a number of international assistance programs, simply does not capitalize on the spirit of democratic change in Tunisian society—freedom, economic development, justice—nor the opportunity for institutional reform.
Over the past two years, donor countries have doubled the total resources they originally deemed necessary to strengthening the operational capacities of the police and army in Tunisia. Such political commitments boosted the state budget for security and military expenditures, allowing for new equipment and vehicles. These acquisitions combined with increased experience among the police force have contributed to an overall improvement in security, reassuring Tunisian citizens and neighboring governments. Even with such improvements, however, Tunisians have not forgotten need for institutional transformation.
Contrary to the concerns of government and security agencies, boosting the security forces' capacity did not prompt the far reaching institutional reforms they had envisioned (although some changes such as the creation of a new military intelligence agency or an anti-terrorist judicial pole had started under former prime minister Mehdi Jomaa's technocratic government). As is the case in of Georgia, Bosnia, Iraq or Afghanistan, political leaders, security sector officials, and international donors, will soon realize that train-and-equip alone will not solve Tunisia's security problems, bring peace, or support its nascent democracy.
Fear of destabilizing elements has reinforced resistance to change. The political mainstream appears in no rush to affect any great transformation of the security sector. Tunisian politicians have even trivialized human rights obligations or principles of accountabilityand transparency in their increased focus on security. Such resistance is cause for concern, particularly when the ruling class does not seem bound by the democratic principles—fostering consent of the governed—as embodied in the new constitution. The war against terrorism and the natural imperative to provide legal protection to police units should not distract Tunisian politicians from holding security forces accountable.
Operational performance is not a panacea; it has to be part of a more comprehensive political process. To adequately secure Tunisia and redefine the security sector's relationship with the public, the new political establishment under President Beji Caid Essebsi's administration must overcome difficult technical, bureaucratic, and political impediments to building new security institutions and strengthening capacities through a whole-of-government approach. Without the proper civilian oversight, security forces will manage their issues in the same way that contributed to instability in 2011. The reliance of European or US assistance on inadequate, one-dimensional performance considerations neglect the long-term threat of a static, unreformed security sector.
To solve Tunisia's complex national security problems, a creative and multidimensional approach must be employed. This entails working on three levels:
On the institutional level: Build trust, performance, and accountability, adjusting national security tools to respond to security challenges in a constantly evolving strategic environment. The reform of the intelligence services is at the heart of this transformation. Above all, the security sector must modernize its command and control structures to prevent security forces from acting outside the purview of the state.
On the tactical level: Tunisia must modernize its operational capacities and maintain a sizable but manageable security apparatus, balanced to meet the security challenges facing the country.
On the political level: A new leadership must evolve in Tunisia for effective and comprehensive security sector reform. Increased coordination with regional and international allies would also provide the basis for a diplomatic partnership to tackle this challenge.
Haykel Ben Mahfoudh is a Nonresident Fellow with the Rafik Hariri Center for the Middle East.