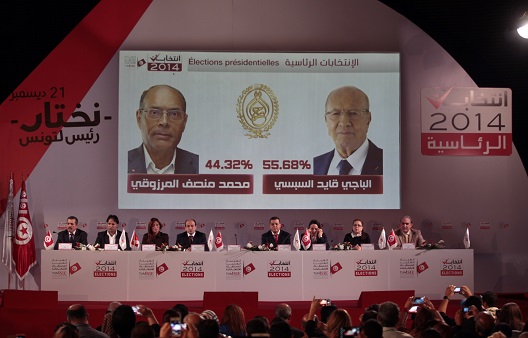 2014 has been a big year for Tunisia. Tunisians embarked upon a national dialogue process, drafted and approved a progressive new constitution, and have successfully held three elections in as many months. With the presidential runoff held Sunday, December 21, the country has voted in a full, post-revolutionary government. The historic day marked the technical end of the transition period but only the beginning of Tunisia's great democratic experiment.
According to polling results, 88 year-old Beji Caid Essebsi, a former regime official and leader of the Nidaa Tounes party, beat interim president Moncef Marzouki with around 55 percent of the vote. His presidency places the executive and legislative branches squarely in the hands of Nidaa Tounes—a party that rode the anti-Islamist wave to victory in the parliamentary elections following a troubled interim period led by the Islamist Ennahda party. Under the division of power delineated in the constitution, the president has limited prerogatives, as his main areas of jurisdiction are national security and foreign policy. However, Nidaa's internal decision-making process is highly centralized. Therefore, even though Essebsi will be in an executive office that does not have overreaching authority, he will be able to exercise informal influence over the party's maneuverings in parliament.
During several weeks of intensive campaigning, Essebsi and Marzouki presented themselves as distinctly different candidates in terms of their vision for the country—albeit not much in terms of substantive policy platforms. In some ways, Tunisians had a choice between an anti-establishment figure in Marzouki, a longtime human rights activist who embodied the revolutionary fervor, and a member of the establishment in Essebsi, who drew upon his experience in government to tout his credentials for championing a secure Tunisia. Declaring victory late Sunday, Essebsi in his speech dedicated his win to Tunisia's martyrs, thanking his competitor and calling for them to "work together without excluding anyone." His words aimed to alleviate lingering concerns among some Tunisians: that his ties to the ancien regime, which responded violently to peaceful protesters in early 2011, do not preclude him from upholding the political rights hard fought for; that one-party rule will not threaten Tunisia's fledgling democratic gains; that those in power will practice governance in an inclusive manner.
As impressive as the streak of elections has been, including on civic engagement and technical aspects that international observers have commended for fairness, the presidential runoff highlighted some underlying, longstanding issues pertaining to regional divides and security problems. Hundreds protested in Hamma and other towns in the south, where Marzouki enjoys popularity, chanting "no to the old regime," and in at least one instance set fire to Nidaa Tounes offices. Despite beefed up security, the defense ministry confirmed that on voting day Tunisian troops killed a gunman and captured three others who tried to attack a polling station in the town of Kairouan. These incidents underscore a lack of trust between segments of the population and the newly elected leadership, fears of partisanship, unrepresentative politics, and the persistent threat to the country's stability.
Lack of trust and confidence that the system will effectively uphold the public's political rights and address its economic needs is a fundamental issue that will require considerable confidence-building measures to overcome. Consensus-based governance is a critical way to address the country's challenges, which include but are certainly not limited to perennial unemployment, particularly high among youth, and growing extremism (an estimated 3,000 foreign fighters in Iraq and Syria hail from Tunisia—more than any other country). Some have said that the call from international policymakers and observers for a coalition government that includes Ennahda is inconsiderate of the will of the Tunisian people who demonstrated through the ballot box their rejection of Islamist leadership. This is perhaps a simplistic characterization of the Tunisian polity. That is, typically in a democracy if voters do not feel the country is going in the right direction, they will cast their vote to usher in another party and leadership, giving a new cast of players the chance to demonstrate they can do better. Nidaa will likely be tested according to the same barometer. Ennahda certainly suffered a blow at the ballot box after a rough interim period at the helm, but they still have a large, loyal base that made them the party with the second strongest showing in parliament.
Beyond building trust with the wider public, there is a political calculation the parties may make toward multi-partisan alliances. Elected officials will have to make some anti-populist, sensitive policy decisions to bolster the dragging economy. These include implementing subsidy cuts and controlling wages, all while engaging the influential unions—a particularly difficult feat considering the trade unions mediated the national dialogue that bolstered the now ruling party's position. They will also have to win the confidence of foreign direct investors that will help to create jobs and build robust partnerships with other states to stem rising insecurity. None of these will have quick or easy fixes. If any party forges ahead on its own, it runs the risk of backlash and political fallout should the situation in the country not improve. If it makes decisions in consultation with other parties, it minimizes the incentive for the opposition to undercut its efforts. Moreover, though it may have to share any policy wins, it would also share the blame should a policy fail.
Then again, politicians could continue the divisive "us versus them" rhetoric that does not correspond to the non-ideological nature of Tunisia's polity. Playing politics and scapegoating each other for tactical political gain would not be in the country's short or long-term interests. As a small, relatively homogeneous population that boasts an educated middle class and vibrant civil society—inherent factors that work in its favor—Tunisia lacks a dynamic private sector or the luxury of a stable geopolitical neighborhood. Four years ago last week, street vendor Mohamed Bouazizi's act of desperation sparked the demonstrations that led to revolution. Just last week, The Economist declared the birthplace of the Arab Spring the country of the year for its "pragmatism and moderation [that] have nurtured hope in a wretched region and troubled world." If Tunisia's elected leadership really wants to make good on the promise that they will help to build a Tunisia they can all be proud of ("Tahya Tounes" or "long live Tunisia," as some campaign posters read), they will have to make this progress count for something moving forward.
Lara Talverdian is an assistant director for research at the Atlantic Council's Rafik Hariri Center for the Middle East focusing on North Africa.